Coastal Cottage Mother's Day Gift Guide
Being the Mum of three wonderful sons, I feel truly blessed to share a coastal cottage with my boys and their partners when visiting. With this experience in mind, I've curated this Coastal Cottage Mother's Day Gift Guide, knowing what kind of presents I would appreciate at my beach home.  
1.  The gift of sound is always relaxing.  These Coastal Inspired Wind Chimes will be music to your Mum's ears.
2.   A manual Milk Frother means that Mum can have a latte anytime.
3.  The gift of scent is alway welcome at a vacation home, especially an over-crowded one.  
The cottage is ALL about entertaining.  Your Mum will so appreciate these pretty coastal inspired gifts for Mother's Day that will make entertaining at the cottage effortless.  
4.  Stylish birds will no doubt flock to this absolutely adorable bird house made of seagrass and recycled saris.
5. Everyone will have a whale of a time at any party that has food served on these whale shaped platters.  
6.  Even Yogi Bear will be jealous of this fully stocked picnic basket, just perfect for celebrating on a sunny Mother's Day at the seaside.  
7. When did tea become so complicated?  It used to just be Orange Pekoe but now you're expected to offer 10 different herbal flavours.  Help your Mum keep them all organized in this practical yet stylish Tea Box.
8. Now I just love these Stainless Steel Wine Tumblers.  They're ideal for sunset cocktails on the dock.  And they'll hold a full can of beer or cider.  Best part?  No one can tell how much wine you have in there.
9. It's happy hour somewhere or at least wine o'clock.  So these linen embroidered coasters will be used at all hours of the day.  
10.  The cottage is the epitome of indoor/outdoor living which means you're constantly traipsing outdoors with food and drinks.  I can't think of a more stylish tray than this Bar Harbor Bone Inlay Tile tray.  
11. When you have a thirsty crowd, having them help themselves from this acrylic drink dispenser makes entertaining less cumbersome.  
12. Mum can display treasured collections in this gorgeous teak oversized Centrepiece Bowl.   
13. Even though the cottage is the most relaxed place in the universe, you still need to have manners.  And water rings on furniture is not the definition of patina my friend.  Protect the furniture, as old as it may be, with these Abalone Shell Coasters.
14. An essential part of the cottage routine is visiting the local Farmers Market.  What better way to serve up a fresh salad than on these Blue Crab Enamel Salad Plates?
15.  There can never be too many sets of utensils at a cottage or beach house!  Mum will appreciate sets of Natural Bamboo Flatware for when a crowd shows up, as they invariably do.  
The cottage is often where old items that no longer work in our city homes go to die.  And the repository for friends and family castoffs. But it doesn't have to be that way!  The cottage should be every bit as beautiful as your principal residence.  Your Mum will really treasure these beautiful costal decor gifts for the cottage for Mother's Day.
16. Mum will love the coastal design inspiration with this book called, "Relaxed Coastal Style."  She can put her feet up with a cup of tea or glass of wine while she spends hours reading.  
17. Having plants in the home actually positively impacts our mental wellbeing and are an essential element of Biophilic Design.  With an airplant terrarium, there is little commitment as they are so easy to take care of, which means you give Mum's mood a boost without burdening her with having to care for something.  
18. Now Mum will have the perfect Coastal Vase for those flowers that you bring every time you visit.  You do bring flowers every time, don't you?
19. Evocative of ocean waves, this Painted Abstract Pillow cover works with any coastal decor.  
20.  I've found it helpful to hang mirrors in each of the bedrooms.  Saves the bathroom being clogged up as people put on makeup.  This Nautical Rope Mirror will fit right in.
21. These dip-dyed stools are oh so versatile.  They can hold a plant, be a side table, be a rest by a stand along bathtub.  
22. At our cottage, the door is always banging open.  This Maritime Door Stopper prevents the wall getting banged up.
23. Putting up your feet at the cottage is mandatory.  This Jute Pouf is a perfect spot to rest them.  And it also serves as extra seating when needed.  Which is often.
24. The Concha Capiz Lantern is so evocative of the shore.
Let's face it, a good part of the day is spent outside and it needs to be every bit as comfortable as the inside.  Here are some gift suggestions for the outdoors that any Mum would love to have.
25. Hands up whose cottage beach towel as so thread bare that you can almost see through them?  Time to replace them with a set of these luxurious Mallorca Beach Towels.
26. An outdoor rug on the cottage patio not only feels great on bare feet, but it can brighten up it up tremendously.  Ensure that it coordinates with any outdoor furniture cushions though.  
27.  Another option for an outdoor tray for carrying drinks down to the dock.  
28.  I'm constantly packing up snacks, drinks, sunscreen and other odds and sods to take on the boat.  This Tote with a removable cooler is such a stylish and convenient way of carrying everything back and forth. 
29. We've often on the deck after sundown and need a light that won't attract the bugs.  This Small White Metal Lantern should fit the bill.  
30.  I love my hanging chair on my deck.  It's so peaceful to sit in it, gently rocking in the breeze.  Until it's time to make the next meal that is.  
31.  Who hasn't had their Mum remind them to wear their hat in the summer?  I still do it to my kids and they're adults!  Well now it's time for Mum to have her own stylish bucket hat.  
32.  A campfire is ingrained in cottage life.  But often there is a campfire ban over the entire summer.  But propane fires are allowed.  This Square Hamptons Outdoor Fire Table is large enough for a crowd to gather around.  Unfortunately no S'mores though.  
Remember, no matter whatever the age of her children, a Mother will always appreciate a homemade gift.  No macaroni necklaces though please.  
Learn how to make this simple Oyster Shell Garland by clicking here.
As these are all gifts that I would appreciate, being a Mum myself, I'm sure you'll find something in this Coastal Cottage Mother's Day Gift Guide to surprise and delight your Mum.  You're welcome.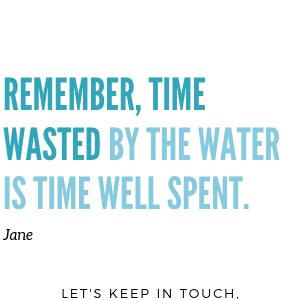 This post contains affiliate links
---