Counting loons – no, not a new way to fall asleep
We moved to a new lake last summer and promptly joined the lake association to learn all we could about our new area.  They put out a call for loon counters.  I'm familiar with bean counters but not loon counters.  The association has partnered with Bird Studies Canada in their nationwide Canadian Lakes Loon Survey (CLLS).  The purpose is to track the survival rate of chicks.  According to Bird Studies Canada,
"Lake conditions can affect the reproductive success of Common Loons. These birds are sensitive to mercury pollution and acid precipitation. Despite reductions in emissions, these pollutants continue to threaten lake health across Canada. By spending a few hours monitoring the number of young raised by this easily-observed icon of Canada's wilderness, you can help us assess lake ecosystem health."
My commitment is a minimum of three times over the summer but it can be more so my plan was to start on the May long weekend.
in June to watch for pairs of loons occupying the lake
in July to look for newly-hatched chicks
in August to record the number of chicks that have survived the summer
Each participant is provided with a survey kit and detailed instructions that explain the survey protocol.  This is essentially what we're looking for:
The maximum number of adult loons observed
The maximum number of adult pairs
The number of young loons
Whether a nest is observed (we try not to disturb it, of course)
The lake surveyed should be a minimum of 10 hectares (25 acres) except in the Prairie provinces where loons have been observed nesting on smaller lakes.  Our lake was broken into four quadrants so I took the area where my cottage is located.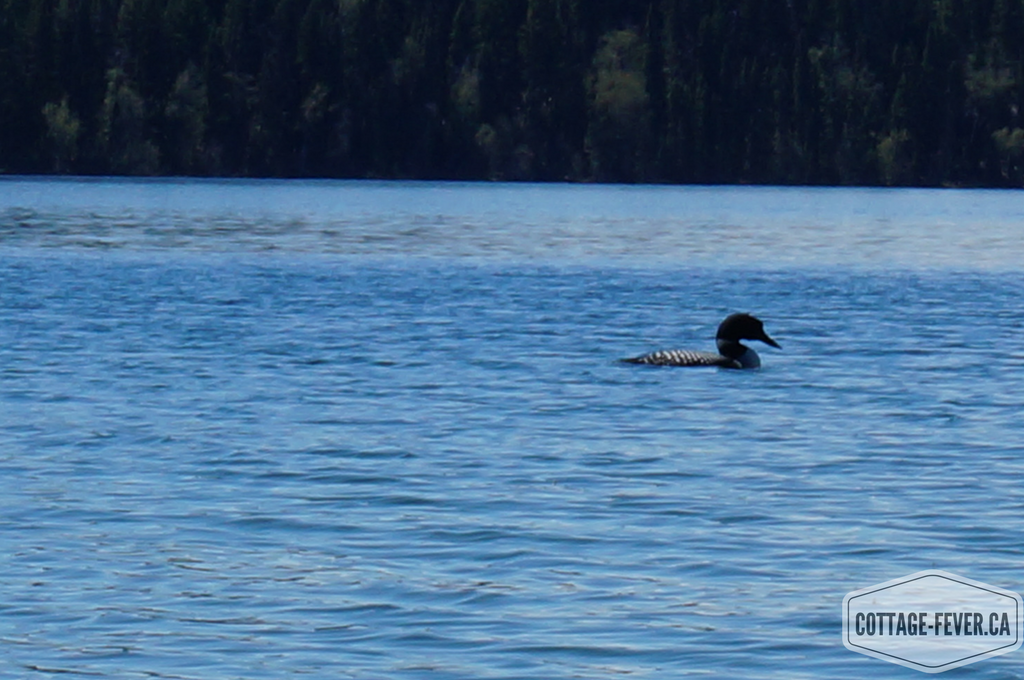 To participate you need to be a member of Bird Studies Canada.  The membership is only $35 for an individual.  Our lake association is a member so the individual survey participants are umbrellaed under them.  Click here for more information on the Lake Loon Survey and here to become a volunteer.  Personally, I'm using the survey as yet another reason to spend an afternoon paddling around the lake in the kayak and avoiding cottage chores.  The only equipment you need is a boat,  note paper and pen, binoculars are helpful and a good camera is a nice to have.
So on the Monday of the May long weekend, with temperatures hovering around 30 degrees C, I lathered on the sunscreen, popped on a hat and headed out onto the lake in my kayak.  I figured most of the other boaters would be hitting the road around then and so my chances for spotting loons would be increased.  I counted a pair before I even hit the water as they were calling to each other.  This was going to be easy!  The only issue would be how to ensure that I don't count the same loon twice as they can travel quite a distance – much faster than me in my kayak.
I headed into a bay on our lake where some local cottagers had built a nesting platform.  I had never seen one of these before.  It was quite a work of art and if I hadn't known it was there, I would have thought it was just a snag floating along.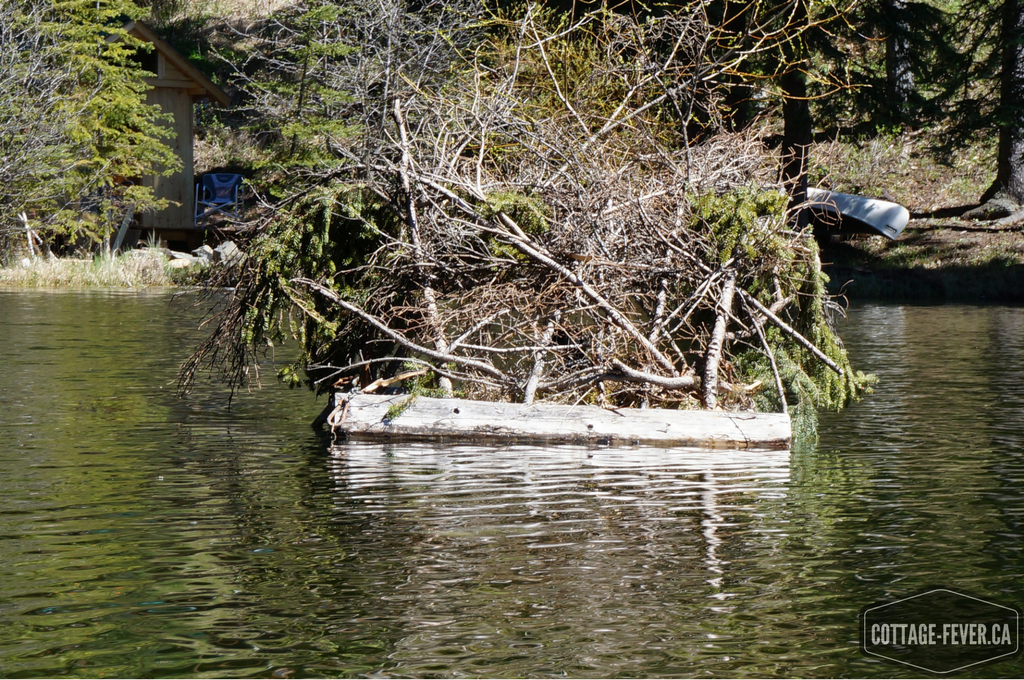 As I kayaked ever so slowly and at a distance around the platform, I could see a loon actually on the nest!  It was a pretty incredible experience.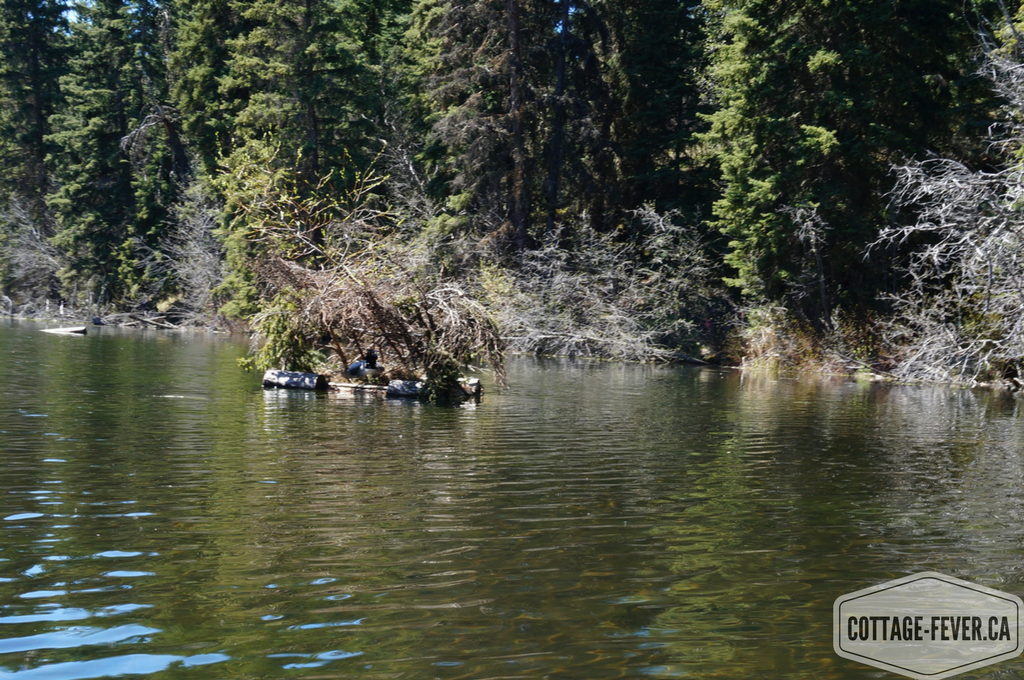 If you're interested in building one of these platforms on your lake, here are detailed instructions.
As I continued on my paddle, I came across this bald eagle condo with an eagle in the nest, its head just barely visible above the edge.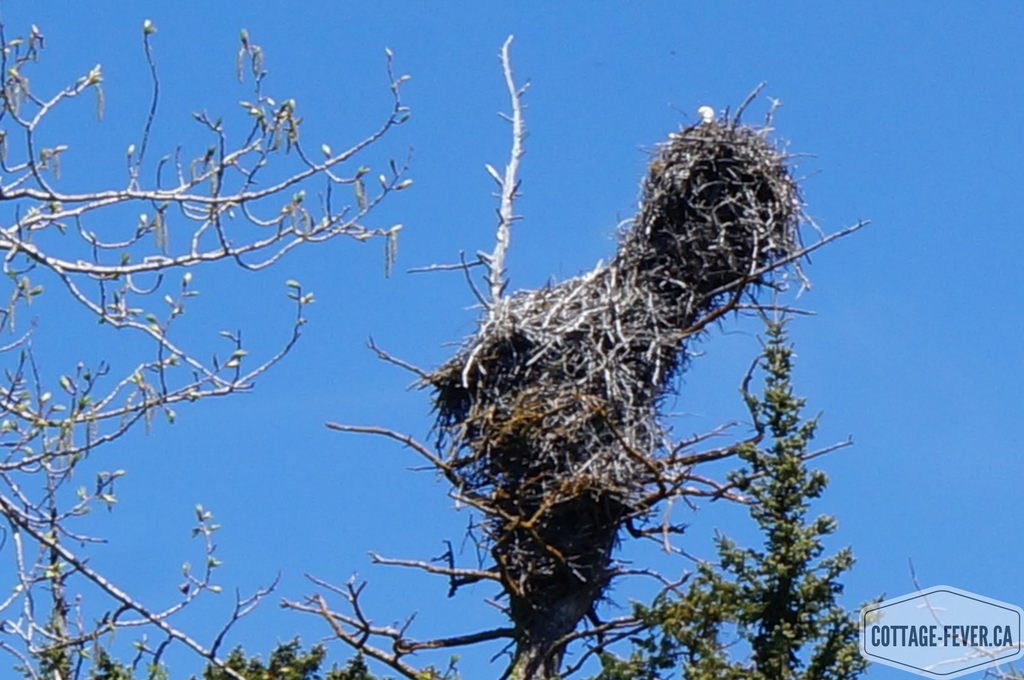 All in, I counted 13 loons.  Which seems quite a lot so I'm sure I counted a few twice.  I was out there for almost three hours as it was quite a distance that I needed to cover.  I think next time, I'll take the runabout and see if I can do it a bit faster which will make my count more accurate.  I'm looking forward to getting to know my loons better by the end of the summer.  Maybe one of them will actually respond to my loon call (which doesn't sound anything like a loon according to my husband).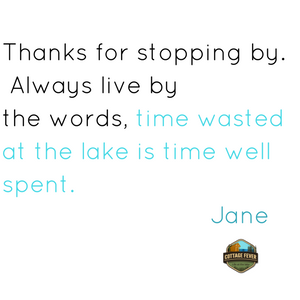 ---
---