Do you know what a bunkie is?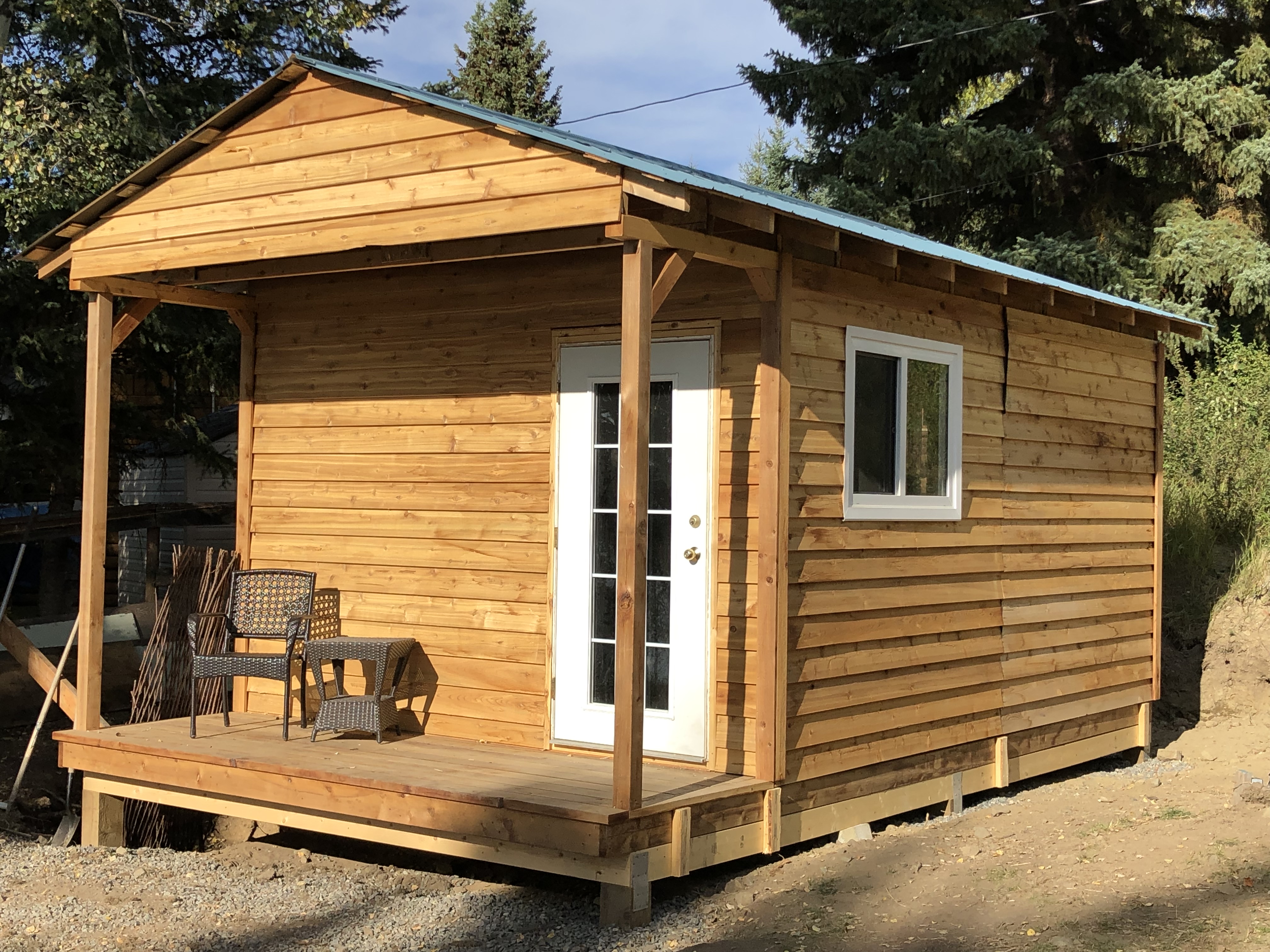 It seems that the term "bunkie" is more widely used in Eastern Canada rather than out here west of the Rockies.  Essentially, it is a bunk house used for overflow sleeping at the cottage or cabin.  Historically, it was used to house working cowboys on ranches so it is especially apropos here in the Cariboo.  And as the name suggests, it typically houses bunk beds.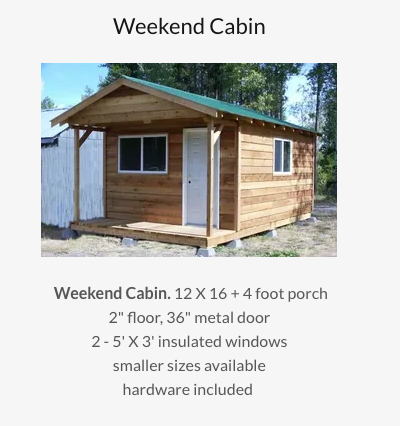 Our old cabin had a loft over the two bedrooms which could sleep ten cousins easily.  This new to us cottage had only two bedrooms which means we ended up with twenty-somethings sleeping all over the main living area when the adults were up having coffee in the morning.  We needed a solution that worked for everyone.  
A cousin of Steve's had purchased a prebuilt cedar shed after determining that he couldn't build it cheaper himself.  So in the interest of time and money, we decided to purchase the "weekend cabin" from a local lumber yard.  They prebuilt the walls and flooring and we (the royal we) "just" had to assemble it.  
At 12 x 16  + 4′ porch, we wouldn't need a permit as it is under the size limit specified by the regional district.  As well, it isn't a permanent structure, nor does it have any amenities beside the bunk beds so we were not hung up by a permit process.  
I planned this bunkie for four queen sized mattresses given that our sons are adults now and one being over 6'2″ tall.  As well, there are often girl friends, friends, or cousins so wanted this bunkie to sleep as many people as possible.  The beds will be built-in rather than freestanding units.  
When I completed a renovation for a client, they gave me their french patio doors and a window which we had replaced, knowing that I had this project down the road as I always like to reuse where possible.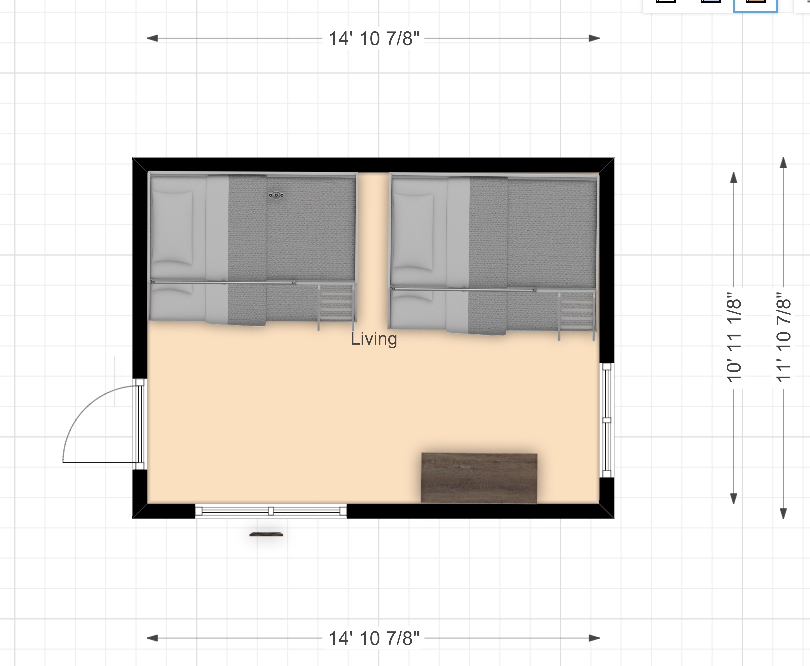 So with this design, I was limited to using only one of the doors given how big we would have to make the queen sized bunk bed frame.  Which also meant no window on the front, although we may add them later.  This made the glass door even more important for light and view.  
The lumber yard provided one window which was on the smaller size, which I positioned on the back of the bunkie, opposite the front door (on the right of the diagram above).  The larger window that I was reusing, was to go on the south wall (bottom of the diagram) in order to maximize daylight into the bunkie.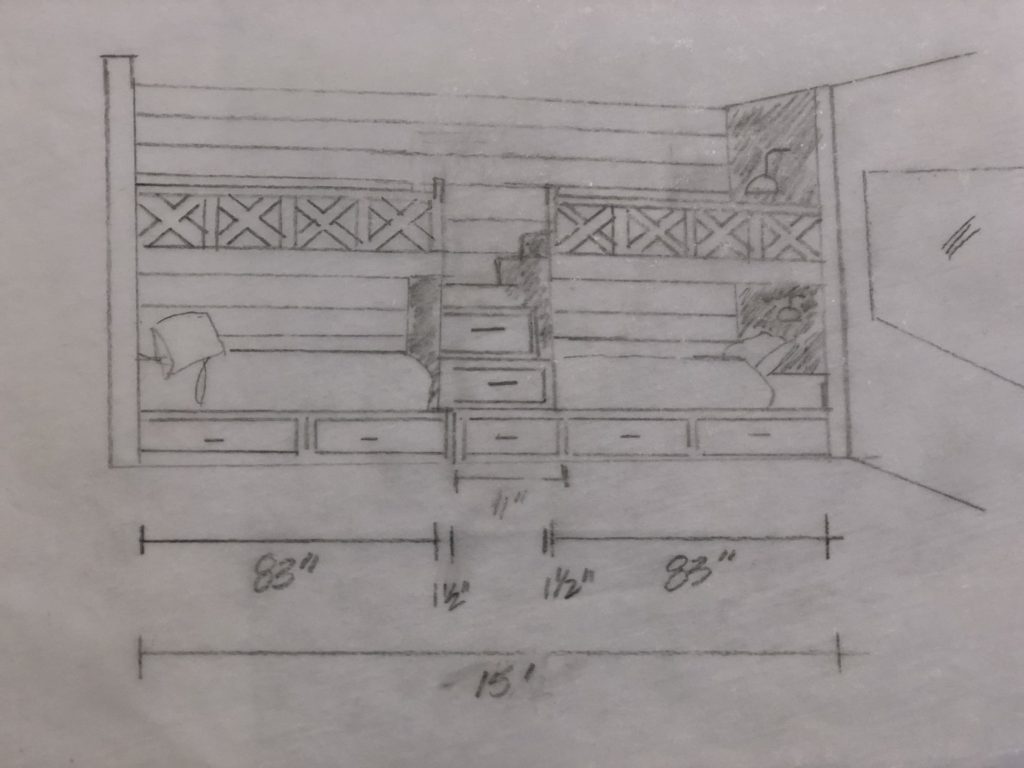 Here's the sketch of the elevation of the design of the bunkie, borrowing heavily from Marnie Oursler who is a builder/designer who specializes in beach houses and bunk rooms seem to be her jam. She and Sarah Richardson are two of my greatest influences.  And both are so generous at sharing their learning on social media.  
The plan is to have drawers underneath for stowing clothes as well as in the steps up to the top bunk.  Each bunk will have its own light and most importantly, charging station!  These are twenty-somethings after all.  Each may also get its own curtain for privacy.
Notice how the wall with the bunks has no windows?  This wall faces north and our neighbours, so for privacy reasons we didn't want any windows here.   
The only hard decision was choosing the cover of the metal roof.  I wanted something that would be suitable for a lake location and complement the colour of the cottage.  Slate blue was the clear winner.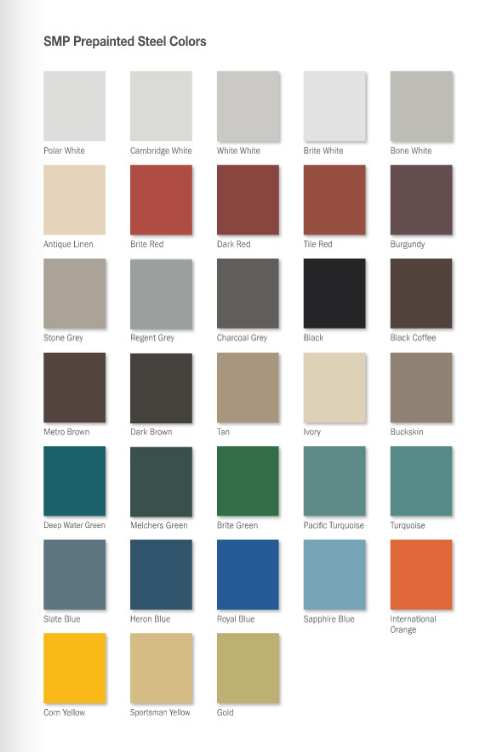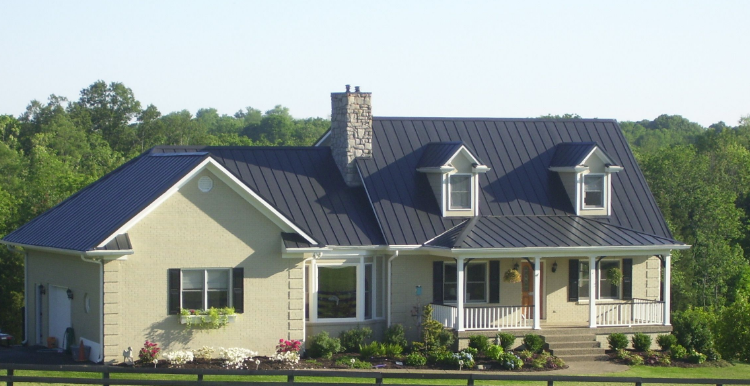 This home, on the metal company's website, is coloured closely enough to our cottage so I could get a sense if the two colours would play nicely together.  Down the road, when it is time to re-roof, we will use the same colour.   I would like to meet the customer who chooses International Orange for their roof!  
where to place the bunkie?
So we had an eyesore of a conglomeration of sheds built by the previous owner.  One was a wood shed and favourite hang out of bats and spiders.  The remaining three sheds were sort of connected together in a very strange non-functioning layout and leaked like a sieve.  Behind this structure, the previous owner had stacked firewood, covered in tin held down with tires.  As this was right on the property line, it created quite the blemish for our neighbour's sight lines.
We couldn't believe how much valuable real estate this shed had taken up!  We have limited flat land on our lot and this exposed so much of it.  Not only that, it had a great view!  This was the ideal spot for the new bunkie!  And if we tucked it back a bit, we would still have all this flat land to use while creating privacy for ourselves and our neighbour.  Win/win/win!
what to do with all the firewood?
It's always a domino effect when working at the cottage.  Before we could even begin the prep the site for building the bunkie, we had to move all that firewood.  And in order to move all the firewood, we needed a place to store it.  So a woodshed was built.
We have two entrances.  One is off the deck which we use mostly in the summer.  The other is through a mudroom which is closed off by french doors from the rest of the cottage, creating a bit of an airlock when it's -25 outside.  As we only use our wood stove in the winter, it made the most sense to locate the wood shed by the mudroom door.  Although the lot slopes a bit here, we (again that royal we) were able to design it taking advantage of the slope.  We were in full consultation with the neighbours as to where we placed it.  We both ended up with some privacy which is never a bad thing.
Transporting all that wood over was a group effort.  Thank goodness for cottage guests!  We put them to work and had three wheelbarrows transporting the wood while three people stacked.  It took us about three hours but it would have taken me and Steve two days so we were very appreciative.  Then the twenty-somethings went back to wake boarding.  And drinking my beer.
So here I thought we could just put down four cement blocks and throw up the bunkie and call it a day but oh was I wrong.  Steve wanted to ensure that we made the most of the site which meant cutting into the embankment behind it a bit. Thank goodness I have a brother who lives close by and is generous with the lending of his tools.  In this case, a very powerful Kabota tractor.  Looks like someone's having fun.
Only a few casualties from careless kubota driving –  a dent in the deck, two missing spindles from the deck railing, the outhouse was knocked over only once and a tree nearly came down but other than that – success!  
Look at those exposed roots.  We're keeping our fingers crossed that the alder doesn't die.  Because if it does, it's coming down on our new bunkie.
As this is not a permanent structure, the posts are sitting on cement pads placed on a bed of gravel.  There was much head scratching and consultation over how to create the base frame but Steve got 'er done.  
We're finally ready to pick up the bunkie package!
The wheels covers meant that our flat deck trailer wasn't wide enough for the bunkie package.  The supports were put in place so that the package could be stacked above the wheels.  We were top heavy and severely overloaded as we made our way down the highway with this load.  Thankfully the cottage was not a huge distance from the lumber yard where we purchased it.  Unlike Ikea however, it came with NO instructions as to how to assemble it.  Not even those confusing pictograms!  
Another load of cottage guests consisting of a son, nieces and  nephews came in handy unloading the floor sections.  Each one must have weighed at least 500 pounds.  Once done, it was back to beer pong on the deck.  Although the new floor of the bunkie would have made an ideal spot to set up the table in hindsight.
Just look at how level that is!  
A buddy of Steve's with some building experience donated his weekend to helping raise the bunkie.  And thank goodness he did.  Day one, the walls went up.  
With the siding already installed, this is a fast build.  All the walls were perfectly straight and with the level floor, it went up quickly and fairly painlessly.  Gotta love the open toed sandal work boots.
The lumber yard missed including the roofing paper so Steve's buddy was not able to stay another day and help put on the metal roofing.  I also discovered that they had mixed up the two windows, framing the larger one at the back rather than on the side.  A larger window would impede how we build the bunk beds.  I asked the lumber yard to correct their mistake but they refused to admit that they made the mistake even though they had drawings and emails confirming the placement.  We will have to arrange to reframe the windows ourselves.  Not happy.  
Being vertically challenged, I wasn't much help at this stage.  However, I am loving the colour I chose for the roof.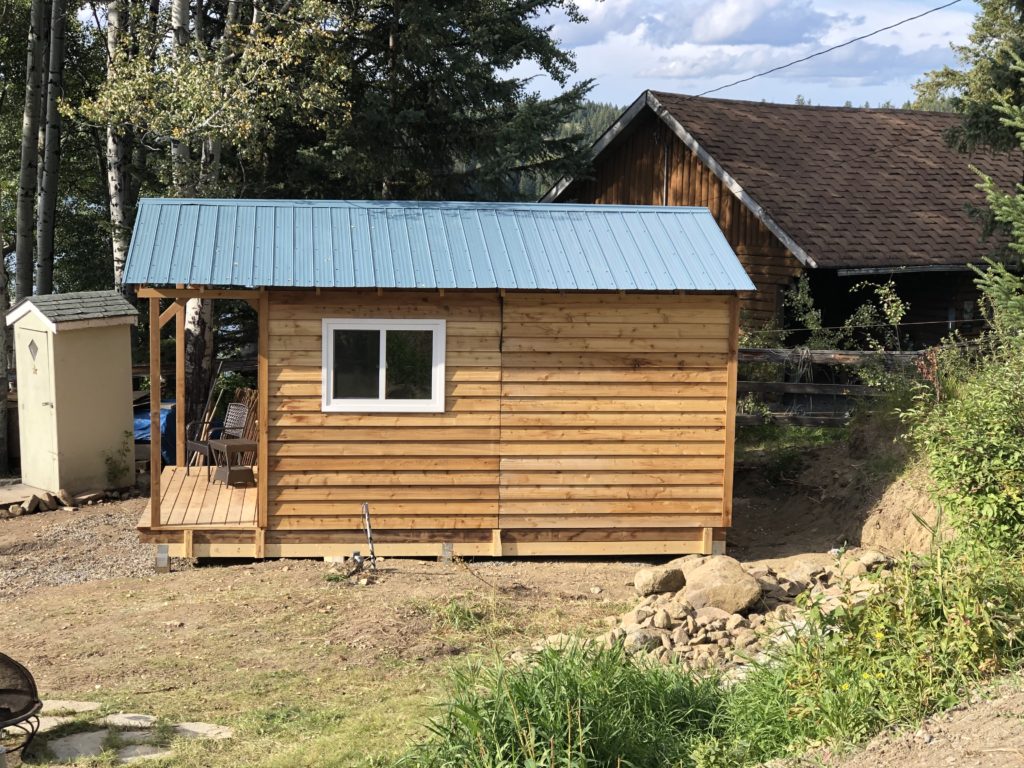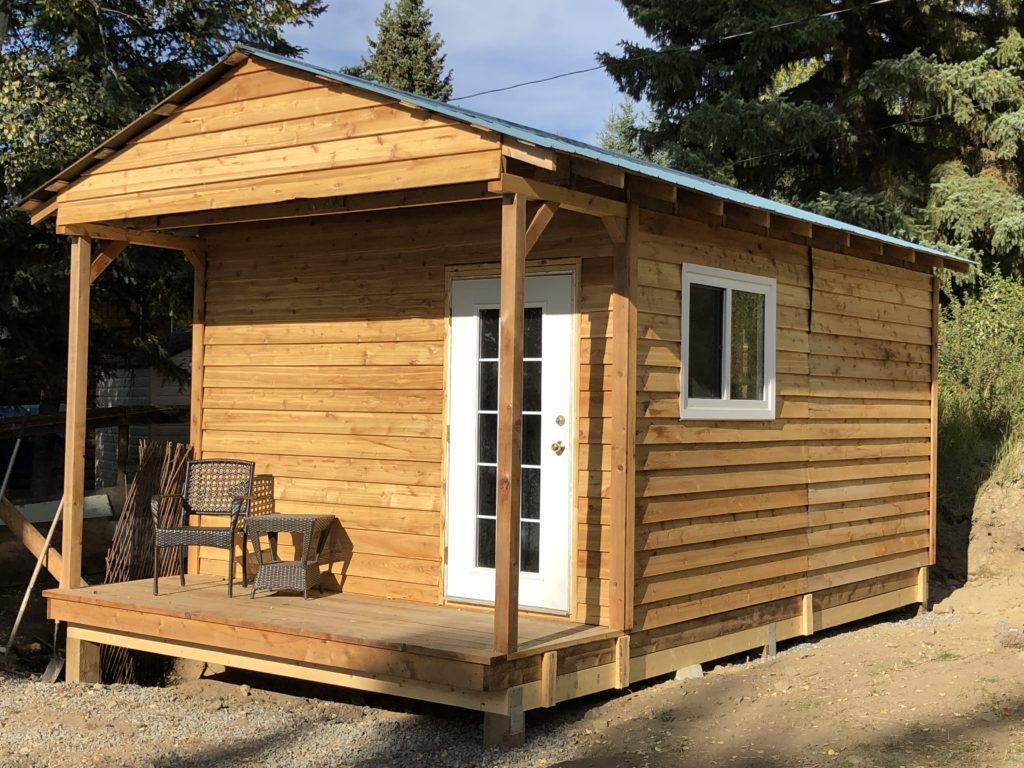 We got it to lock up stage and then had to head home.  Next trip will be insulating and installing walls and flooring.  We have enough laminate and tile flooring left from our cottage to use here.  We will most likely do shiplap walls to match the cottage as well. Then we can start to build out the bunks. We will be moving the location of the outhouse so that it's not in whiffing distance.  We only keep it as back up for power failures but users of the bunkhouse may find it handy.  However, our new septic system is future proofed in that it can handle a three bedroom home so we'll just think of the bunkie as being that third bedroom.  This will be an ongoing project over the winter and spring.  But at least the kids will have a hang out spot for our annual New Year's Eve trip.  We'll see how well insulation and a space heater holds up at -20!
Many people have asked if we plan to include the bunkie as part of our Airbnb rental.  The answer is no.  We like that currently the most guests we can accommodate is four which means that we don't get people looking to party.  Typically our guests are two couples or a family of four and we want to keep it that way.  
I can see a window box, a privacy screen, some plantings and a large art piece to the left of the door in my future.  Let the decorating begin!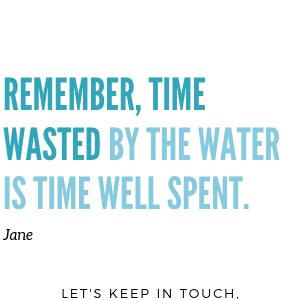 ---
---