Dock ramp envy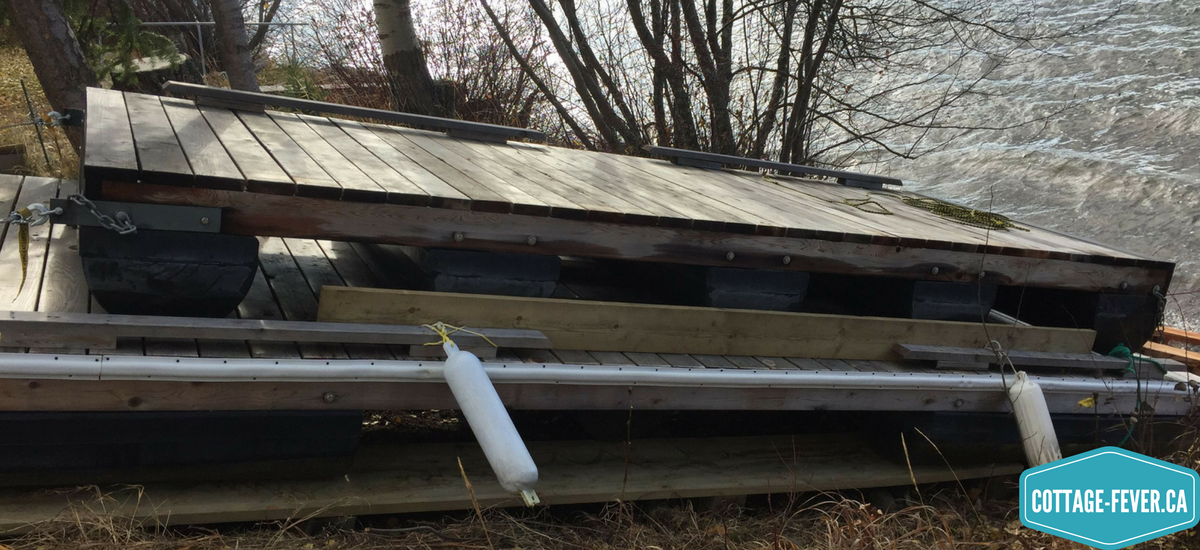 When we bought the cottage in the summer of 2016, Steve's intent was to build our docks himself but he soon realized that with a full remodelling job inside the cottage, he just wouldn't have the TIME to do it.  So we looked at our local options and decided on an 6′ x 16′ dock with a gang plank.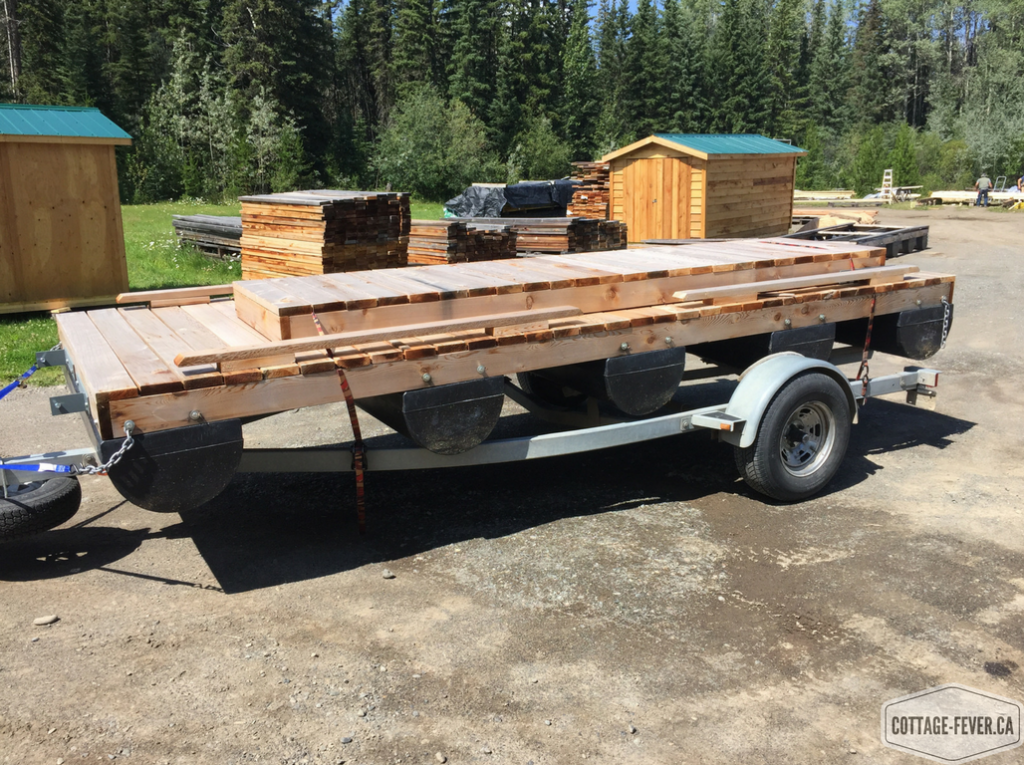 They were loaded onto our boat trailer and off we drove.  We backed the trailer into the water at the boat launch and towed them behind the boat over into place.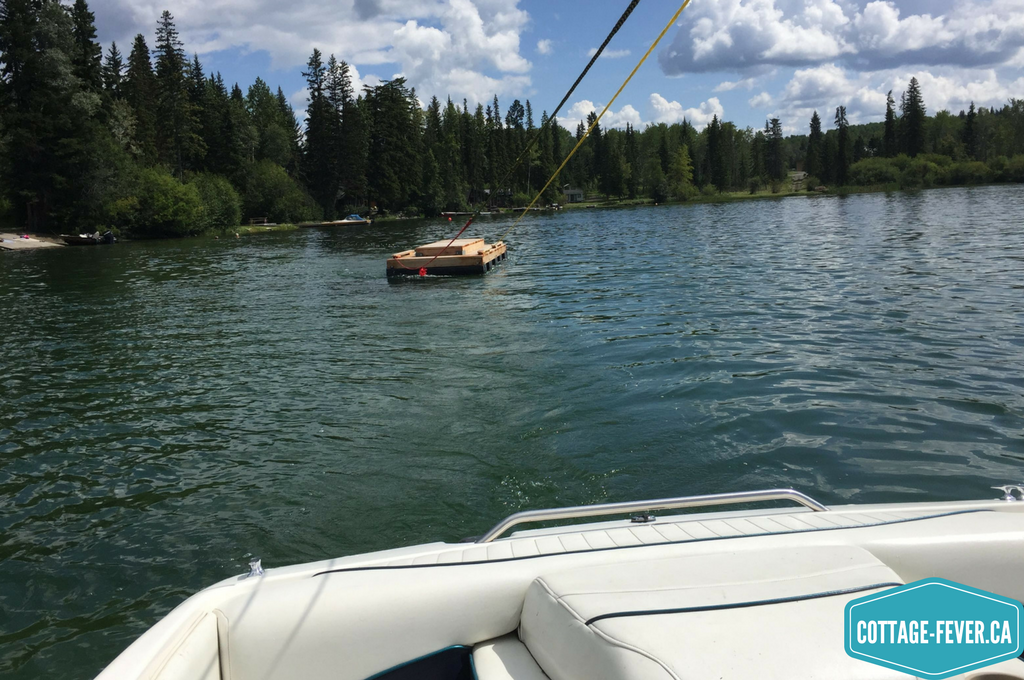 But then we got two foot itis.  Now any boat owner knows what this is.  You wish your boat was only two feet longer and it would make all the difference.  Well in our case it was more like 20 foot itis.  We realized that as the lake level went down over the summer, the water at the end of the dock wouldn't be deep enough so we bought an even larger extension.  This dock is 8′ x 20′.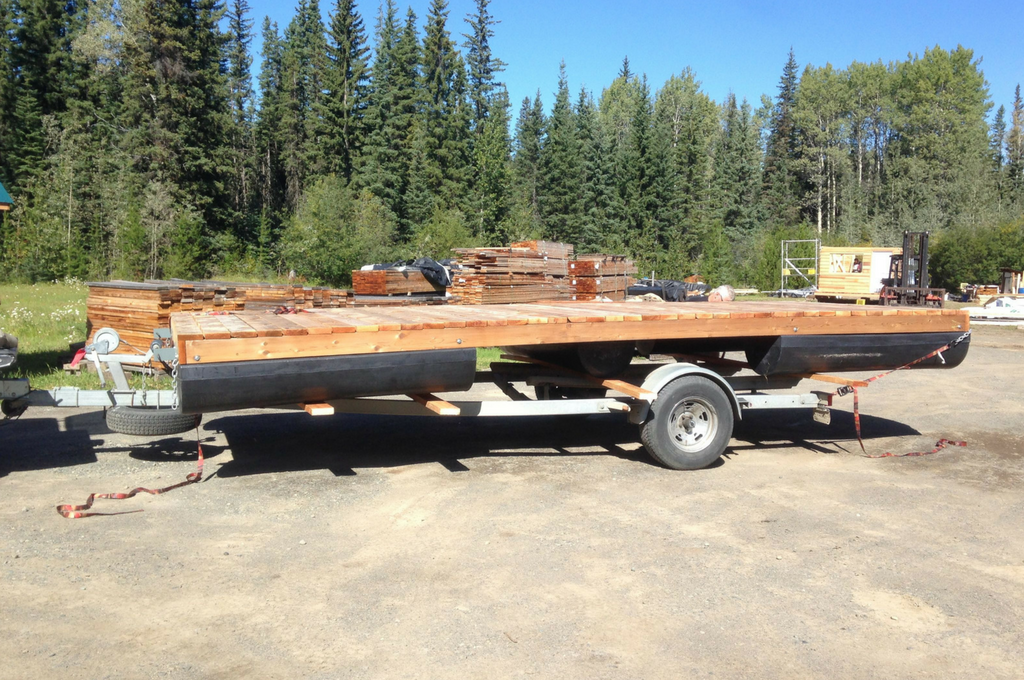 This time we used a boat ramp that was closer and Steve walked it over.  But he forgot that he'd have to go around other people's docks so at certain points he had to swim with it.  No easy feat.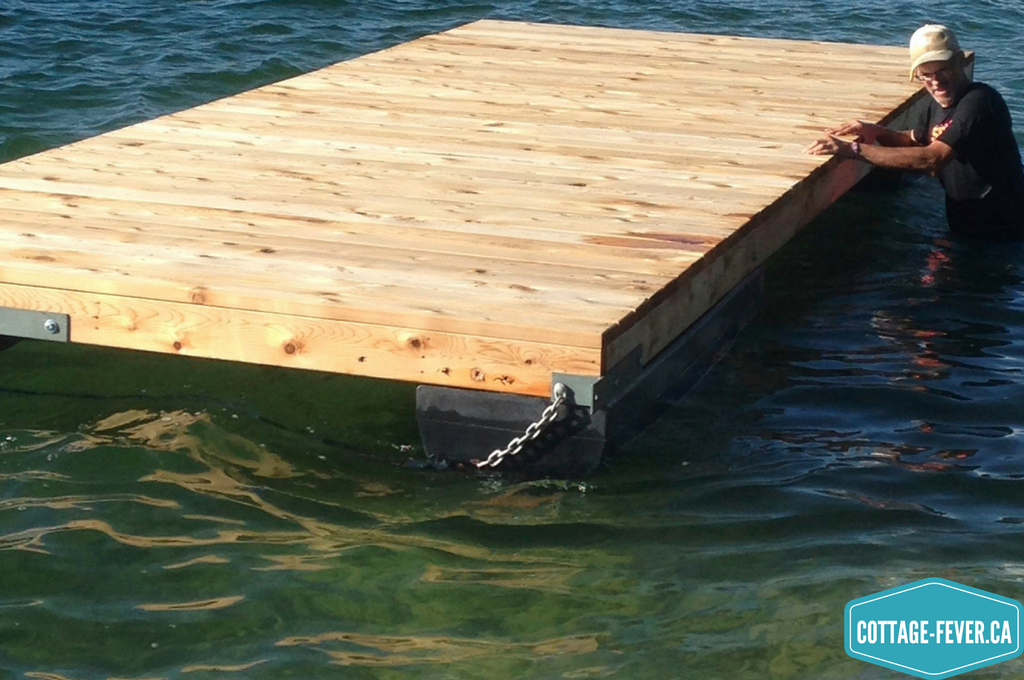 Then the gangplank had to somehow be anchored to shore so Steve drove metal post holders at the shoreline and inserted pressure treated posts into them and attached the gangplank to it.  The gangplank moves up and down as the water level rises and falls.  Waterfowl can swim underneath it which is an important consideration with any dock.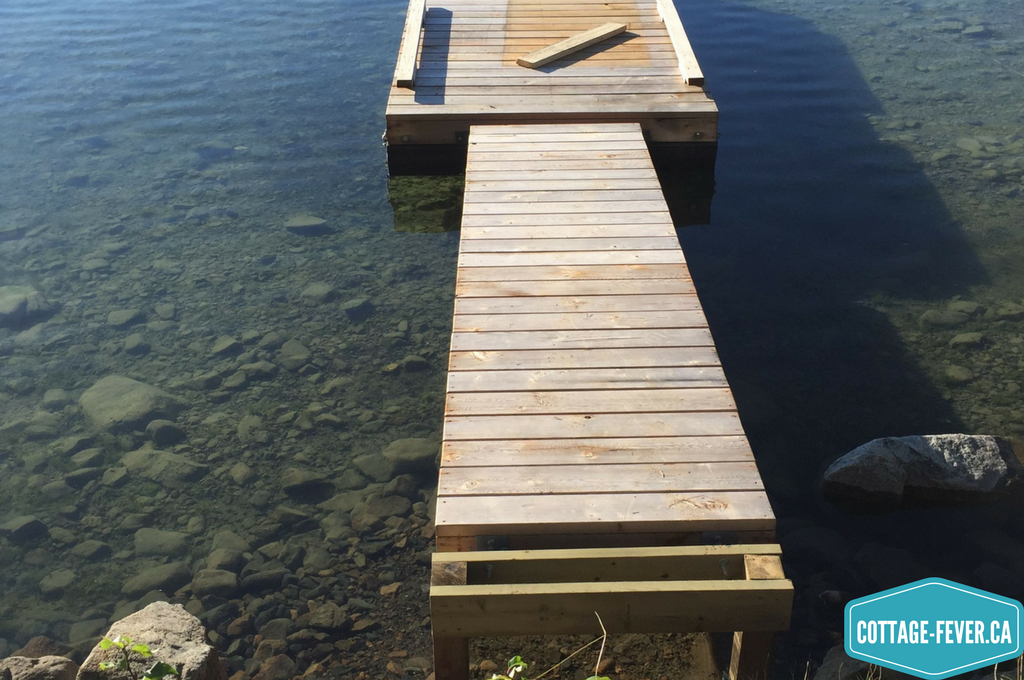 Steve spent a week building stairs to our dock. He joked that if he'd been on one of those HGTV shows, they could have made an entire season out of the build. They ended up being much higher than the ground level so you step up and then down onto ground.  I call them the "stairs to nowhere" but the idea is that we'll eventually have a deck down by the water's edge so the top of the steps will be level with the decking.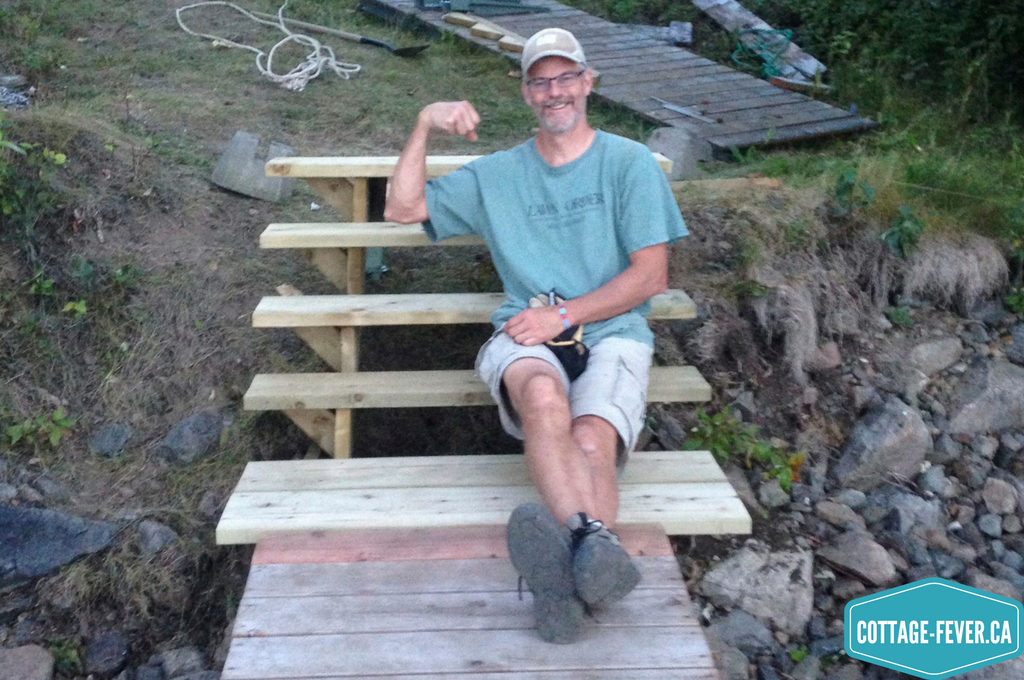 So now it's deep enough that the boat can be moored on the side of it and we can dive off the end.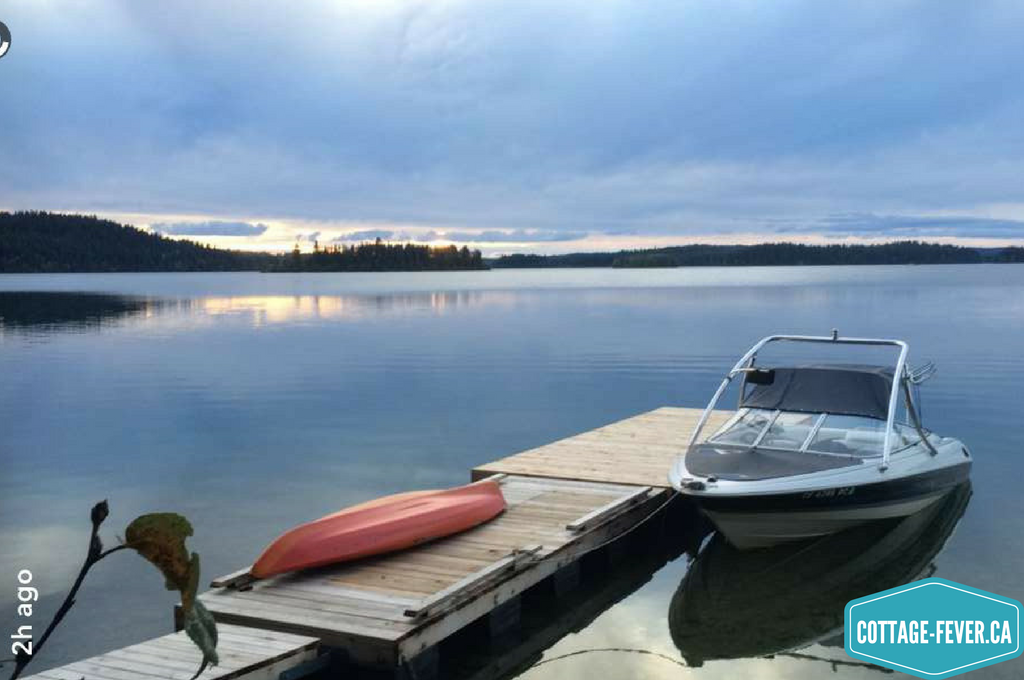 So all this is well and good during the summer.  But come the fall, all of this dock has to come out of the water or risk being damaged by ice.  In our location, we're hit pretty hard by winds so there is no other choice than to bring them out of the water.
Our next door neighbours, having been cottagers for over 40 years, had a pretty nifty system.  They had built a ramp that had winches anchored at the top.  Oh to say that Steve had dock ramp envy was an understatement!  After many discussions over the fence, an idea for our own ramp was born.  Now to put those ideas into action.
First the post holes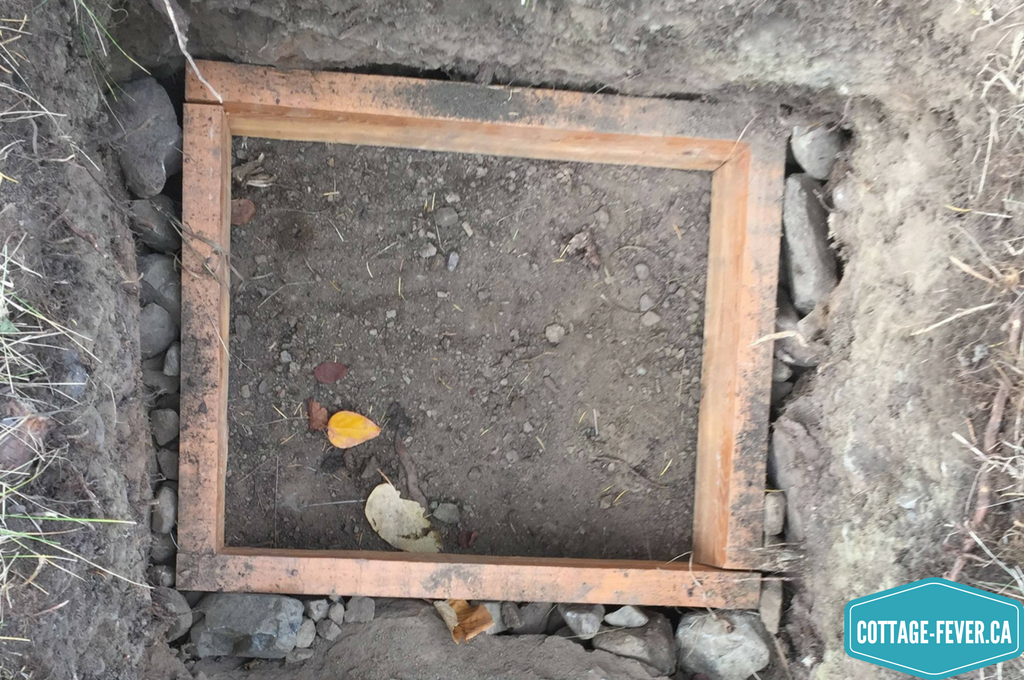 So Steve, with his bad back, set about digging holes that were two feet deep although not deep enough that they are below the frost line.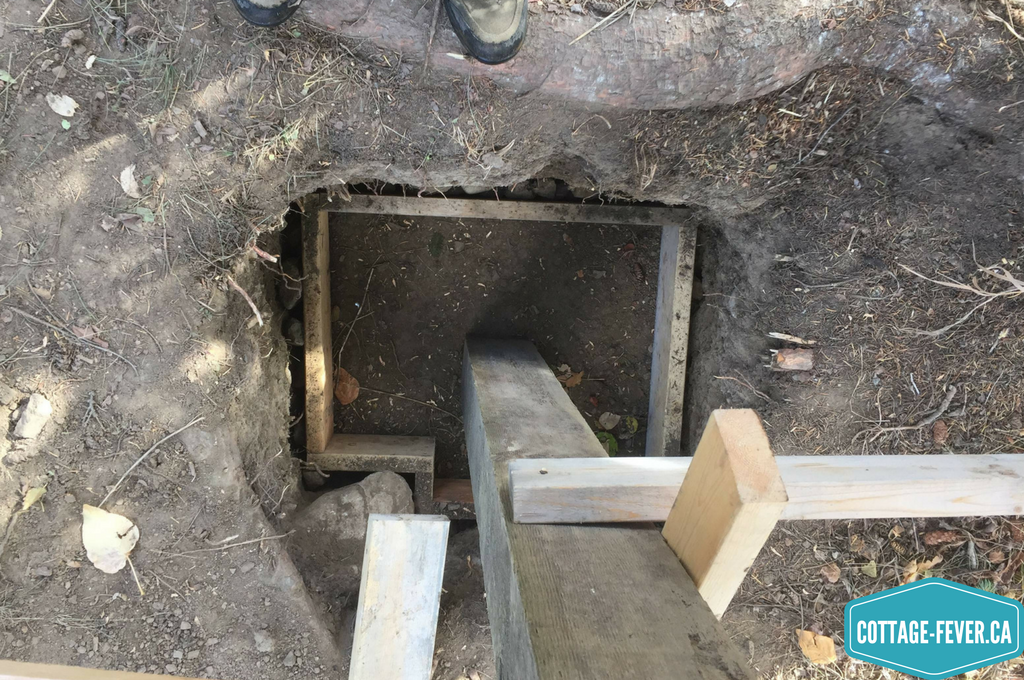 He propped the 6″ x 6″ posts that he had salvaged from his Dad's collection into the holes.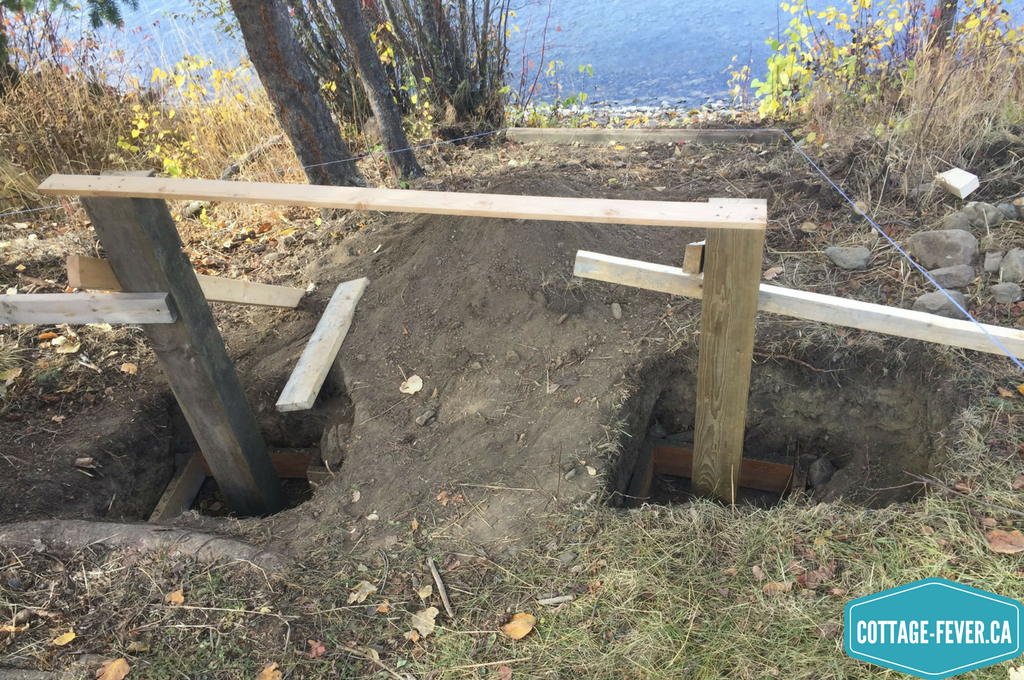 Setting the posts
He was so impressed that his posts were virtually level with each other.  As long as the little bubble is kind of in between the lines on the level, that's good, right?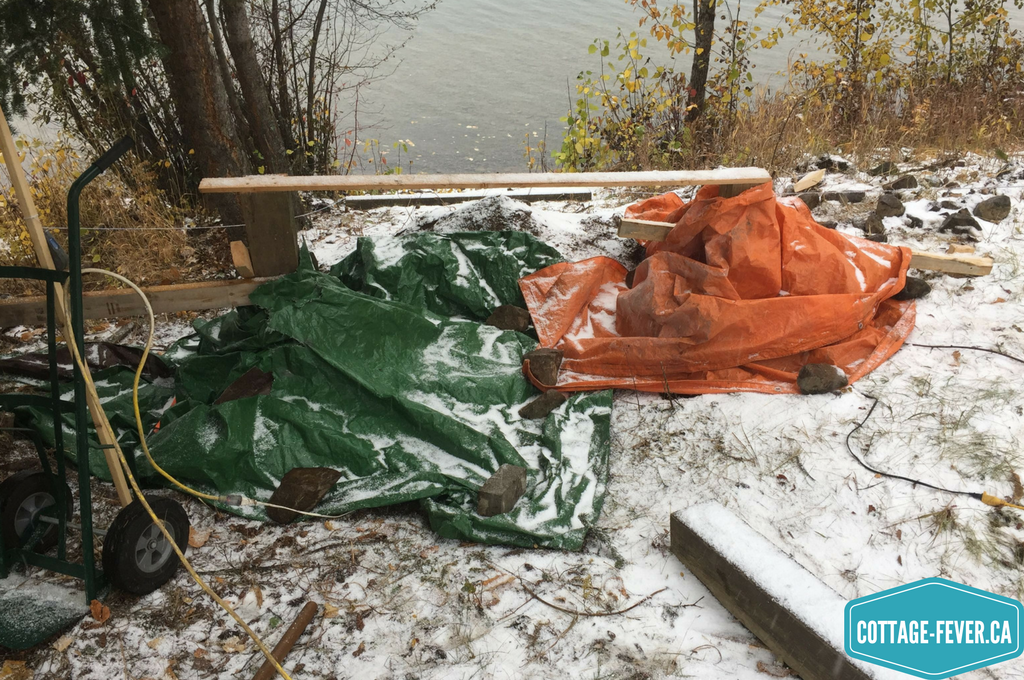 So most people wouldn't be doing this job in freezing temperatures in a snow storm.  But not our Steve.  And to make matters worse, the local RONA didn't have any fast setting concrete or concrete that is meant to set below 5 degrees celsius.  He had no option but to use regular concrete.  And when he ran out of said concrete and had to make yet another RONA run, I was tasked with stirring the concrete in the snow to keep it from setting. The ever intrepid Steve found two space heaters – add extension cords and tarps and we have set concrete!
Adding runners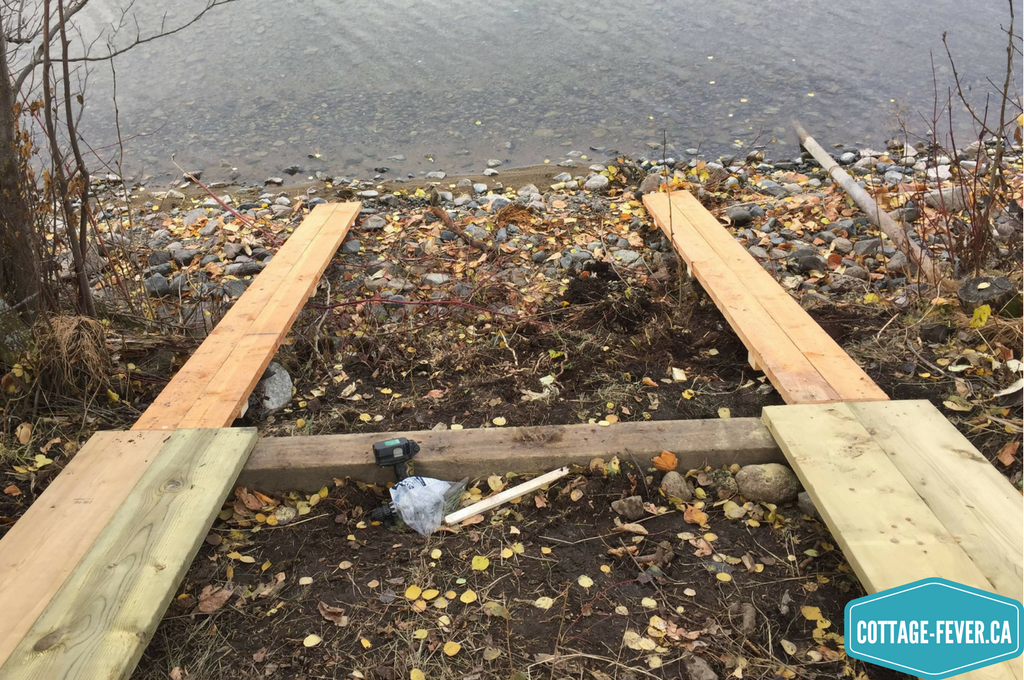 So the idea is to slide the docks on their floats up these runners.  Problem is that the lake level can fluctuate and at this time of the year is about two feet lower than in the spring when we'll launch the docks.  So how to deal with this?  Steve added temporary runners at the bottom that can be removed.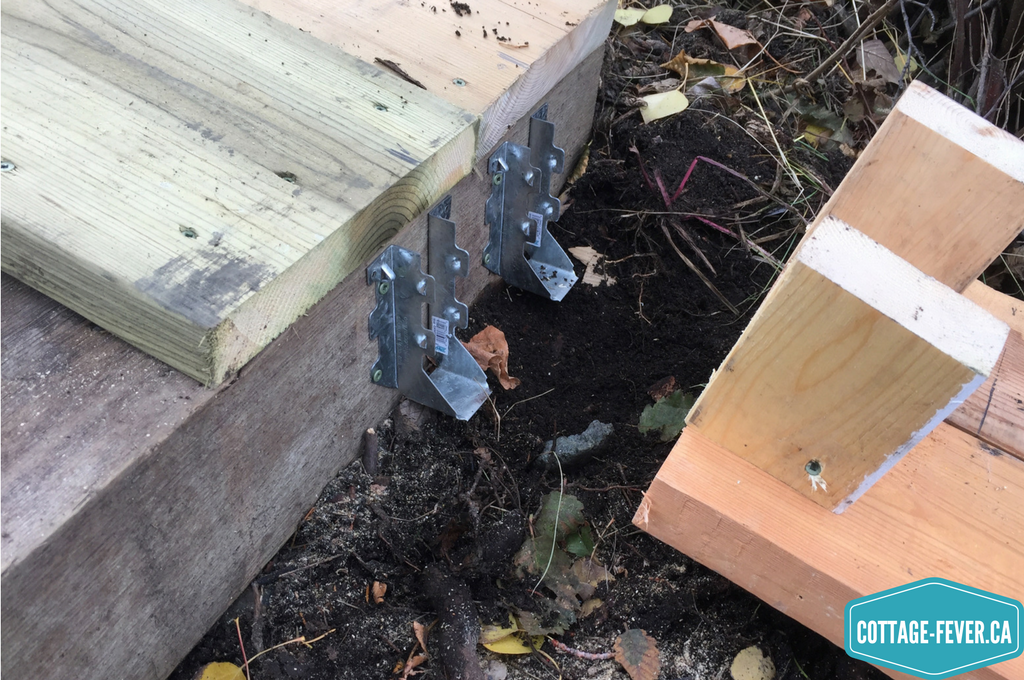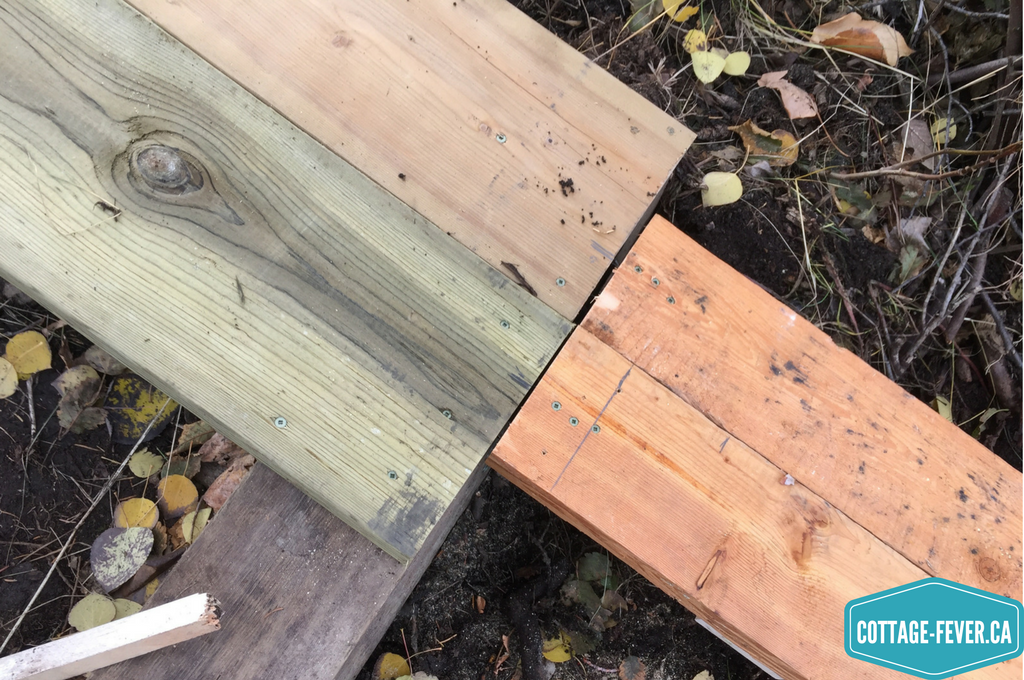 Now how to aid in sliding those docks up the wood?  Hmmm, wax would be helpful.  But the general store doesn't carry it.  What does RONA have that would work?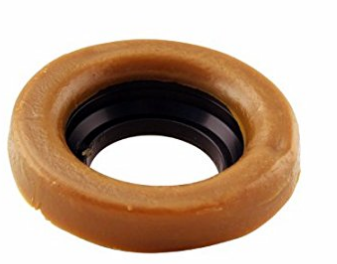 Well, turns out a toilet wax ring can get those runners pretty slippery.  So slippery in fact that Steve slid right off of them!
Now to get the docks in place.  On go the hip waders.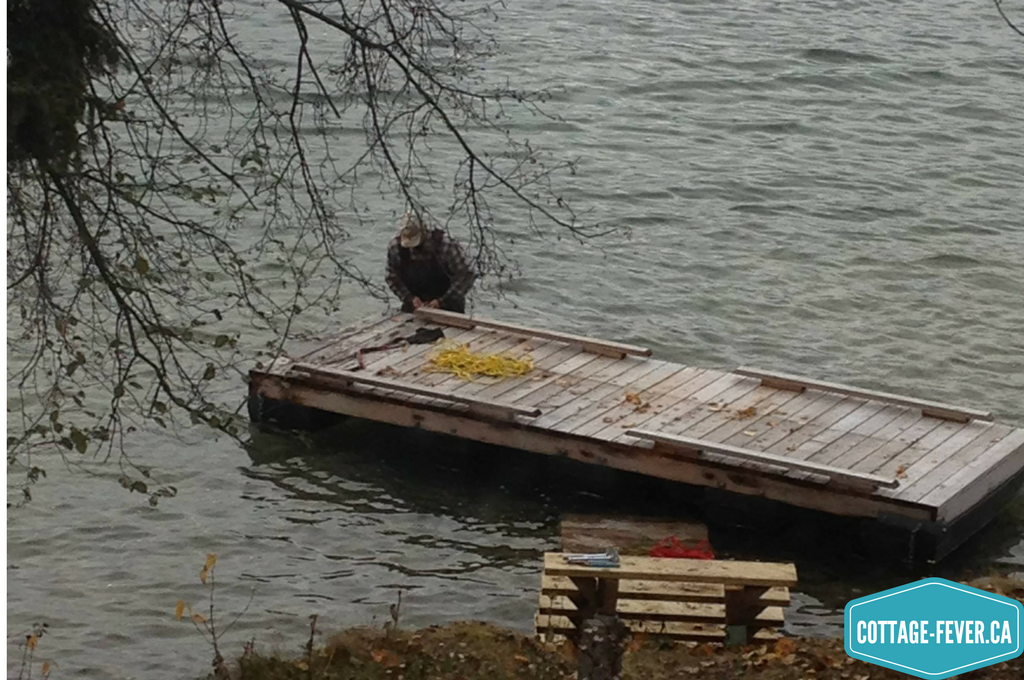 Winching the docks up and out of the water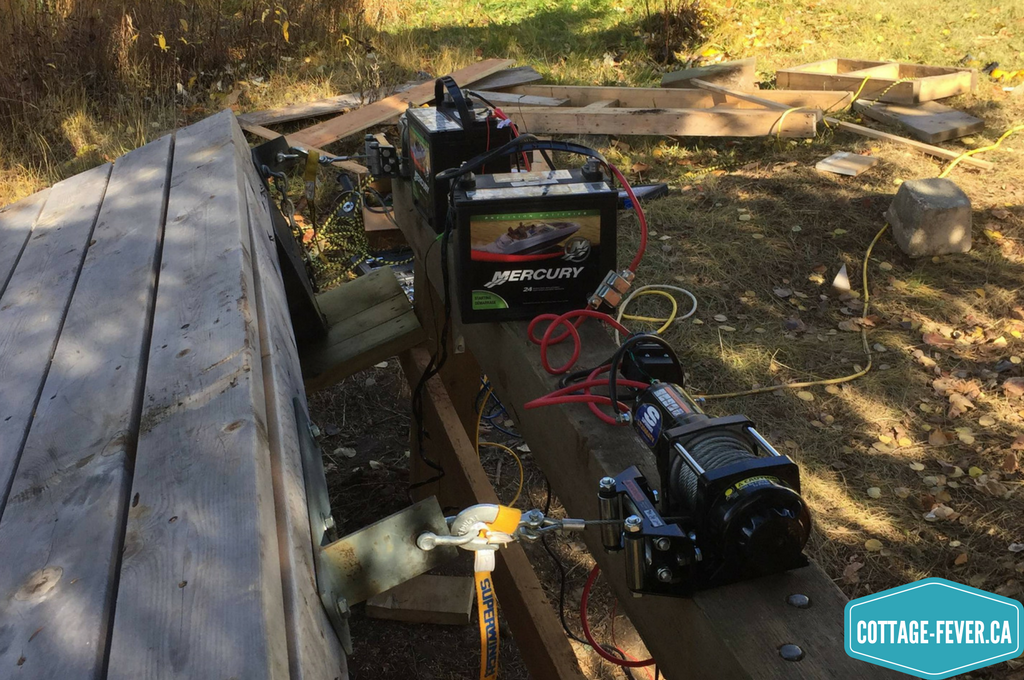 He mounted two winches at the top of the ramp to pull the dock up with even force on both sides so it doesn't twist.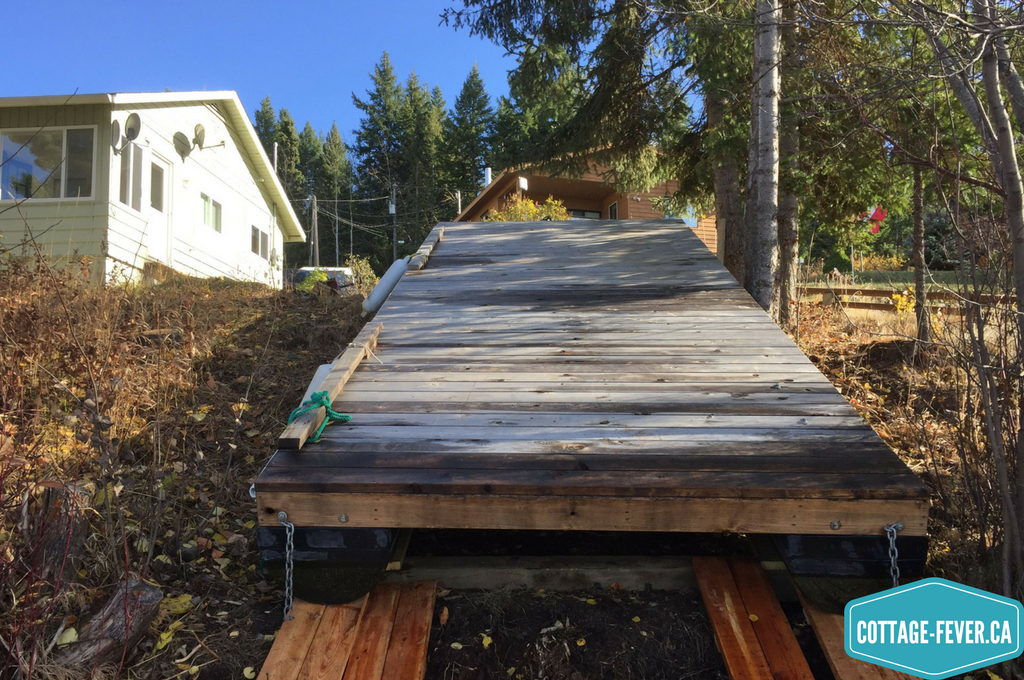 Success!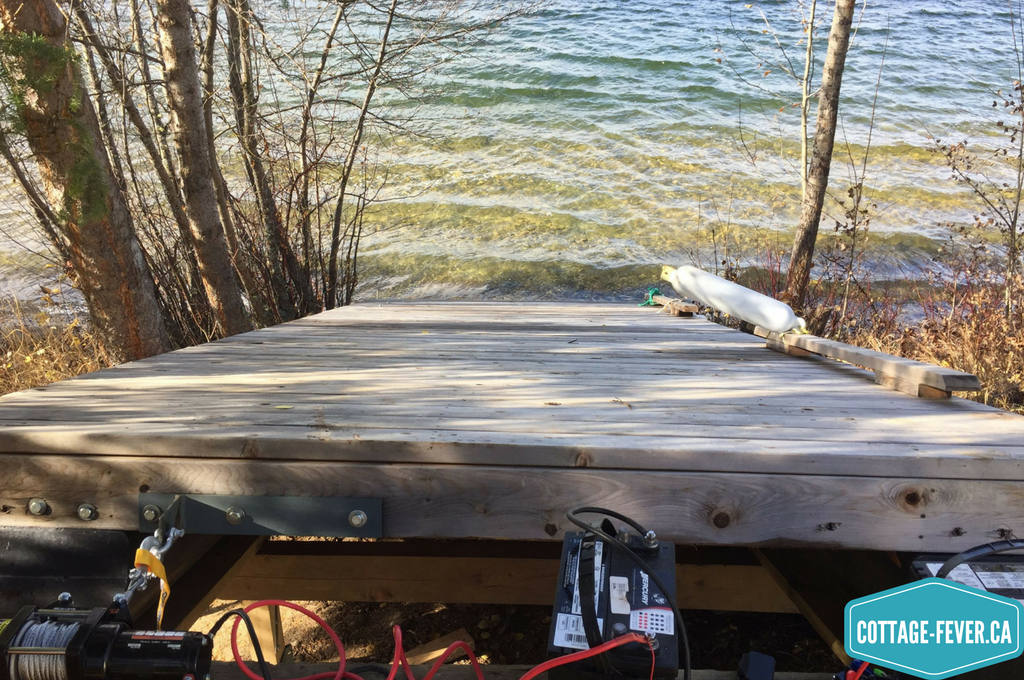 Now to get the second dock up, which is not as wide as the first one.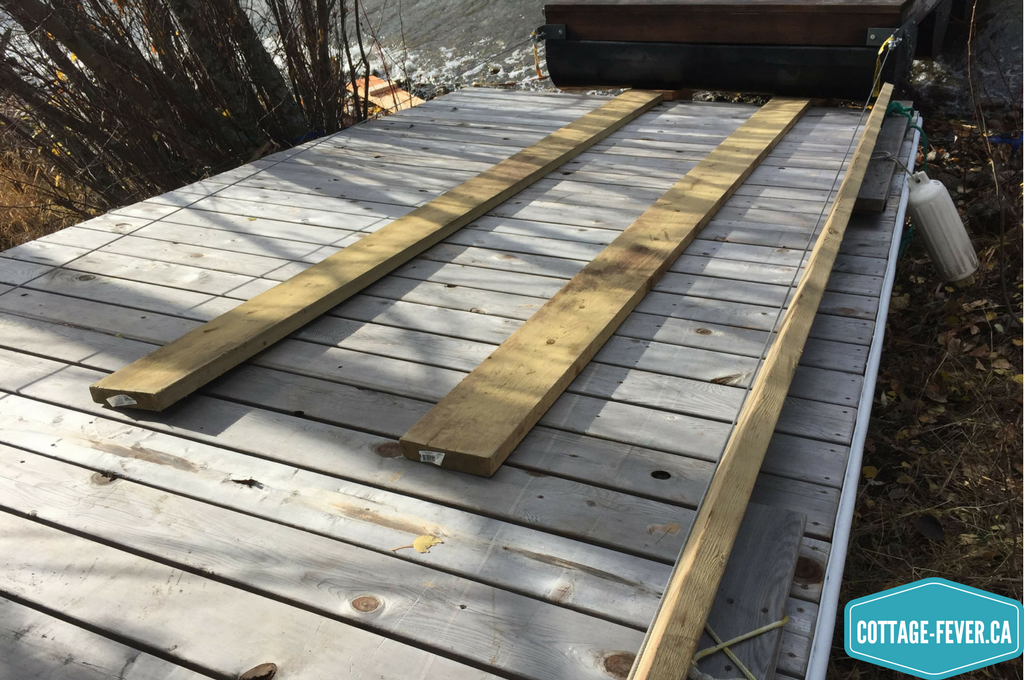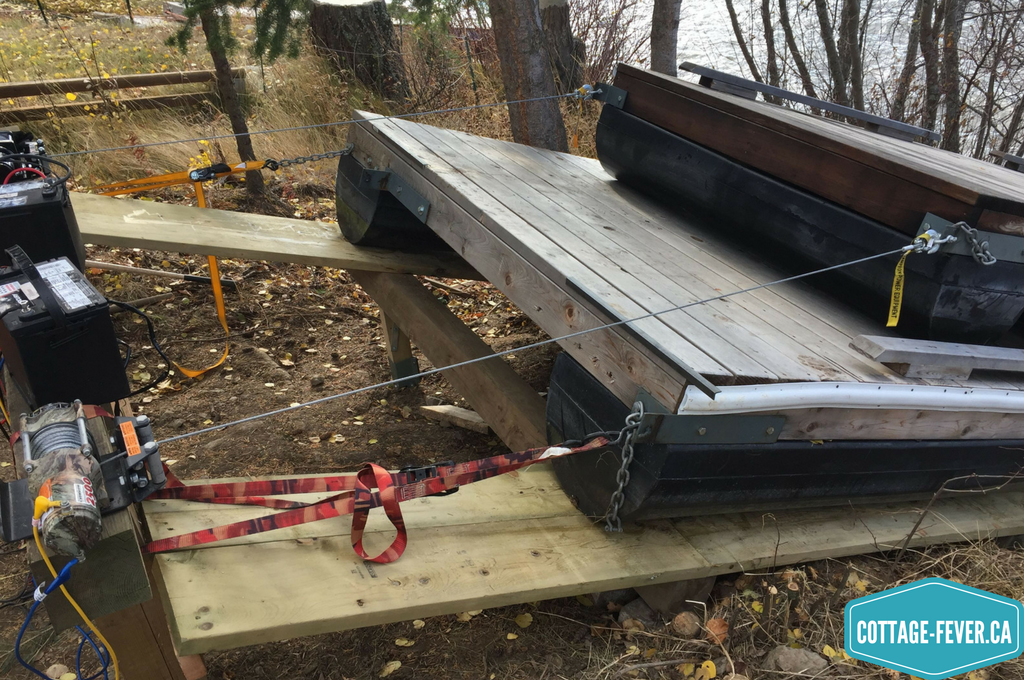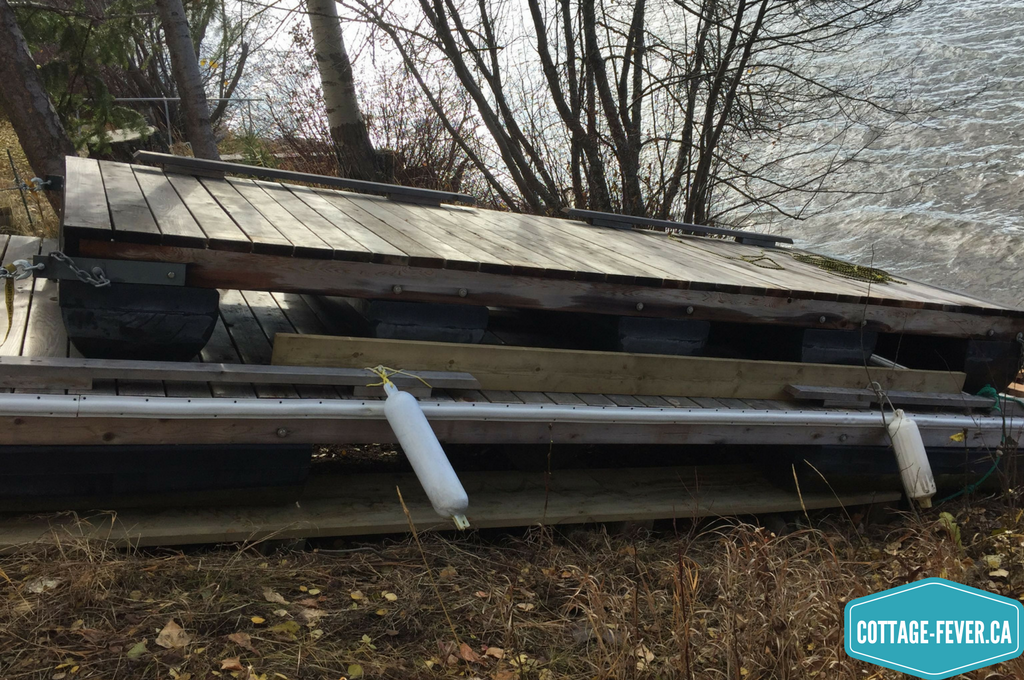 Now we have a system in place that one person can do on their own and can be used for the next 20 years.  Check one major item off the Closing Up Checklist.  Now on to the rest.  Sigh.
Closing Up Checklist
Just so we don't forget anything in the process of closing up the cottage, we follow this checklist: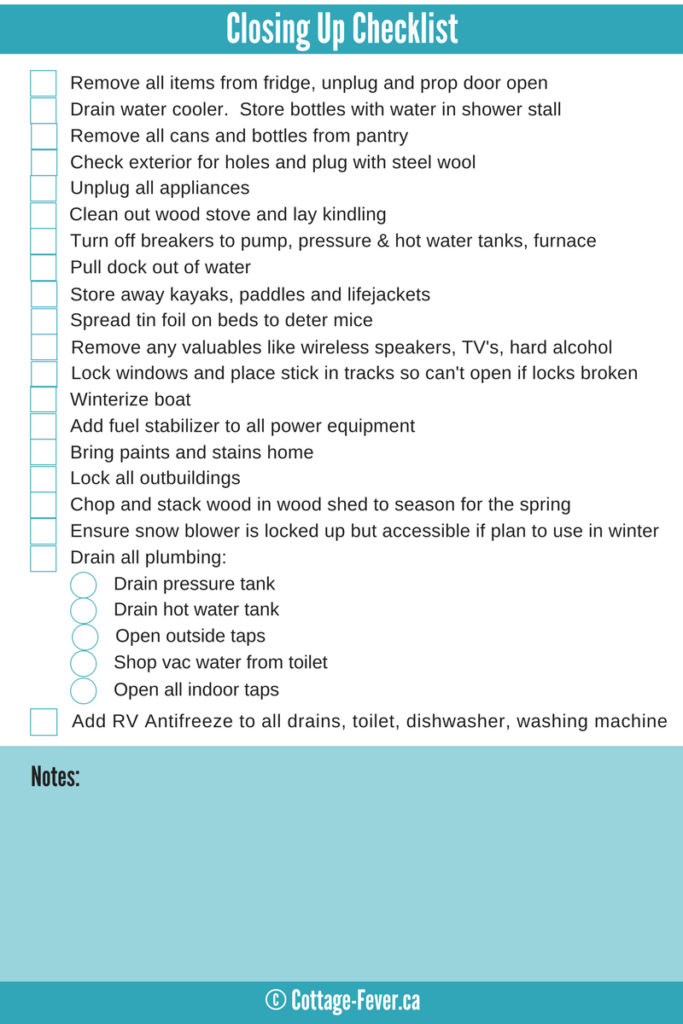 Download our Closing Up Checklist as a pdf and print out for your own use.  Let me know if you find it helpful or if you have anything to add by commenting below.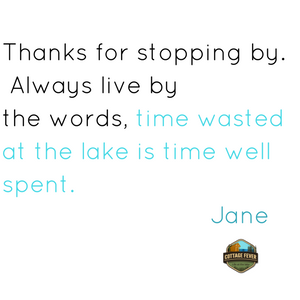 ---
---