How we afforded purchasing a cottage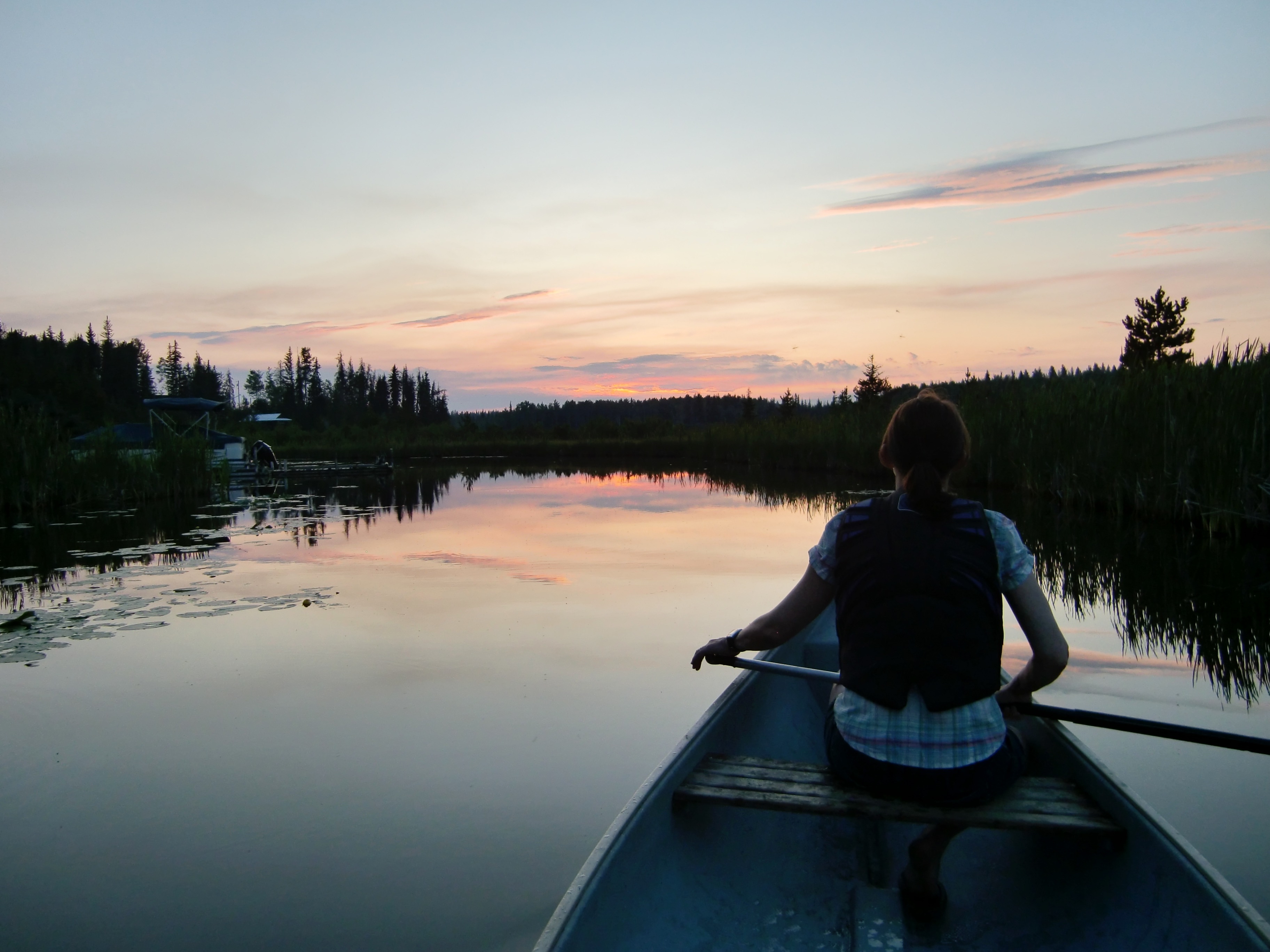 Now we're not blessed with a lot of money.  My husband and I both have decent jobs but between the mortgage, the kids' hockey expenses and all the other bills, there wasn't a lot left over.  However we were blessed to be in a housing market where the value of our home had risen significantly over what we paid for it.  This gain allowed us to use the equity in our home to extend our mortgage on the house and buy our first cottage outright. So we owned the cottage free and clear but had a bigger mortgage on our city property.  This meant we didn't even have to put money down. It also meant that we wouldn't be turned down based on the property we bought.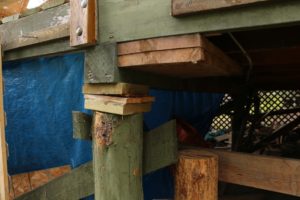 Given that our cottage didn't have a foundation, was not insulated, had an unapproved wood stove as its main source of heat (which we later replaced) and had no running water, it is extremely unlikely that we would have been able to mortgage the cottage itself from a traditional bank.  However there are lenders out there who are willing to take more of a risk on these types of properties.  But it also means that you'll pay a higher interest rate.  We also factored into the amount of the mortgage the things that we would be doing such as buying a boat and renovating. Save yourself some grief and figure this out in advance and get pre-approved before you fall in love with a property. To read more about how we found a inexpensive cottage with its trade-offs, click here
Now to say it was our dream cottage is an understatement.  No indoor plumbing, fairly cramped and with some dangerous features such as a deck railing that we wouldn't risk our lives by leaning on it.  The lot itself had numerous dead trees caused by a mountain pine beetle infestation and they would need to be removed.  But we could afford it and we were willing to put in some sweat equity to turn it into something closer to what we had originally envisioned.  We're not the handiest couple so we knew in some cases we would have to hire professionals.  But we sure learned how to become handy when it came to saving a few dollars.
Over the 11 years we owned the cottage, the following changes were made:
By professionals:
Drilled a well
Installed a septic system
Built an addition
Removed 30 dead trees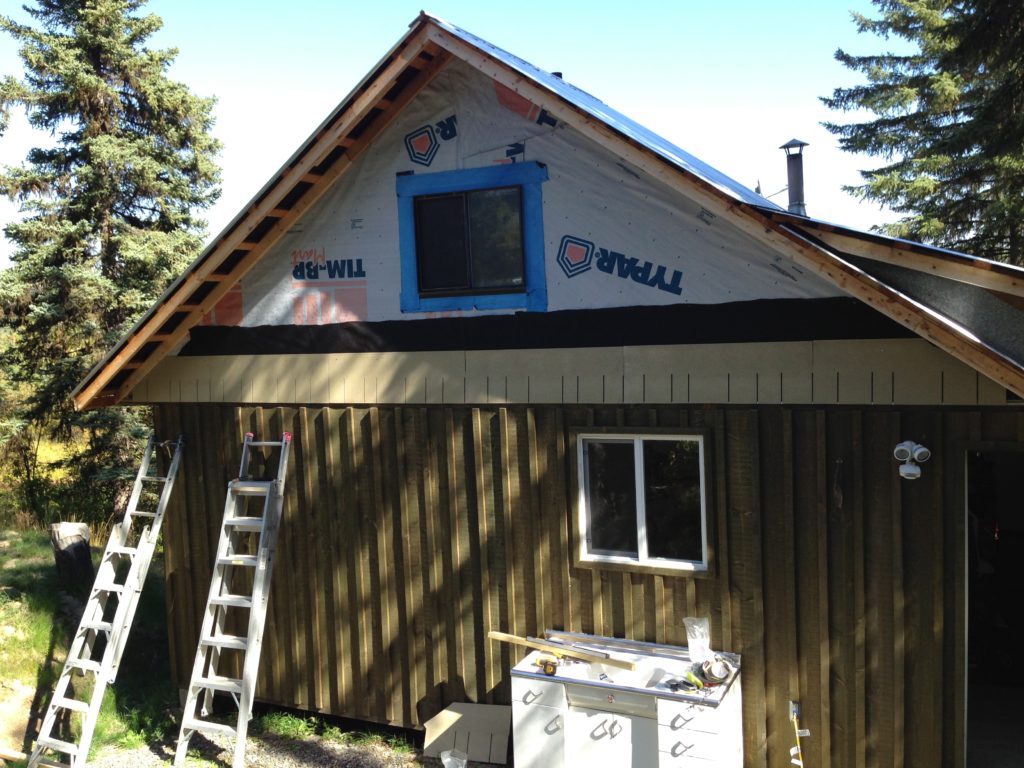 Renovations we accomplished by ourselves:
Finished the exterior of the addition with board and batten
Installed laminate flooring
Added the water system including pressure tank, hot water tank, water filtration system
Painted
Updated all the furniture as it came furnished
Limbed and bucked all the downed trees
Installed bathroom
Installed new hand rails on the deck (which were free from a neighbour's cottage)
Built a small dock
Installed interior panelling
By willing to have less at the beginning and tackle big projects when we had the money to do so, we were able to get our toes in the market of cottage ownership. Our sons were involved in some of our projects and learned valuable skills.  I learned that I loved using a nail gun!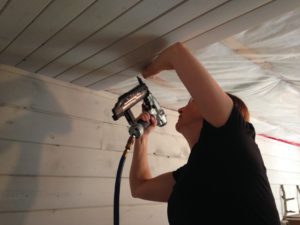 Is a cottage a sound investment?
Some people look at cottage ownership as an investment.  And it certainly can be if you're in a high demand area like Muskoka or the Okanagan.  We also considered it an investment but not a monetary one.  It was an investment in our family.  A way to bring us all together, distraction free, that being in the city together never could.  When we sold this cottage, we basically broke even.  I guess you could say we were ahead financially because we weren't spending money on vacations but you also have to factor in all the other expenses.  As well there is a capital gains tax when you sell your cottage, assuming it is not your primary residence. The trick here is to keep all your receipts for every capital improvement that you make as these can be deducted from the gain.  We took the money from the sale of this cottage and put it as a downpayment on another cottage, this time far less rustic but still in need of a ton of work.  We mortgaged the remainder.  Given that this cottage had a solid foundation, was fully insulated for four seasons, etc… as well as all the equity in our house which had gone up substantially again, we had no issue getting the mortgage.
Other expenses to factor in:
Property transfer tax
Legal fees
Home inspection
Property taxes – without the home owner's grant
Electrical bill
Internet/cable – we chose to go without
Phone – we had a phone line until we got reliable cell service in the area and then cancelled it
Security – we didn't have a security system as we figured we had nothing worth stealing
Insurance – this can be pricey if you rent out your cottage
Cost of gas getting to and from the cottage
The toys – boat, kayaks, dirt bikes, tubes, wake boards…
Truck to pull the boat
Snow removal – we got a hand me down snow blower from one of my brothers but we had to pay to get it in working order
Repairs
Tree removal
Dock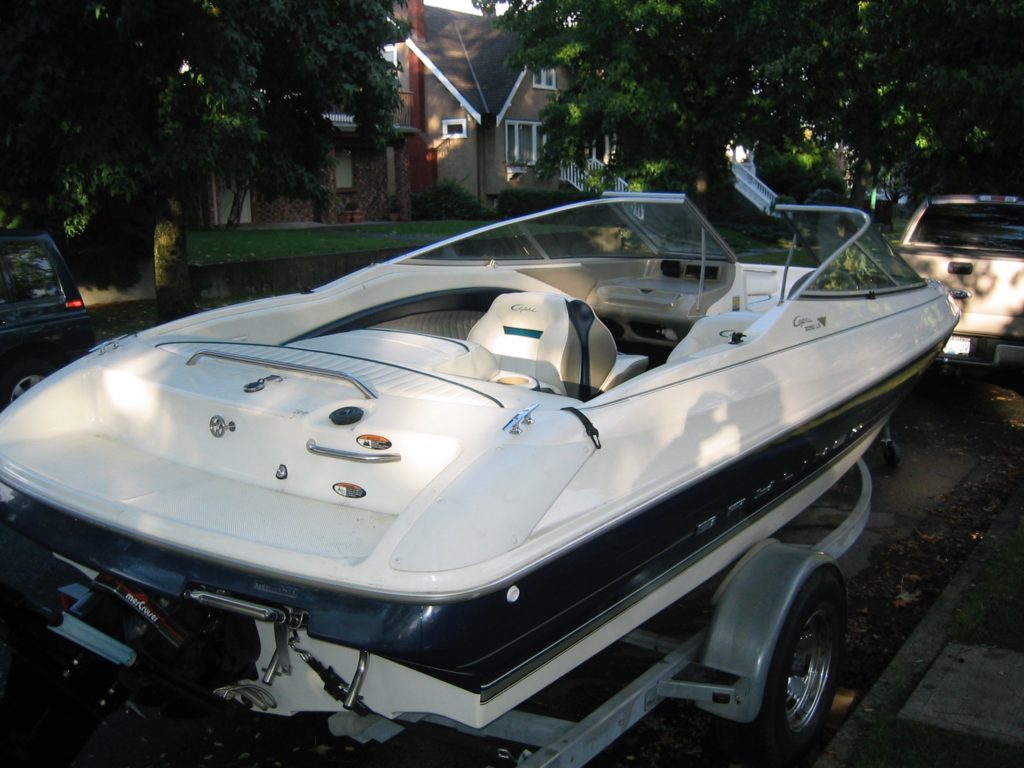 You need to factor in these costs to the overall cost of the cottage to ensure that you're in a position to handle the payments.  The other thing to consider is that you now need to practically duplicate everything in your house – dishes, cutlery, pots, pans, sheets, towels, furniture, the list goes on.  Some people view their cottage as a dumping ground for their old furniture.  And if that works for you then great.  Me, I prefer to have things that I actually like but at the same time not over spend.  You always have to keep that in the back of your mind.  It's a cottage, not your city house.  It will mostly likely not appreciate to at the same rate so you won't get back your money if everything in it is super high end.
Not wanting to feel like I've stepped into a 1970's time warp, I chose to update the furnishings. Just about everything new in our cottage came from Ikea.  We have two matching sofas which are slipped covered for easy washing.  One of them we purchased and one a friend gave us. Thankfully it matched the one we had already purchased.  All we had to do was buy a matching slipcover.  I'm not proud – I'll accept nice hand me downs. The kitchen cabinet units are stand alone and didn't have to be installed. One bed was donated by a neighbour and the other came from Ikea.  We kept the dressers that came with the place which I painted.  Everything was in a yellow and green palette which reminded me of peas and corn – a vegetable combination that I hated as a kid.  Yuck.  We painted it a nice soft white which made the view pop rather than distracted from it.  To read more about how we furnished our cottage, click here.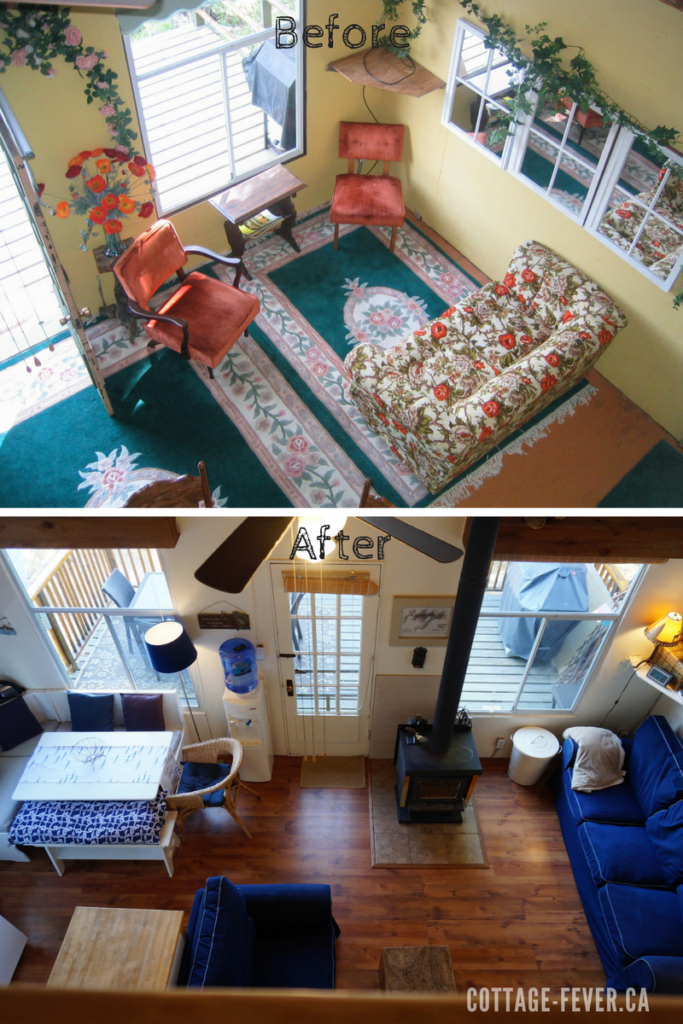 Is renting right for you?
Another route to affording your cottage is renting it out.  Initially ours was not in a state to be rented out. But in the last two years it was becoming more presentable so we listed it on Airbnb. Our goal was to at least cover expenses like the property tax and insurance. The first year we only had a few bookings but once we had a few reviews under our belt, the bookings came in so fast and furious that I ended up hiring a cleaning lady. The renters were mostly Europeans looking for that wilderness experience and were on a driving holiday through Canada so stayed only a couple of nights, usually mid week. It certainly removes the spontaneity of popping up to the lake as you need to plan your time there six months in advance. We blocked off every long weekend and the month of August for ourselves. The lesson here is that if you think you're going to be making piles of cash renting it out the first year, you're wrong.  It takes time to build up reviews so that others will have the confidence to book your cottage.  And you need to be completely honest in your description of the cottage so that guests aren't disappointed and leave a bad review.  So make sure that you can afford to carry the cottage financially without having to rent it out, in the first couple of years at the very least.  To read more about our experience renting out our cottage, click here.
And on the flip side, an alternative to buying your own cottage is to rent one out yourself.  If you don't plan to have extended family staying with you all the time like we did, renting a cottage allows you to experience cottage life without all the attached responsibilities and costs.  With Airbnb, VRBO and Homeaway, it's easier than ever to find the perfect spot for your family's needs.  Or perhaps you're not sure where you'd like to buy a cottage, renting in the area gives you the opportunity to try it out first.
How often will you use the cottage?
One last consideration before buying a cottage is to really understand how often you're going to make use of it.  We thought long and hard about this as our kids were very involved in hockey and lacrosse.  We found that we were going every long weekend from May through to Labour Day as well as multiple weeks throughout the summer.  But then we tried it at Thanksgiving and found what a different experience it was from the summer.  And then a brother convinced us that we should all go up to celebrate New Year's Eve.  In a plywood cottage with no insulation. In an area that can go down to -30 at times. We had a hoot and it's become an annual tradition. So much so that when one of the cousins was going away to University, her only concern was how she could make it to the cottage for New Year's. As the boys grew and matured, they started going up separately with their friends. So in reality we ended up using our cottage far more than we had originally anticipated.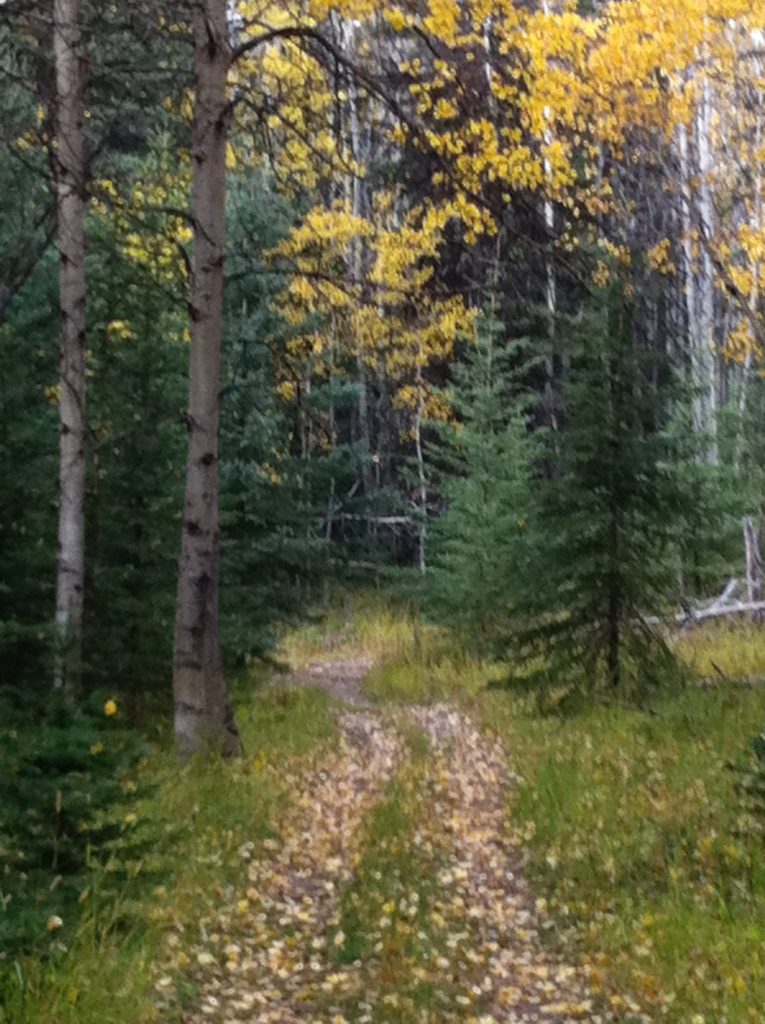 Hope this gave you food for thought as you explore the possibility of cottage ownership and whether or not it's right for you.  For us, it was one of the best things we ever did for our family and we've never regretted the decision.
Let me know what other factors went into your decision to buy a cottage if you've already made the plunge.  And if you're still considering whether it's right for you, I hope you found this helpful.  Feel free to comment with questions.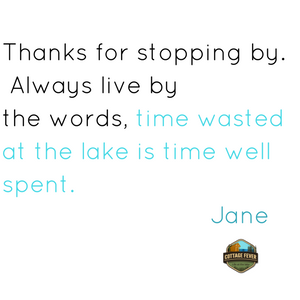 ---
---