Home staging in seven steps
In this world of HGTV and instagram, your home HAS to make a good first impression when viewed online.  Or else no one will come to view it which makes it pretty darn hard to sell.  Staging does what it says, it sets the stage for the buyer to imagine themselves living in your home.  
Amazing what some paint, new flooring, the right furniture placement and decor can accomplish! 
This home had been on the market for months and gone through a few price reductions without a single offer.  And it's on the beach!!!!  The furniture isn't even placed to take advantage of the ocean view, if you can believe it.  A massive TV cabinet made the room feel very small.  And all that dark brown wood furniture just sucked the light (and the life) out of this room.
We were the lucky buyers as no one else could visualize the potential of the dark and outdated space. And we got it for a steal. This is not our forever home, so the upgrades are only cosmetic. We rent it out on Airbnb and the comments are spectacular!  Everyone who comes into our home remarks on what a charming space it is.  
Our realtor has given us an estimate of what we could sell it for today, granted four years later in a good market, but still an unbelievable increase of 48%!  Staging is an investment in selling your home, saving you time and putting more money in your jeans. I'm so glad this little gem wasn't staged as no other buyers could visualize the potential!
the benfits of home staging
Having a home sit on the market for months is costly.  You may end up carrying two mortgages if you've already purchased your new home.  Paying for property taxes, insurance, utilities for months on end is draining. Not to mention the stress this causes. And then you may have to reduce your price in order to generate some interest.  Staging can not only avoid this but it can actually increase the value of your home. 
According to a 2019 study by the National Association of Realtors in the US, 44% of buyers' agents stated that it increases the price a home was able to garner, with 22% of agents quoting an increase between one and five per cent and 17% of realtors estimating an increase of six to ten per cent.  Those increases are significant.  
So let's get to work!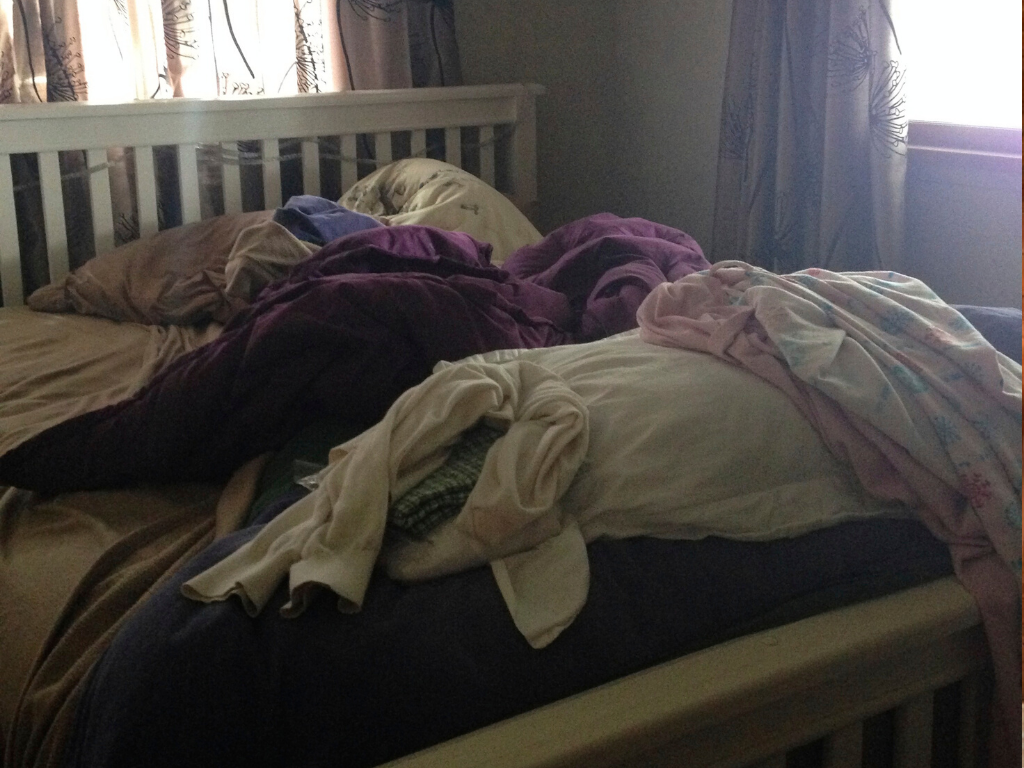 No word of a lie – the picture on the left is from a showing of a cottage for sale.  Seriously, who can't even make the bed when a prospective buyer comes through your home????  
You're going to have to box everything up from when you move anyway so start now. It might even be worth getting a storage locker for a few months.
Put away all personal items – photographs, religious symbols, quirky items (you might love your skull collection but a perspective buyer?  Not so much)
Clean out all off-season clothing from closets – buyers will be looking here so you want to give the impression of oodles of storage space
While you're at it, donate stuff you no longer use as why pay to move it?  Perhaps you can make a few bucks and sell some items too.  That paddle board that you only used once, for instance?  
Take pictures as the camera sees what the eye doesn't.  Think you've decluttered enough?  The camera might tell you differently.  
Lots of great websites are out there that walk you through how to declutter.  Here's one that might be helpful.
step two: repair and replace
Potential buyers will judge your home based on how well it's been kept up.  If there is a broken hinge, a burned out light bulb, or dirty grout, they'll wonder what else is wrong with the house so repair anything that can be repaired and replace it if it can't.  And update items that aren't too expensive but have a big impact.
I painted the cupboards, replaced the hardware, took the ugly curtain down from the window, replaced the faucet, swapped out a new range hood and installed a new light fixture.  It looks like a totally new kitchen with just a few cosmetic changes and some elbow grease (and lots of paint in my hair).  Oh and this kitchen was missing a dishwasher which is a must in today's world so we removed one set of cupboards and put it in.  
Repair anything broken
Add new hardware on cupboards
Swap out cupboard hardware and faucet – this is the bling in your kitchen therefore it can have a huge impact
Change electrical plugs to something more modern (we didn't in this case but probably should have)
Improve lighting layering it throughout 
Replace carpeting or flooring – in our case the carpet was over 30 years old and disgusting.  We opted to replace it with laminate, as it is a beach house sand is constantly coming in and so would scratch hard wood, and we chose something that is the colour of sand which references the location
Don't overlook anything as potential buyers won't.  
Nothing can transform a space more quickly and cost effectively than painting.  First of all, it can brighten a dark room, but it can also make a small room appear larger, balance an oddly shaped room, and make low ceilings appear higher.  If you want to learn more about how to pick a palette, click on this link.  In the example below, even the bed and side table have been painted to make them fresh and appealing.
Certainly, it is not as simple as it seems as there is a great deal of nuance that goes into picking a paint colour or scheme.  Consequently, if you'd like my help choosing a colour, please click on this link and choose my colour consultation package.
Step Four: Arrange furniture with the buyer in mind
What works for you isn't necessarily what will work for your buyer.  Like the first picture at the beginning of this post, having your furniture arranged for TV viewing rather than focused on that amazing view out the window just doesn't make sense.  Maybe you've become immune to the view but for the buyer, it could be a major selling point.  
Focus on the focal point.  In a living room, this is typically the window and/or the fireplace. Similarly, in the bedroom, it's the bed.  In the dining room, it's the table.  You get the idea.  Highlight these focal points with your furniture placement.  
And less is more.  While an empty room will feel small, a crowded room will feel, well, crowded.  If you're sofa is outdated, buy an inexpensive slip cover to give it a new life.  
Step five: style all surfaces
This means making your bathroom mirror that of a hotel, styling your book shelves and mantel, adding touches in the bedroom, setting the table and so much more.   Make sure that each room is styled and furnished for its intended purpose.  A bedroom is a place to relax, not work out.  Similarly, the dining room is for eating, not a music room.  
Think of what would appeal to your target market, as well as referencing the location.   This a beach house so a potential buyer expects to see a beachy decor. 
Most people have a tough time visualizing so make it as easy as possible for a potential buyer to visualize themselves living in the home.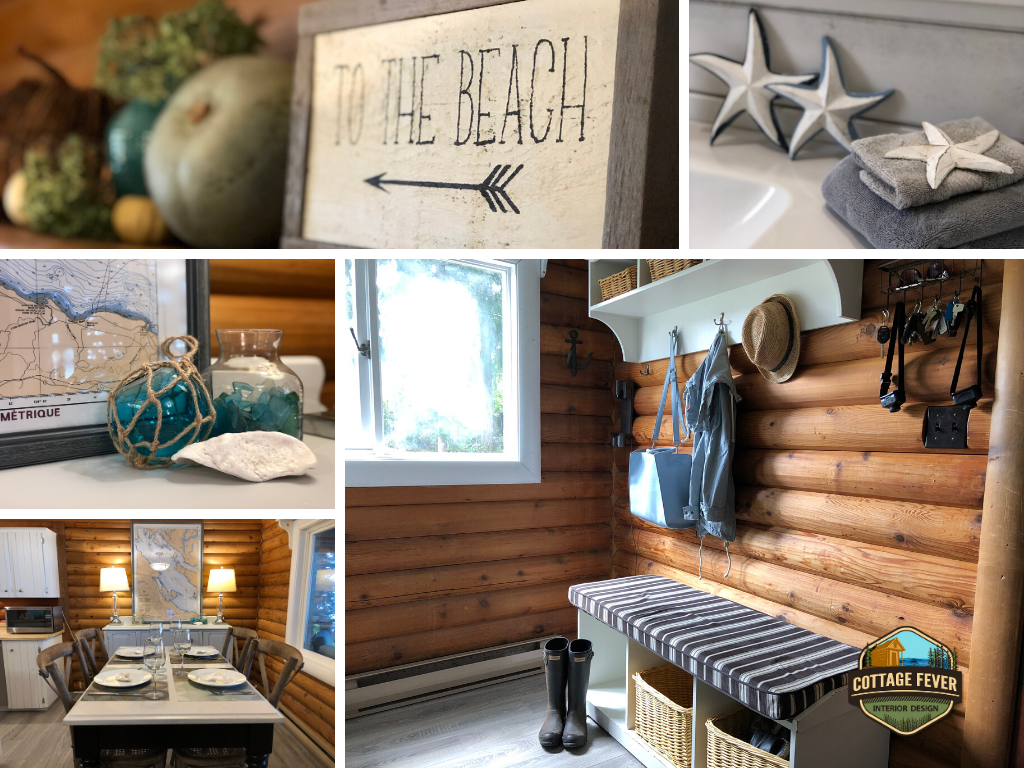 Your outdoor spaces deserve just as much attention.  Again, help buyers imagine relaxing on the deck with their own fire table or having drinks at the live edge bar.  Sweep, power wash, clean the outdoor furniture cushions and welcome people to your outdoor spaces.
And don't forget the front door as well as curb appeal from the street.  You don't want someone driving on by who was interested in your home by the pictures they saw online.  Add a planter to the front entrance, paint the door if necessary and add new address numbers to give your home a quick update.  
step seven: the final touches
On the day of a showing, ensure you do the following:
Put out fresh flowers
Provide fresh baked cookies, tea and coffee
Light a "good" scented candle – not a sickly smelling cheap one but a quality candle with a long burn time
Remove any pet paraphernalia and get rid of any lingering fido scents 
And please, make your bed.
Feeling overwhelmed?
Buying a home is an emotional decision.  And selling your home can be just as emotional.  It is a very stressful time in your life, in fact it ranks up there as one of  the most stressful things that you go through in life. 
If you live in the Comox Valley or surrounding area on Vancouver Island, I can help.  Give me a shout and we can discuss the various packages that I have at different budget levels. 
I can even help remotely with suggestions of what to do and provide you with paint colours if you're not nearby.  Please do get in touch.
Click here
I hope that you found this post on home staging helpful. And as a result, I hope that it helps you sell your home faster and for more money. Investing the time, effort and some money upfront will pay off.
Let me know how it goes for you in the comments below.
Thanks for stopping by.
---