How to create a coastal inspired wreath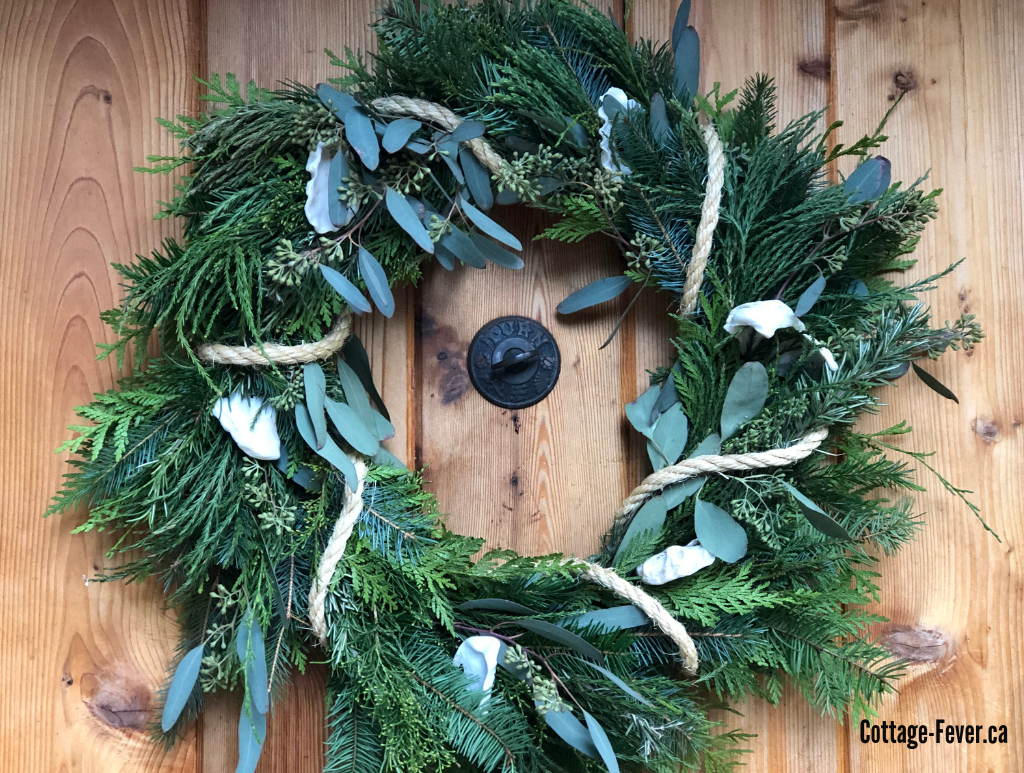 For years and years, I've been hosting wreath making workshops for friends.  It's been a fun way to kick off the holiday season without too much work on my part.  By hosting a brunch, people can get to other holiday parties during this extremely busy social time.  Adding in a little bit of champagne and orange juice helps everyone's creativity shine through.
Tools:
Wire wreath form – 12 or 14 inch
22 Gauge paddle wire
 Gardening Gloves
Clippers
Apron (optional to keep sap off clothing)
Santa hats and Christmas sweaters optional
The options of what to add to your wreath are endless.  I usually scour around my property to see what I can find and then purchase some botanicals as accents.  For this particular wreath, I've used:
Cedar
Pine
Rosemary
Fir
Seeded Eucalyptus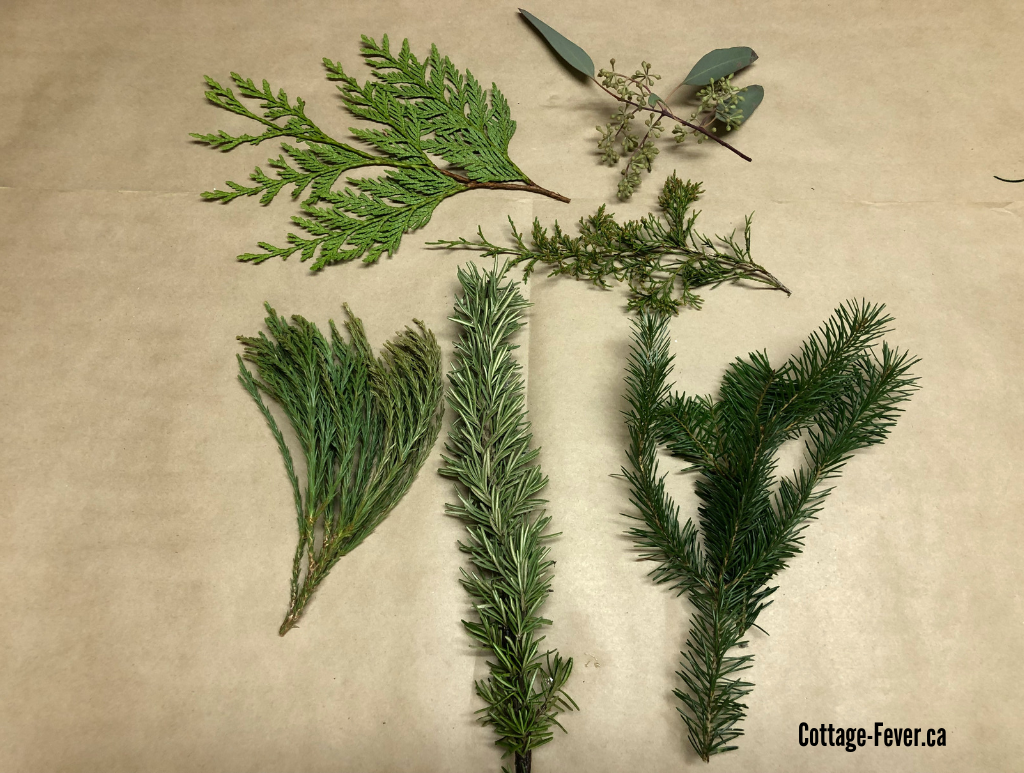 For a 12 inch wreath, you'll need approximately 10 bunches of materials.  In my case, I used a 14 inch frame and it needed 14 bundles.  Start by cutting your different branches in approximately six to seven inch lengths.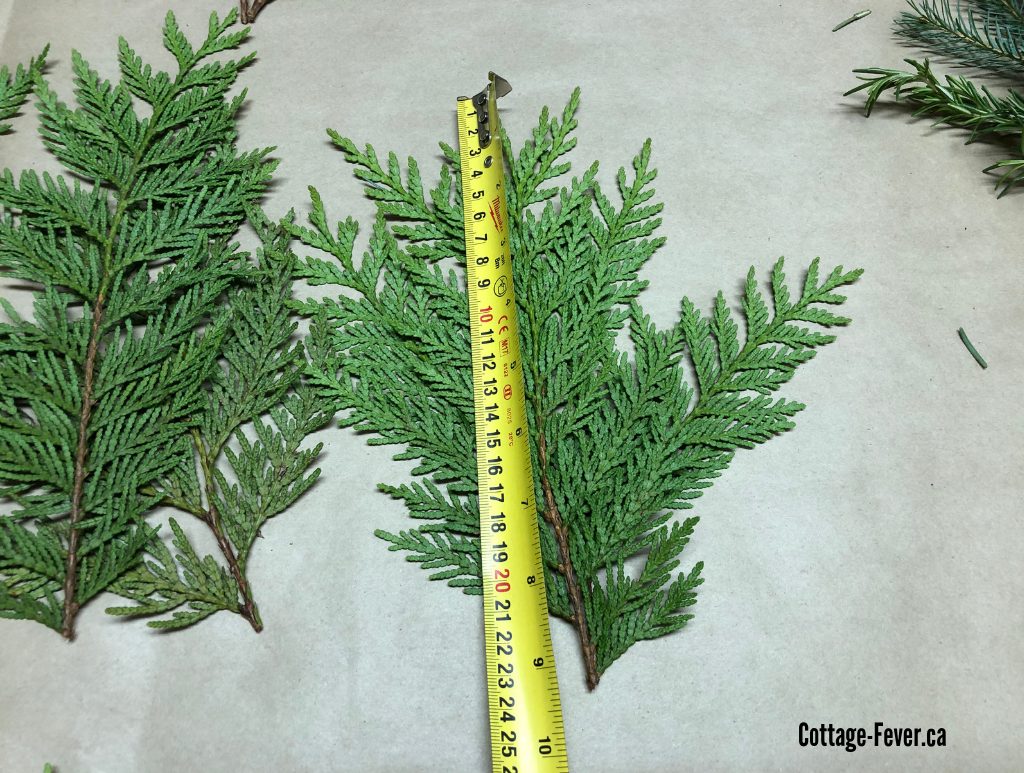 I start with the cedar as it makes a good back drop for the wreath.  Look at both sides of your material as you might prefer the colour of one side over the other.  Two layers of cedar works well.  Lay them out on your work surface to make the job easier and keep it under control.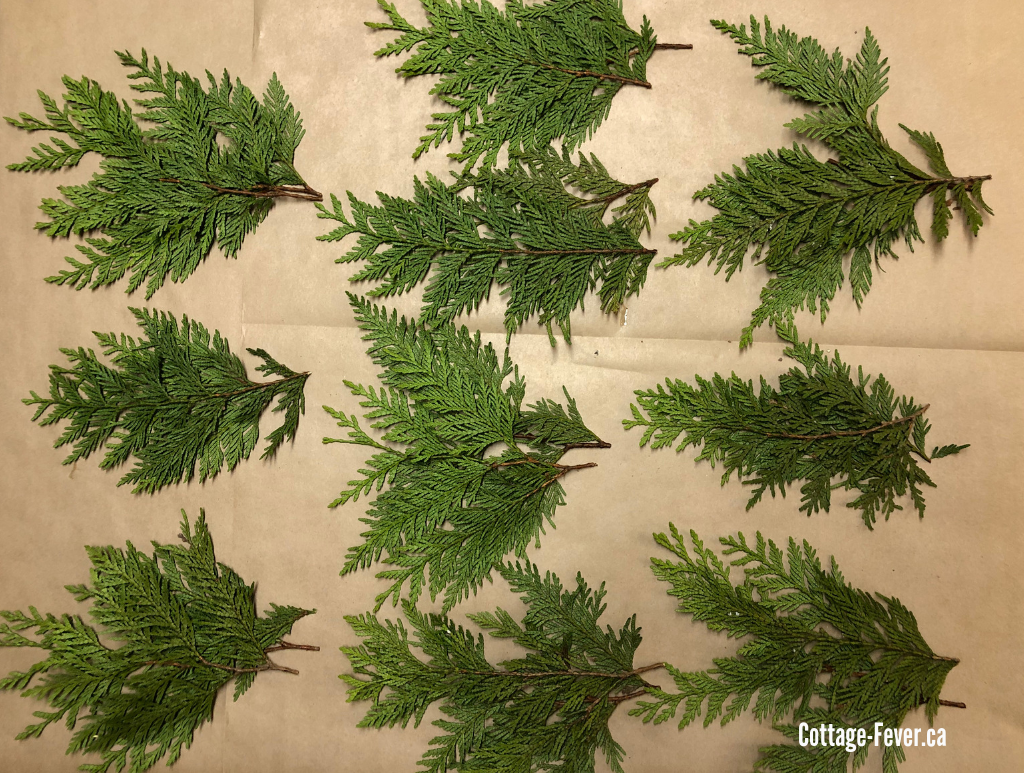 Then continue to layer in all of your other material with your accent botanicals on top.  In this wreath, because I was running out of botanicals, I chose to alternate rosemary with the seeded eucalyptus as my accent pieces.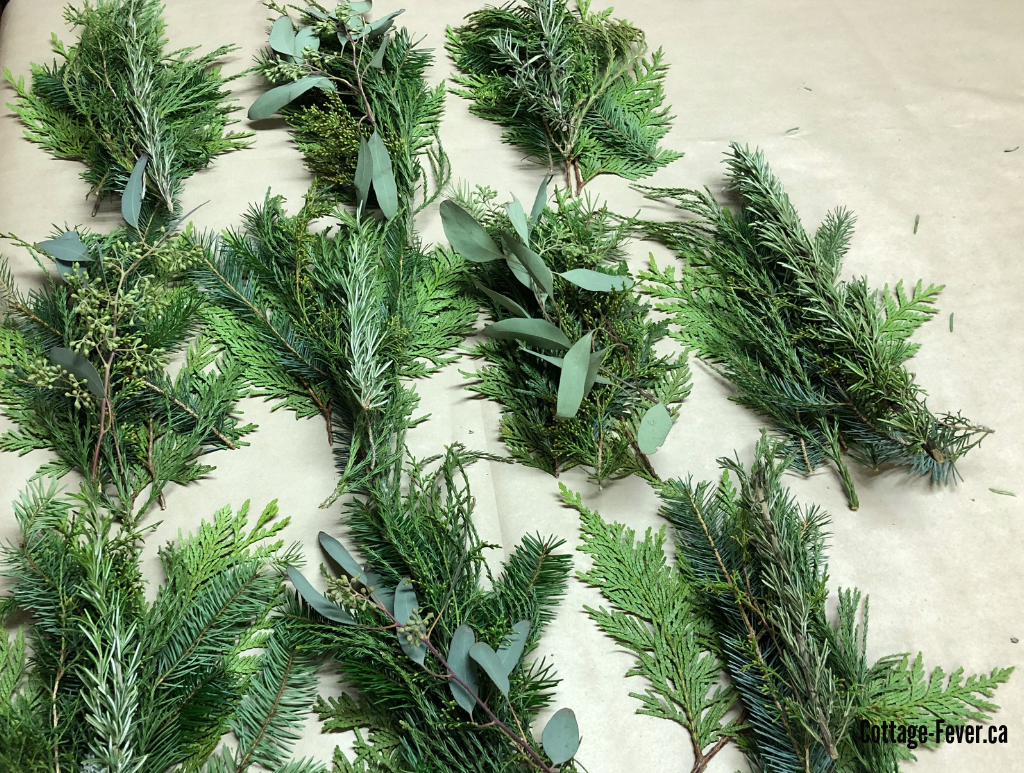 Once you have all of your bundles or bouquets of material, it's time to start attaching them to the wreath.  Start by wrapping your wire around the outside of the wreath form to secure it.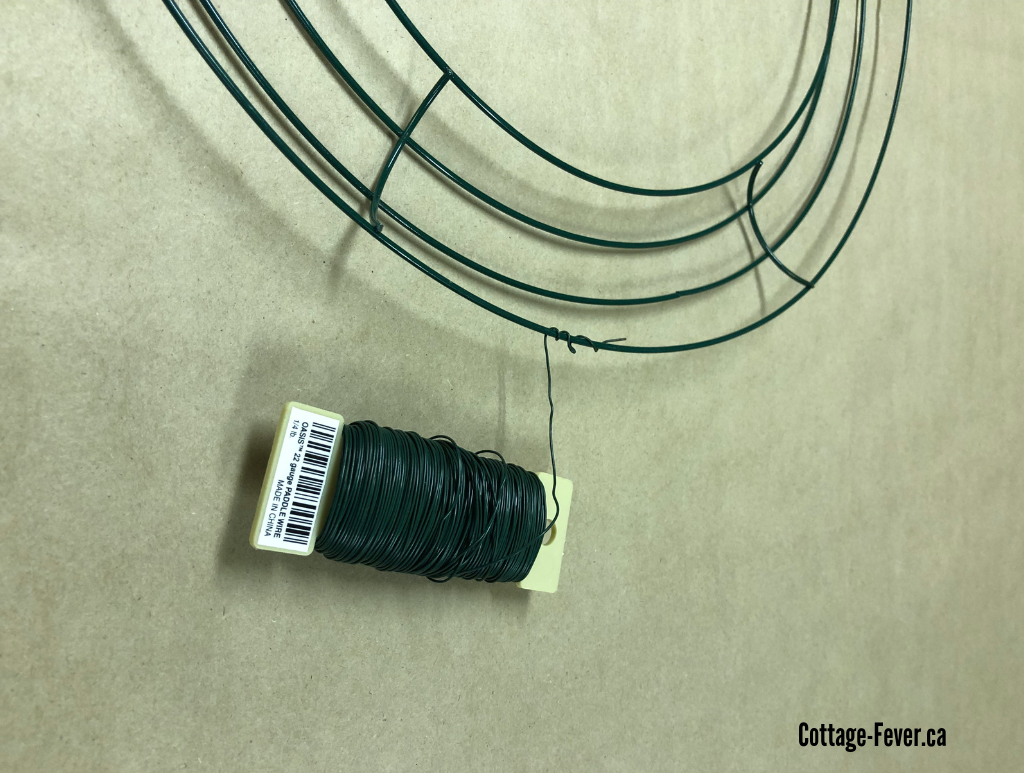 Take the first bundle and lay it across the wreath form at an angle. You want the ends to stick out off the wreath. The wreath form should have the concave side facing up.  Then wrap the wire around the base of the bundle four times, tight enough that it's secure but not too tight that the wire frame begins to bend.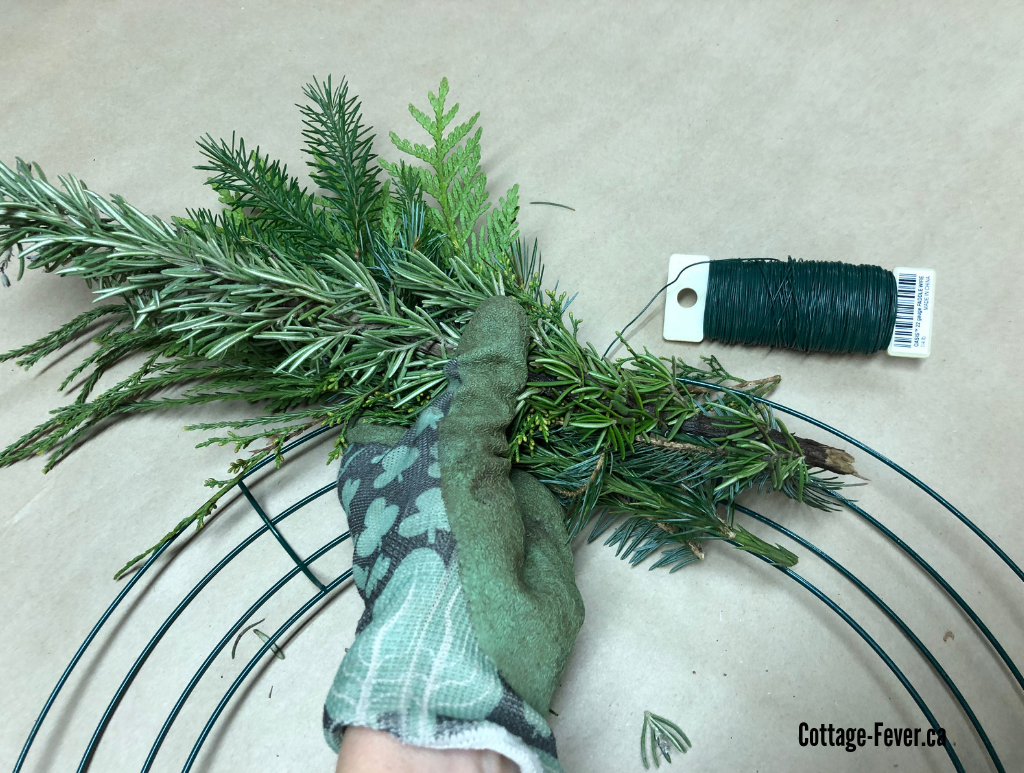 The next bundle gets laid across the stems of the first to hide them and the wire, also at an angle.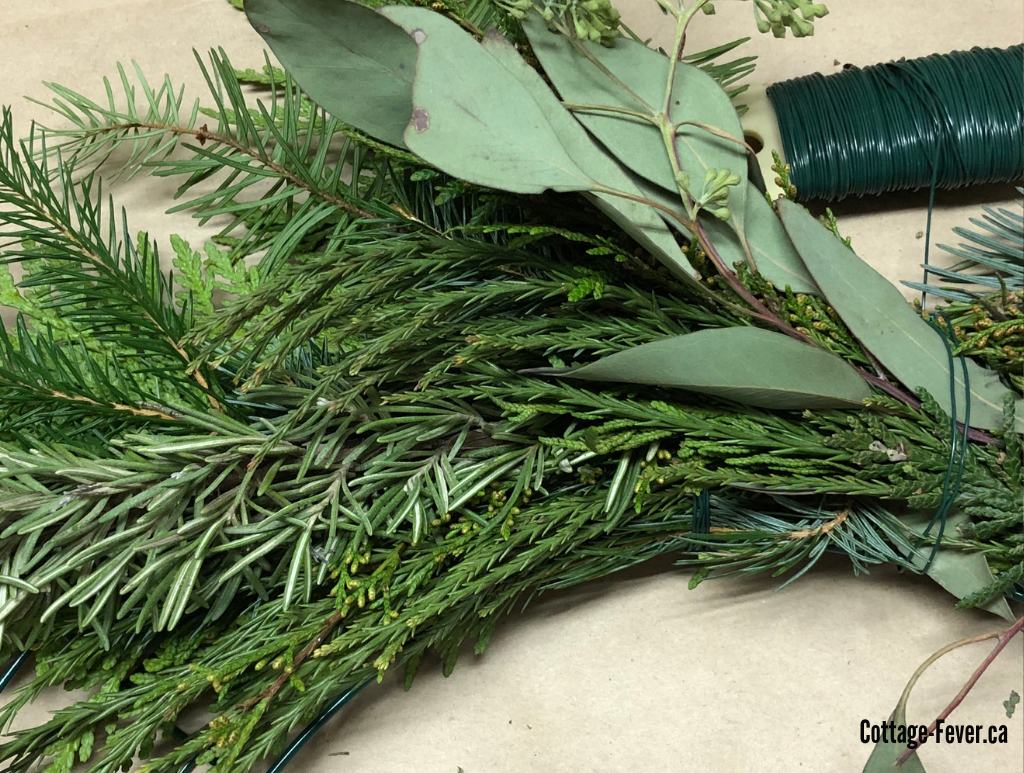 You'll notice that I alternated the rosemary bundle with the eucalyptus bundle.  Continue wiring on bundles as you work your way around the wreath.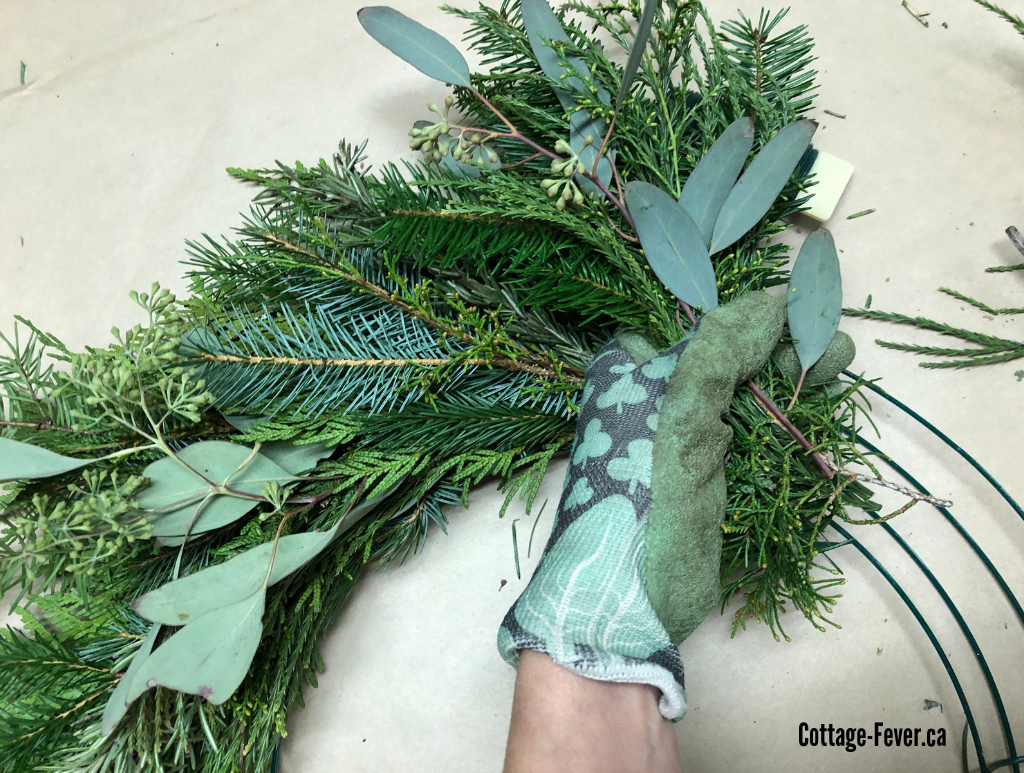 Don't worry if the wire is showing anywhere or some branches seem too long as you can go back later and add in or trim as needed.  It is important that the bundles are tight enough that the wreath will withstand winds when its hung on your door.  When adding in the last bundle, lift up the first one and tuck it in underneath.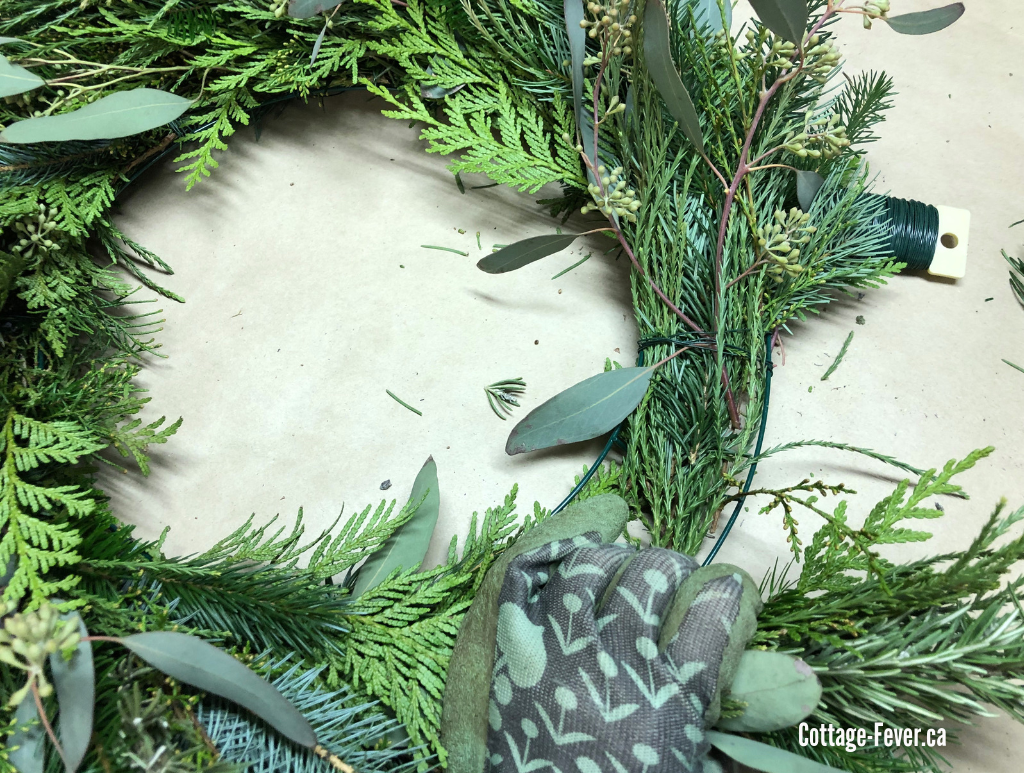 Tying off the wreath is simple.  Just flip it over, cut the wire with your clippers and secure to the form.  Check to make sure that no stems or wire are sticking out that could scratch your door.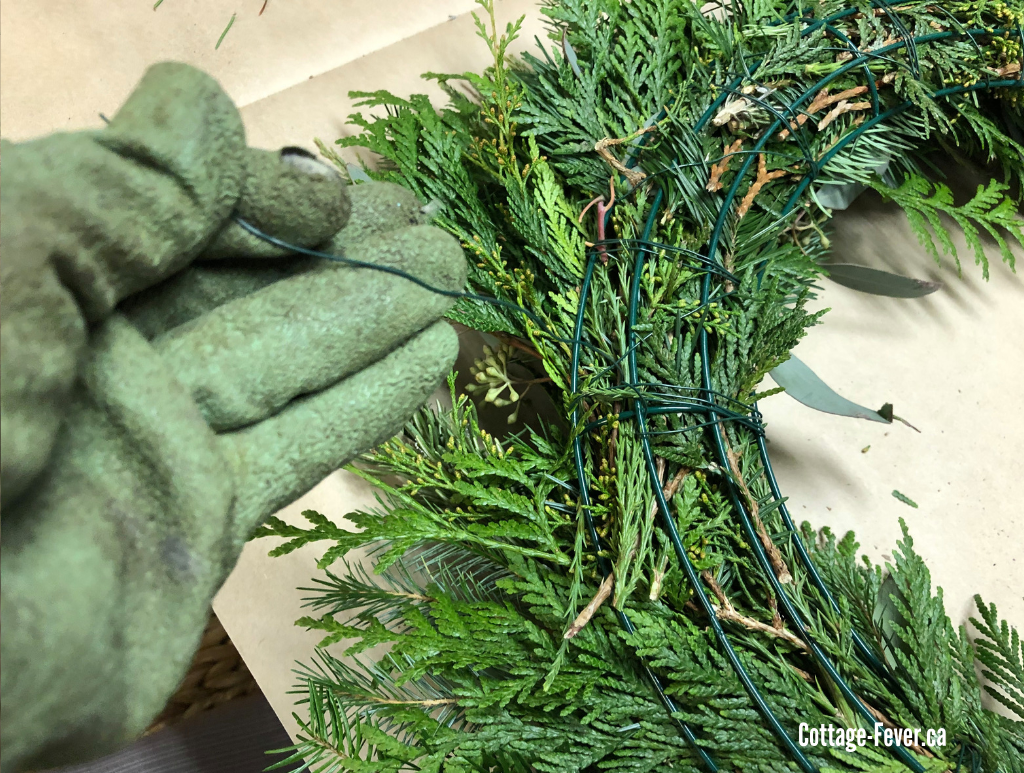 Now take a look at the wreath and check for bald spots and fill them in with extra greenery.  You can add decorative accents at this point like wiring in pine cones or a ribbon.  For mine, I wanted a coastal look so used some oyster shells that I had collected on the beach.  I chose ones that already had a hole in them saving me from having to drill one.  Fun fact, I learned that these holes are actually created by octopus!  I cut a piece of wire and threaded it through the hole.  Then I poked the wire through my wreath and tied it on by twisting, like I would a twist tie.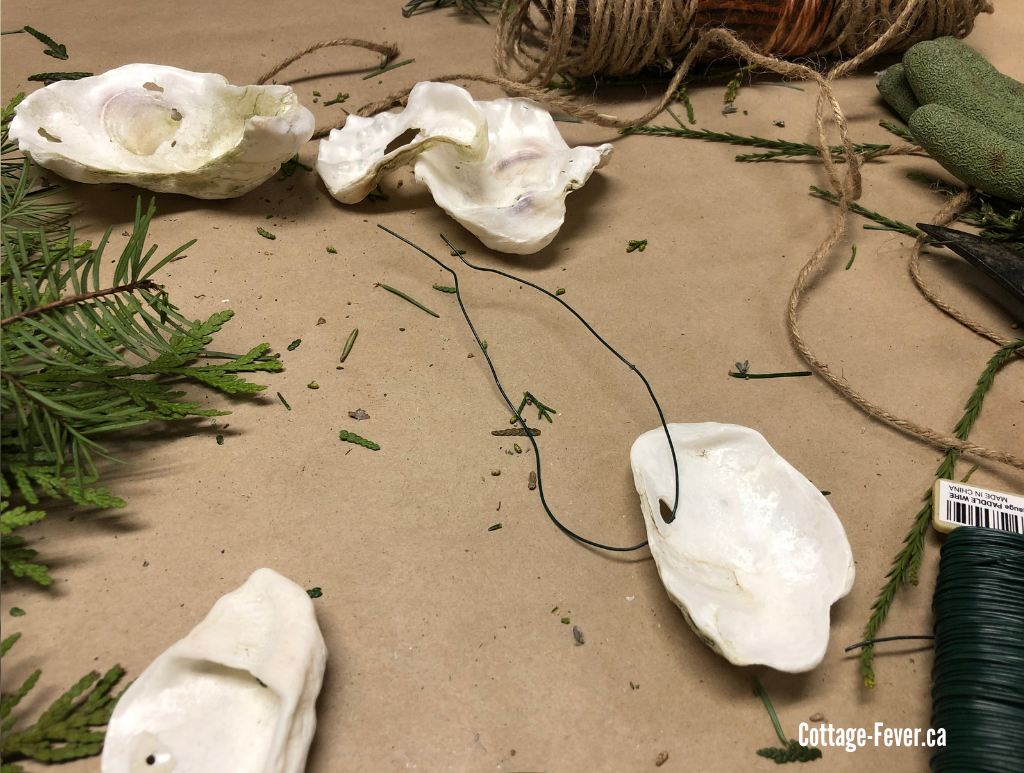 I liked my wreath but it didn't feel "nautical" enough to me.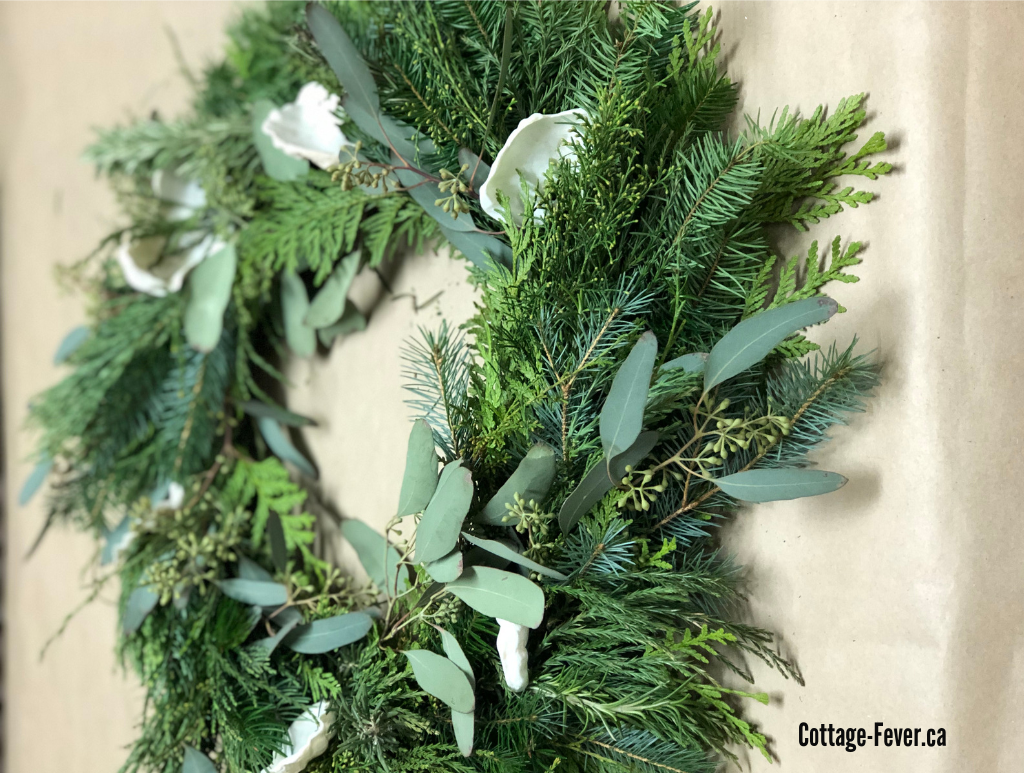 But wrapping some rope around it like a ribbon give it the coastal vibe I was looking for.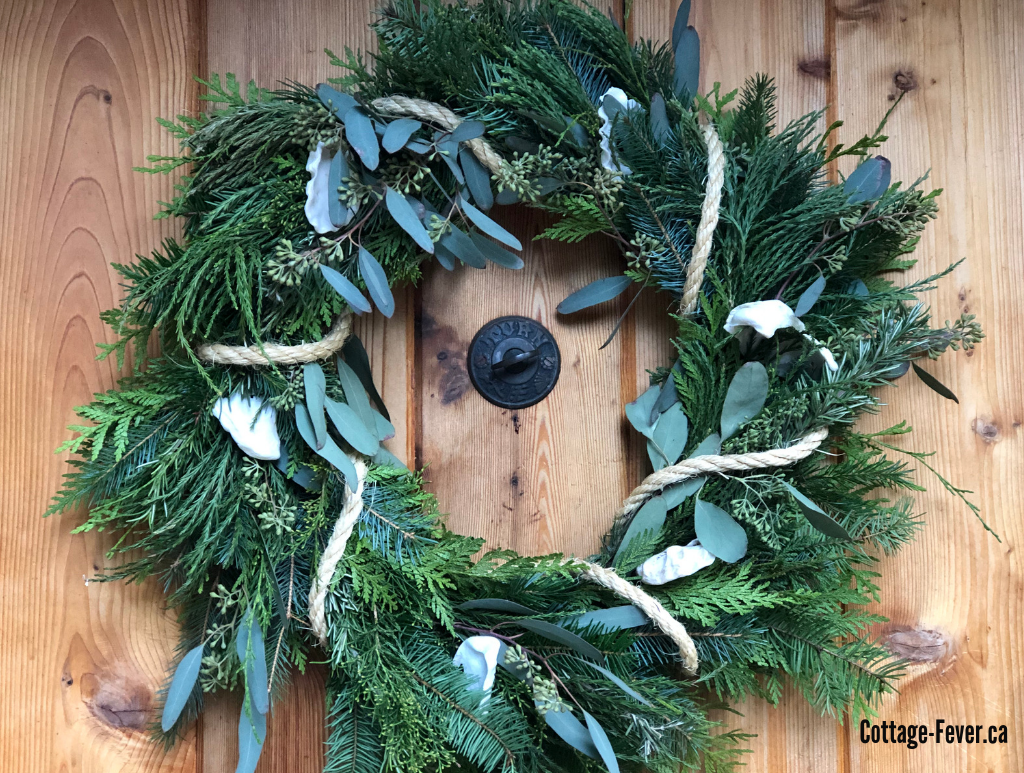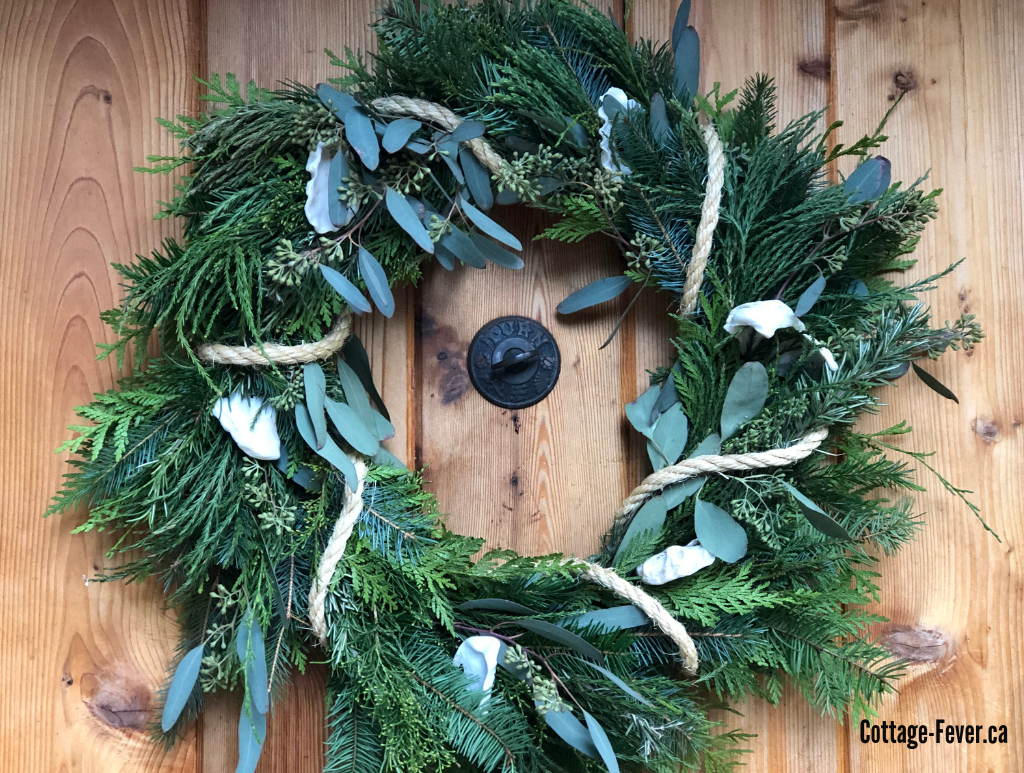 Hope you enjoyed the tutorial.  It really is a simple process and one made much more fun by doing together with a bunch of friends over brunch.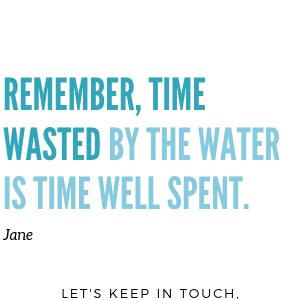 ---
---