Summer activities at the cottage
The best thing about having a cottage, is that you get to have big people sleepovers all the time.  Friends that you might only meet up with in a restaurant are now sleeping over and you get to see them in their jammies with bed head.  You also reconnect with siblings and their kids who live far away.  It's all about the food and the bevvies.  But after that first big breakfast is ingested, people want to DO IT ALL.  The discussion begins based on current weather conditions as to what to do first.  The lake is glass now, should we go wakeboarding or is it still a bit too chilly?  Oh, someone is already plying their way across the lake in the kayak.  Someone else is already having a nap in the hammock (a few too many beers the night before).  And so the pace of cottage activities begin.  But be careful of FOMO (fear of missing out).  You don't have to do all the activities on the first day.  And it's okay to leave some to look forward to for the next visit to the lake.
Power Boating:
If you have the good fortune to own a runabout, you have hours of loud fun ahead of you.  Our boat is fairly old (2009) but it's in great condition and seats 9. It didn't come with a wakeboard tower but we recently added one. When we load everyone toward the back, it's ideal for wakeboarding.
Wake boarding:  I tried wake boarding when we had a different boat that didn't have the same get up and go.  When I couldn't get pulled up, instead of letting go of the rope, I allowed myself to be dragged behind the boat.  When I finally let go I thought I was having a heart attack.  The pain in my chest was unbelievable!  But I thought, "I can't be having a heart attack – I'm way too young!".  I managed to get myself to the boat and my husband helped me climb up the ladder.  Turns out I dislocated a rib. Who knew you could even do that! I was too chicken to try wake boarding ever again.  Just happy to drive the boat for others or act as spotter.  No one else seems to have an issue with the sport.  If you'd like more info, click here for a very comprehensive guide.  I should have read it before I tried.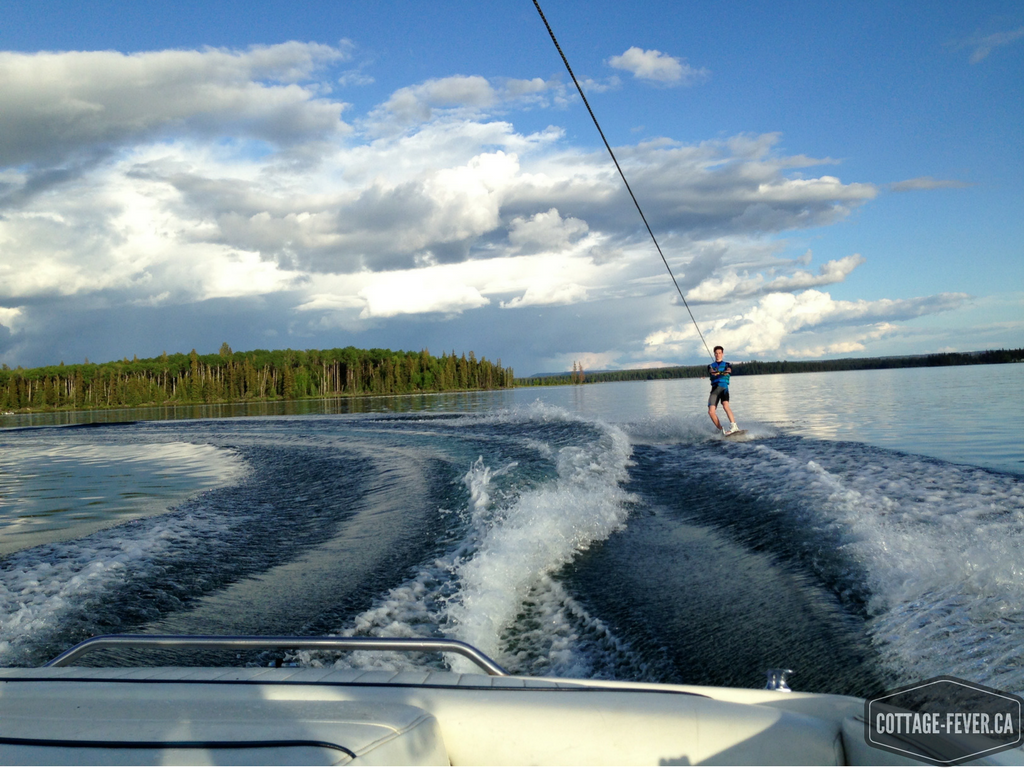 Tubing: This is fun for all ages.  With our boys, they usually spend the entire ride trying to dump each other off the tube.  All I know is that at the end of driving that boat in circles, I'm usually a bit nauseous and I'm glad when the final rider is done.  Here are some good tips for safe tubing.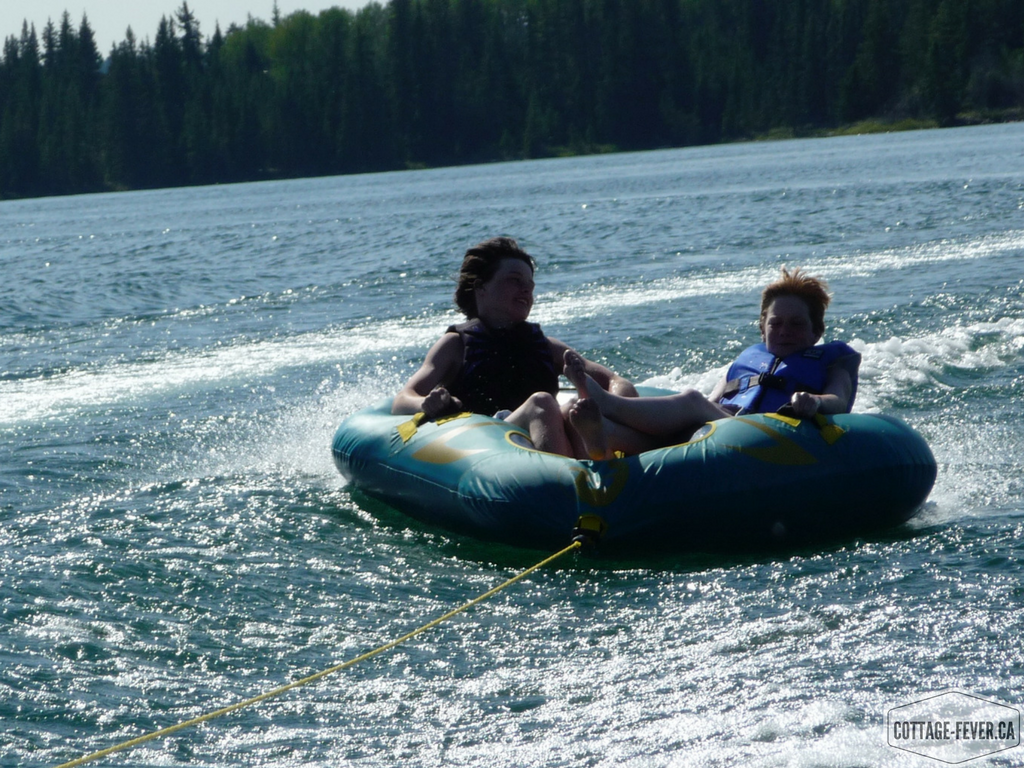 Rope swing – On our lake there is a small uninhabited island where someone has taken advantage of a leaning tree and created a rope swing.  I'm always the no fun parent (otherwise known as the voice of reason) and am not able to watch as the kids hurtle themselves out over the water.  No one but me ever seems concerned that the lake level may down this year and the water could be shallow.  I happened to be vindicated one time though as a damaged prop later proved this to be true!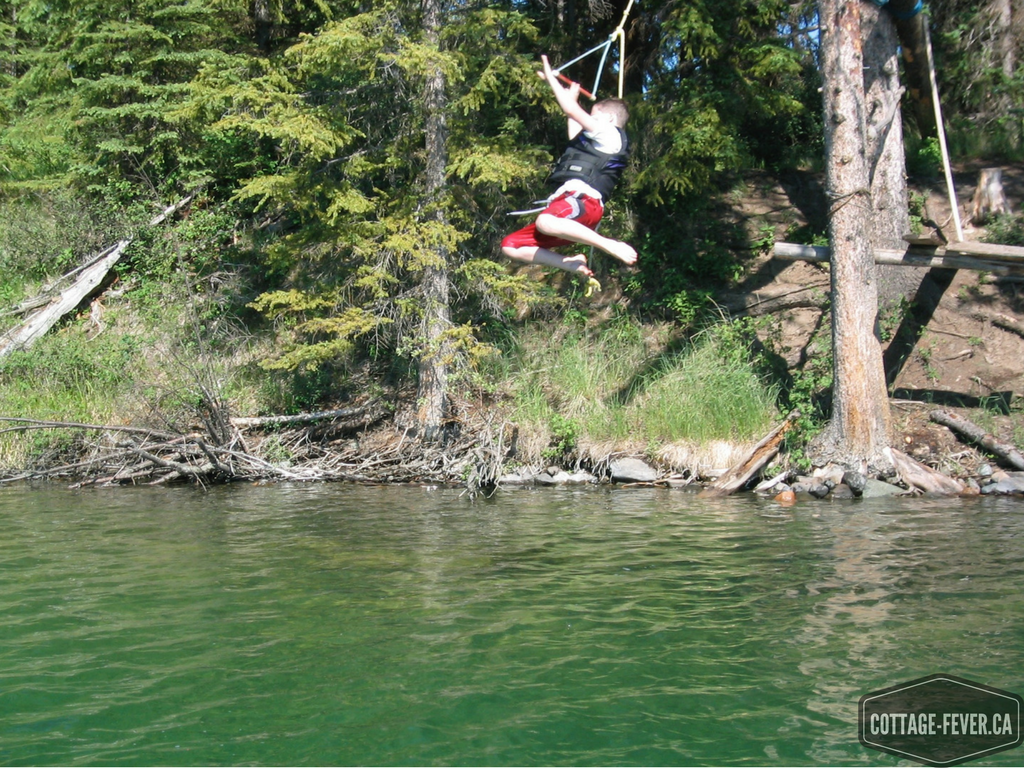 Beaching the boat for a picnic or just anchoring the boat in the middle of the lake and swimming is a fantastic change of pace from the watersports.  Hanging out in the middle of the lake on a sunny day is such a cool experience.  Our niece's husband taught us the trick of taking off our lifejackets, turning them upside down and putting our legs through the armholes.  You feel like you're wearing a giant diaper but you float with such ease! Much easier for drinking a beverage than treading water.  And you can channel your inner sumo.
Other activities
Geocaching – remember how much fun a treasure hunt was when you were a kid.  Well, this is the adult version.  Don't knock it 'til you try it.  All you need is the GPS on your phone and a free account with Geocaching.com.  You'll discover areas around your cottage that you didn't even know existed.  For instance, we discovered that there are remnants of the Hudson Bay Company's Fur Brigade Trail in our cottage's neck of the woods as there are a number of geocaches stashed along it.  What an incredible piece of history!  To learn more about Geocaching, check out this short video:
Road cycling – my milkshakes bring all the boys to the yard.  While I enjoy road cycling, my husband is downright fanatical about it.  So his training rides are way too long for me and he will often go out without me.  At the end of one of these long rides he told me how he had met up with a couple of other cyclists (there aren't many as there's really only a couple of paved roads that are suitable for cycling).  They told him they were riding up to a resort about 15 km away for milkshakes and did he want to tag along?  Of course he did – we're talking milkshakes here.  And he really enjoyed their company and competitiveness.  I teased him later about his play date but the upshot is that one of the cyclists had a cottage close to ours and lives not that far away from us in the city.  It was the start of a cycling friendship that is still really solid.  Milkshakes bring all the boys on their bikes to the resort.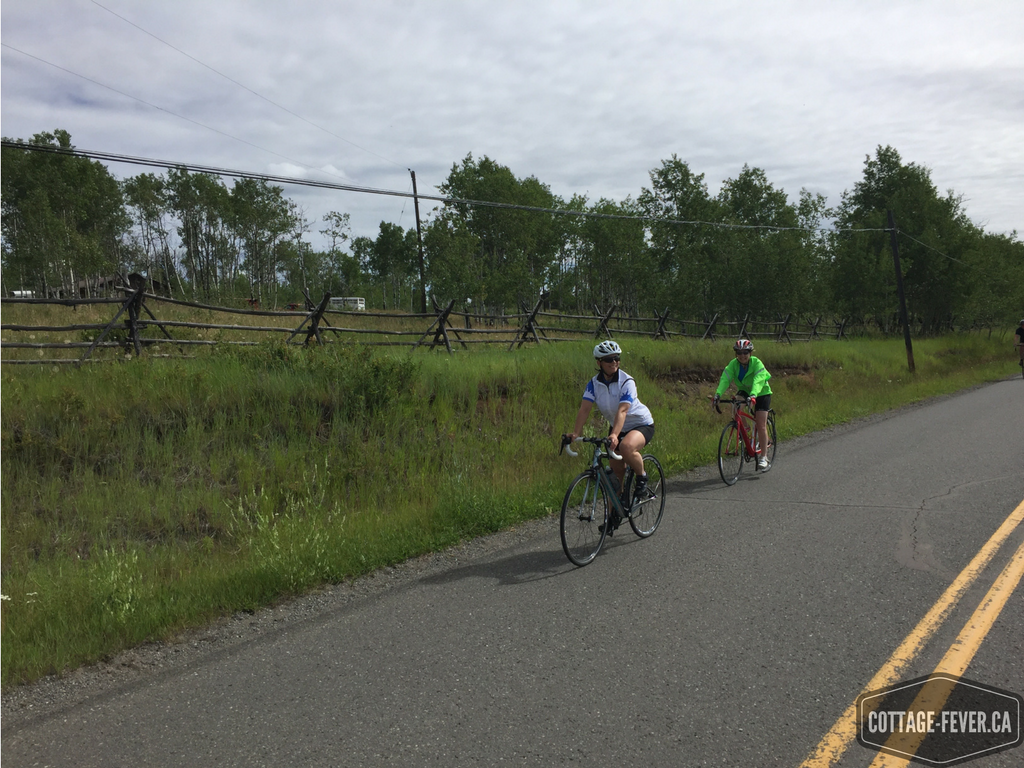 Trail riding – cottage country is full of dirt roads, snowmobile trails and abandoned logging roads, perfect for exploring on your mountain bike or dirt bike.  I much prefer mountain biking to dirt biking which for me is too noisy and always gives me a headache.  On a bike, you actually see wildlife rather than scaring them away.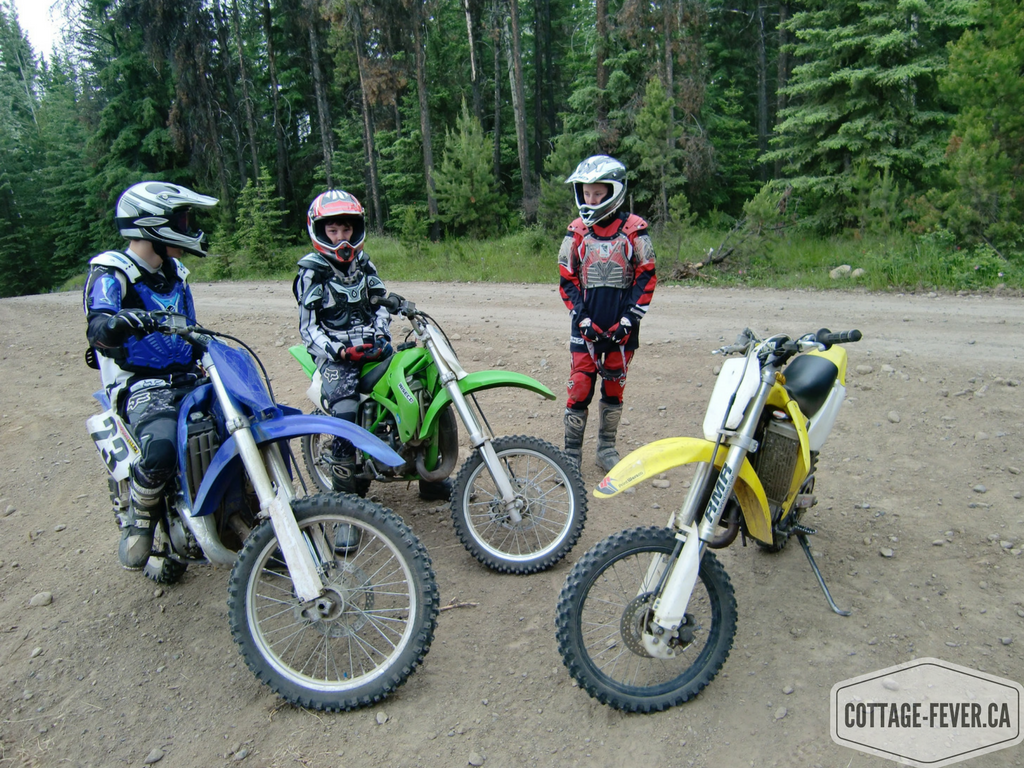 Hiking – A hike doesn't have to be an all day affair.  Sometimes it's just walking through local trails, getting in a bit of exercise before beer o'clock.  Around our cottage, the snowmobile club has created great trails that are perfect for an afternoon stroll.  Or you could get out the GPS and go bushwhacking but make sure that you're experienced, prepared and someone else knows your plan.  And of course there are always the major all day hikes as an outing if you're looking for a change from all the water sports.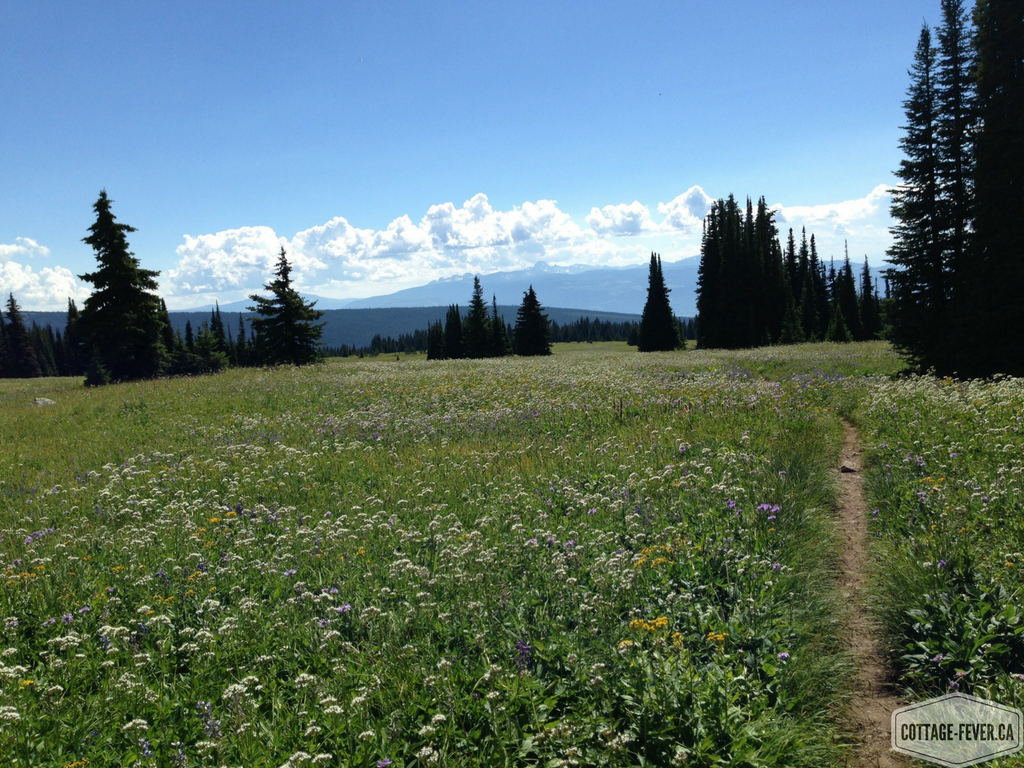 Slacklining – The feat of balancing on this length of flat webbing that is suspended between two trees is not as easy as it looks.  But it will keep everyone occupied for hours as they try it themselves and then laugh at others' attempts.  Fifty feet is a good length to start with.  You don't want to tie it too high up as it's really difficult to get up on the line then.  We do it about a foot off the ground but you'll want to position it lower with younger kids.  No one is going to hurt themselves as they can just jump down if they feel they're losing their balance.  We bought ours at MEC but you can also order them online through amazon.  It also makes a fun spectator sport as you laugh at everyone else.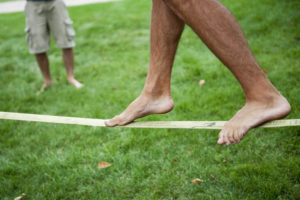 Other ways to enjoy the lake
Floating on an inner tube – does anything beat floating around on the lake, looking up at the clouds for hours on end?  And then you realize that you've floated way out to the middle of the lake or down the shore.  No big deal, just a lazy paddle back to your lakeshore.
Fishing – it's a real shame that while we have a cottage on a lake that produces trophy fish, no one really fishes.  Personally, I don't enjoy eating fish but other members of the family do.  My rule has always been that if you catch a fish, you have to clean it and cook it.  I'm out.  This could be a contributing factor in why no one is really interested in the sport.  That and the fact that you have to get up super early.  But for many cottagers, they live for this sport.  Knock your socks off.
Canoe or kayak out to an island or remote area of the lake and camp overnight.  We have yet to try this but hope to this coming summer.  One of my favourite kayaking activities though is playing sounds from my iBird app on my phone to see if the loon or eagle will respond to me. My kids think I'm a dork. And they're not wrong.  Another cool kayaking experience is at night with headlamps.  It's pretty eery.  So quiet with just the sound of your paddle and the occasional call of the loon.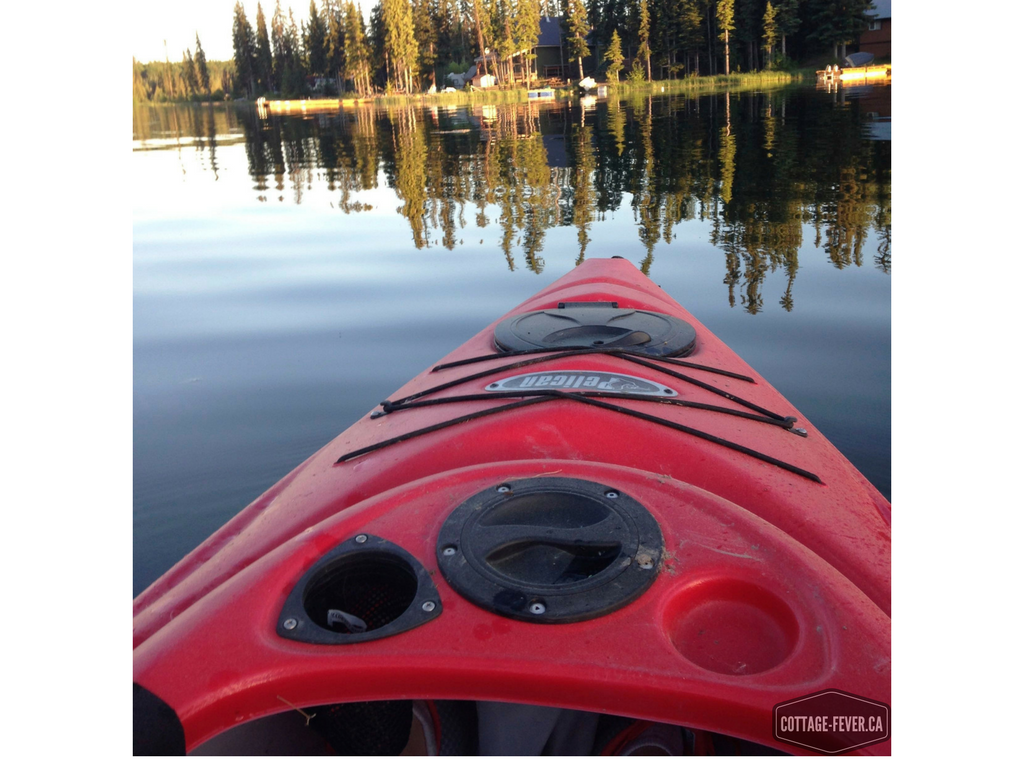 Party island – We own one of those giant inflatables that floats out in the lake but is anchored to the bottom so doesn't float away. It came with an inflatable ramp that you would swim onto and then climb up onto the island.  But it kept getting leaks and so now it's a source of amusement to see how people try to haul themselves up and over the high edge of the island without the ramp.  It holds tons of people and of course, the object is to see if you can toss people off or stop them from climbing up in the first place.  A water version of I'm the king of the castle.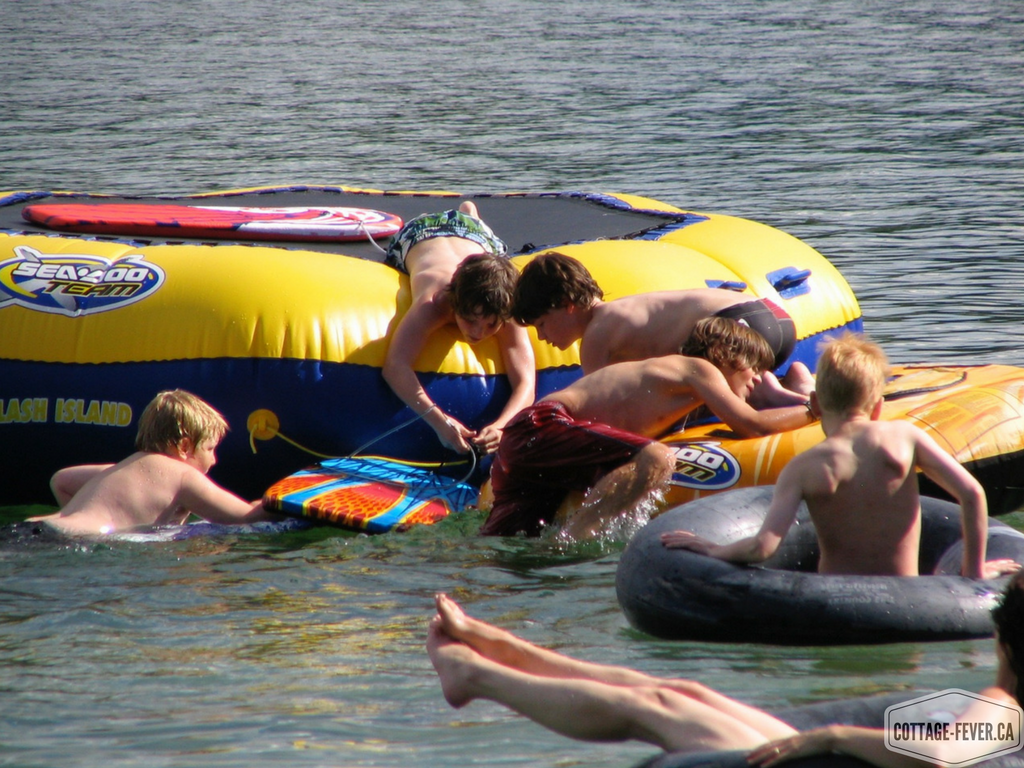 And after all the activities are done…
Napping in the hammock – Be kind to your trees and set up the hammock using hammock straps from Amazon.ca.  There is a special skill to lying comfortably in your hammock with a pillow under your head, perhaps a throw over your legs if there's a cool breeze.  How to reach that beer on the ground without falling out of the hammock – now that takes a unique talent.  And when it's time to get out, how do you do so gracefully, managing to slip on your flip flops perfectly without your feet getting dirty on the ground?  There's always the chance that someone else decides they want the hammock and flips you out on purpose.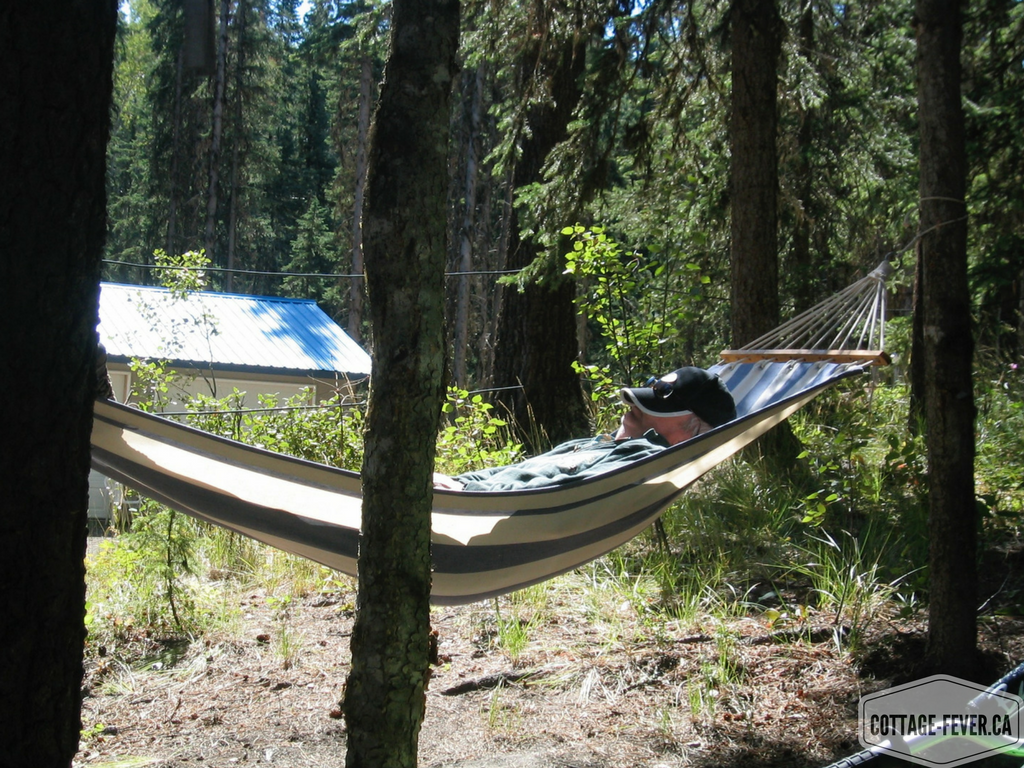 What are your favourite cottage activities?  Be sure to comment below.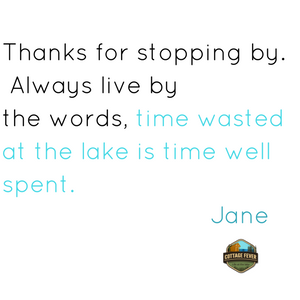 ---