Winter cottage activities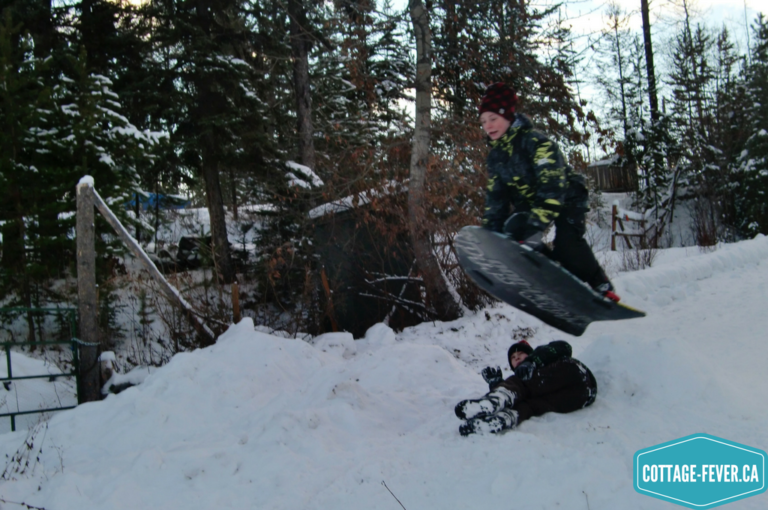 What's more fun than going over a jump?  Going over a jump and your brother!  This was many years ago, but I wouldn't put it past my boys to do this now that they're in their twenties.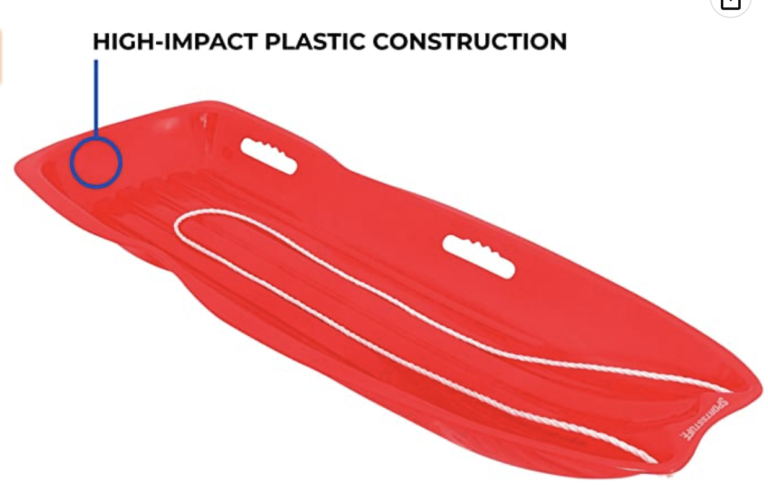 Don't have your own sled yet?  This one has great reviews.  And the high impact construction means it will survive those wipeouts, even if your body doesn't.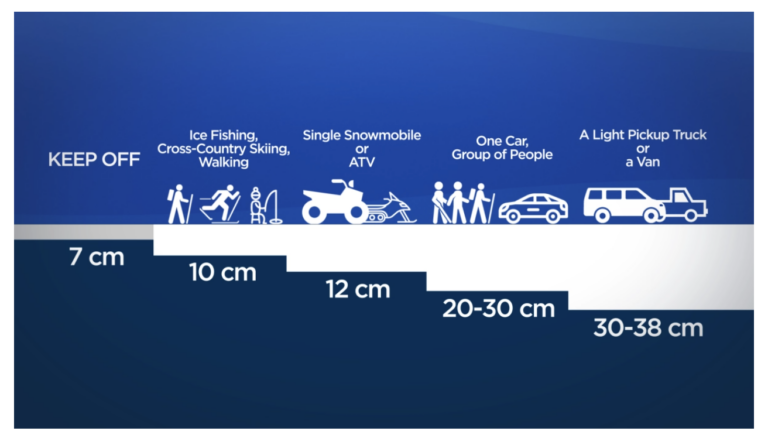 I always freak out over the boom of the ice cracking.  The first few times it happens I run for shore.  The ice is two feet thick so intellectually I know I'm not going to fall in but still, it's extremely unnerving.  We always measure the thickness by drilling a hole through the ice with an auger (which makes a handy Christmas Gift for a cottager).  It is important to know what makes for safe ice conditions.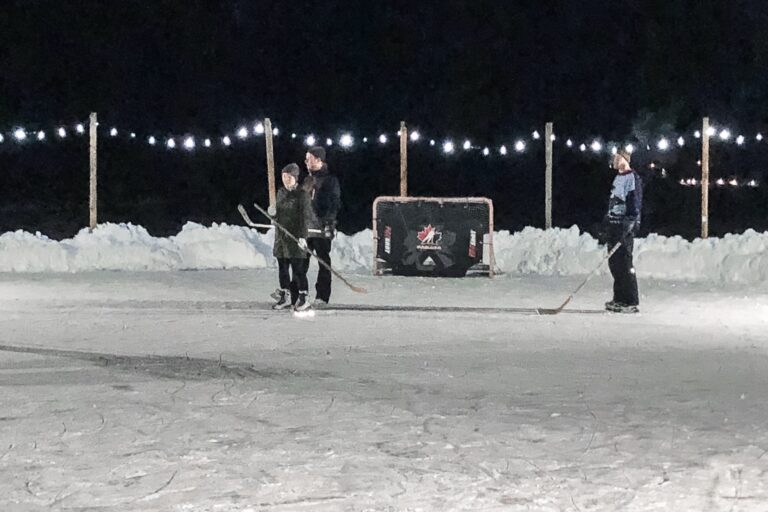 One neighbour is especially gung ho and sets up a rink for the annual New Year's Eve lake wide hockey tournament, going all out with lights but still missing boards.  All you need are two nets.  But the lights make it really fun as you can play on into the night.  As you can imagine, there are many time outs for locating lost pucks.  We played the over 40's versus the under 40's.  Bet you have no idea who won.  Many beers and much fun is had by all!
warming up by the campfire
A warm fire down by the rink is essential for warming up cold skaters.  Even at -20, a campfire will warm up one side of your body quite nicely.  Remember to keep rotating though like you're one of those chickens on the rotisserie at Safeway.  My brother melted the knees of his snow pants one year.  And if you step even one foot away – oh man that's cold. And you'll be drinking beer slushies.  If you build the fire right in the snow, it's cool to watch as it slowly sinks down and ice crystals form around the sides.  Be sure to bring the marshmallows and roasting sticks!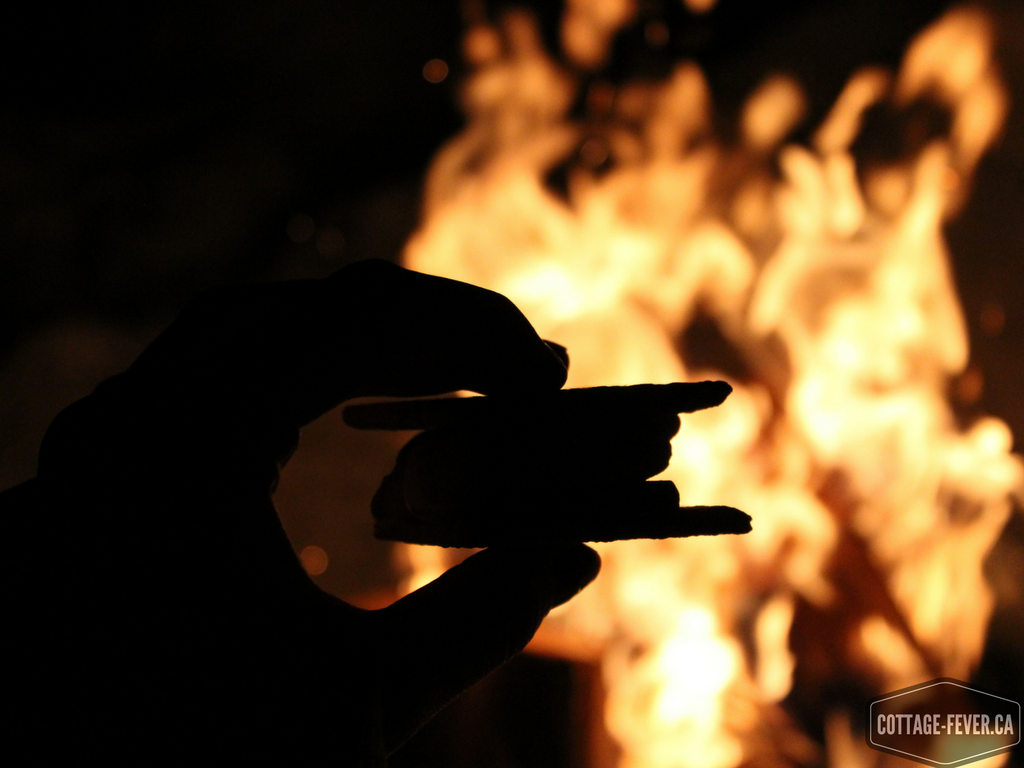 And now that the kids and their cousins are all in their early twenties, a campfire would not be the same without Karaoke!  Who could have guessed that they would know all the words to John Denver's, "Take me home, country roads"?  And Jolene by Dolly Parton is another crowd favourite.  Check out this wireless blue tooth Karaoke Microphone.  Loud enough for the campfire but won't annoy your neighbours.
We even make seats out of the snow!  These campfire pits are handy in the snow.  They keep the fire up off the ground and allow for better heat circulation.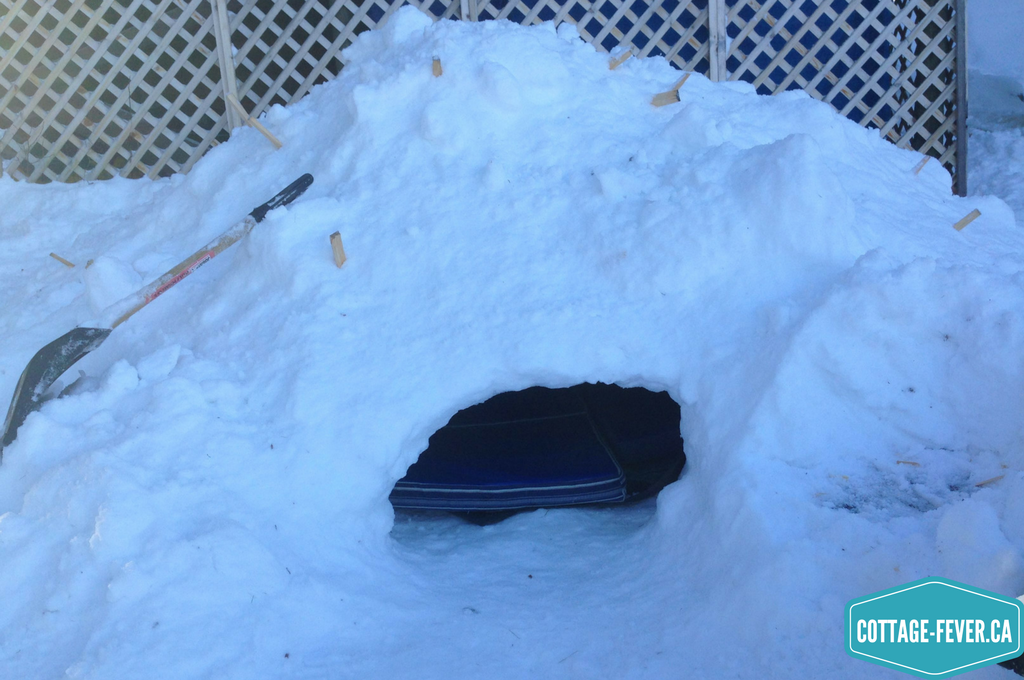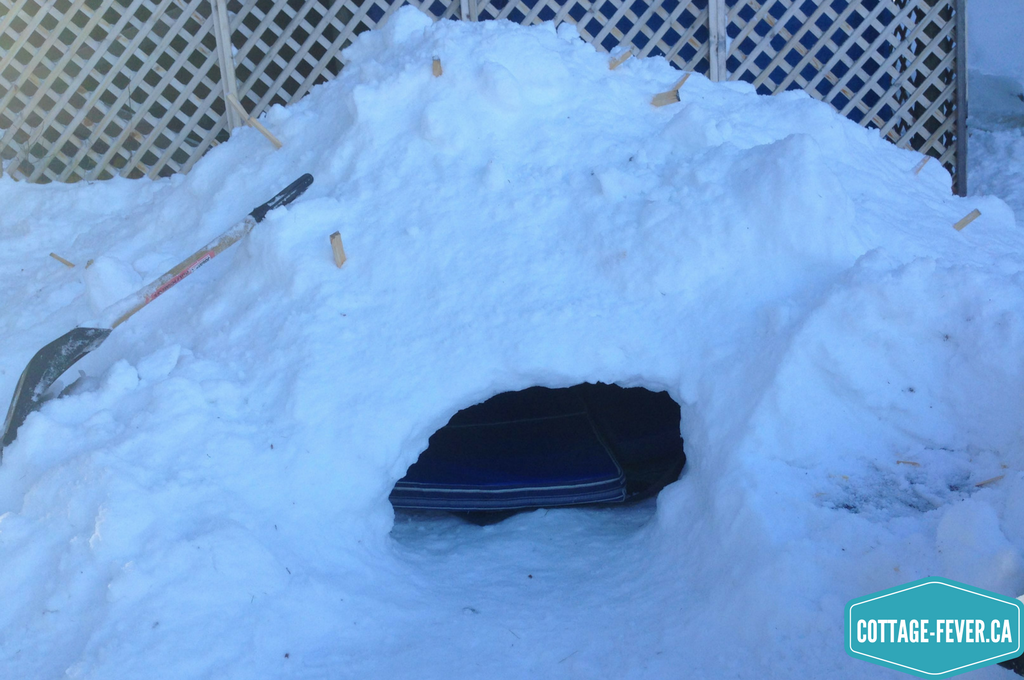 My youngest son decided to try his hand at building a Quinzhee  and sleep in it.  Great if you're lost in the woods and have no alternative as it will keep you from freezing to death but very nerve racking for a mother otherwise, as there is real danger of it collapsing and the person inside suffocating.
He shovelled all the snow off the deck and onto the ground below into a huge pile and then let it sit overnight.  He stuck sticks into it to indicate the appropriate thickness of the roof so that when he hollowed it out, he wouldn't go too far and have it collapse.  He also used sticks to open up air holes.  Once hollowed, he laid a mattress on the ground and slept in it all night in freezing temperatures. I think at one point he got paranoid that an animal might join him and arranged his boots to block the entrance.  I'm not sure who got less sleep – him or me as I kept getting up all night long to check on him.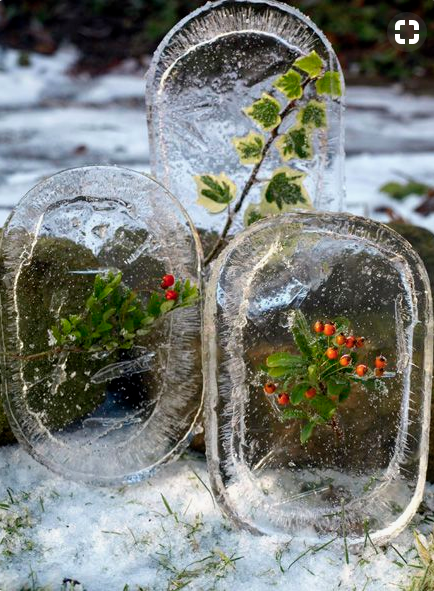 So if you can't beat it, join it right?  Might as well work with those freezing temperatures and create something cool out of it – did you get my pun?  We tried these beauties one year. I don't even know what you would call them – sun catcher maybe?  We picked up bits of flora as we went for a walk, laid them out in a pleasing pattern on a plastic lid and then covered with water and set it out to freeze.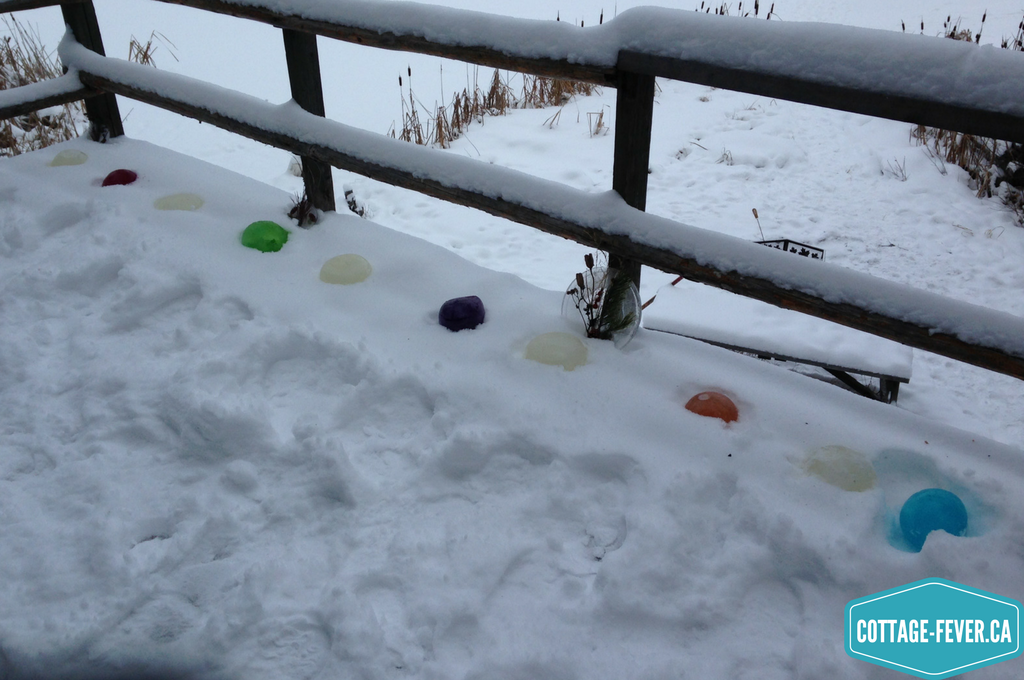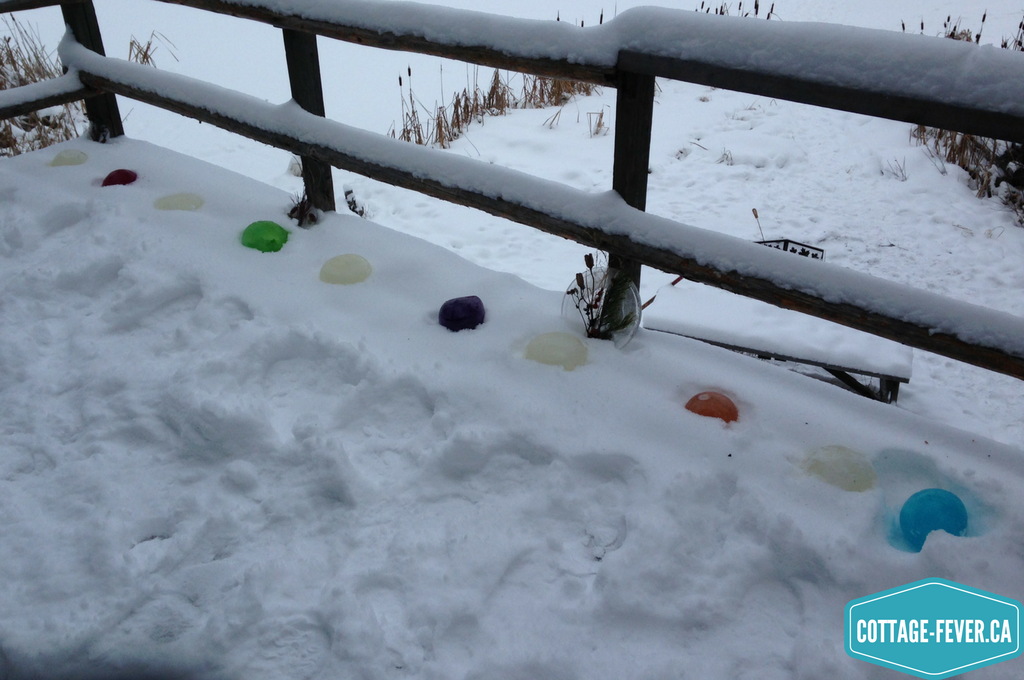 ---