Buying and renovating our second cottage – Moving on up, literally to the east side
If you've read some of my other posts, you'll know that we originally had a lovely rustic cottage with water access.  As our kids grew and their needs changed, we wanted to be on waterfront so we could be out on the water wake boarding in a matter of minutes.  And we wanted to be closer to my brother's place who lives 35 minutes away on another lake.  So we got in touch with a realtor who had a couple of interesting listings and drove around lake country.  Now there is never going to be the perfect cottage – there will have to be comprises made.  We were looking for something that could sleep eight people, had to have indoor plumbing, privacy, on a nice clean lake, west or south facing, and had a garage to fit the boat.
Finding the right cottage
Our realtor took us all around looking at some lovely spots but none that were perfect – no plumbing, weedy waterfront, shallow waterfront, bone rattling driveway, too dilapidated, property too steep, too expensive… Really, we weren't that picky but we just couldn't find the right place.  Then the realtor mentioned he had a property coming on to the market.  He couldn't take us inside yet but we could walk around the property.  Hmm, two car garage, 1000 square foot cottage, amazing waterfront, faced due west, very clear lake, no weeds BUT no dock and the neighbours are right there.  I mean, right there.  The two lots were originally owned by a brother and sister so no fence and no privacy was not an issue for them.  The sister's house looked right down on this cottage. Major issue.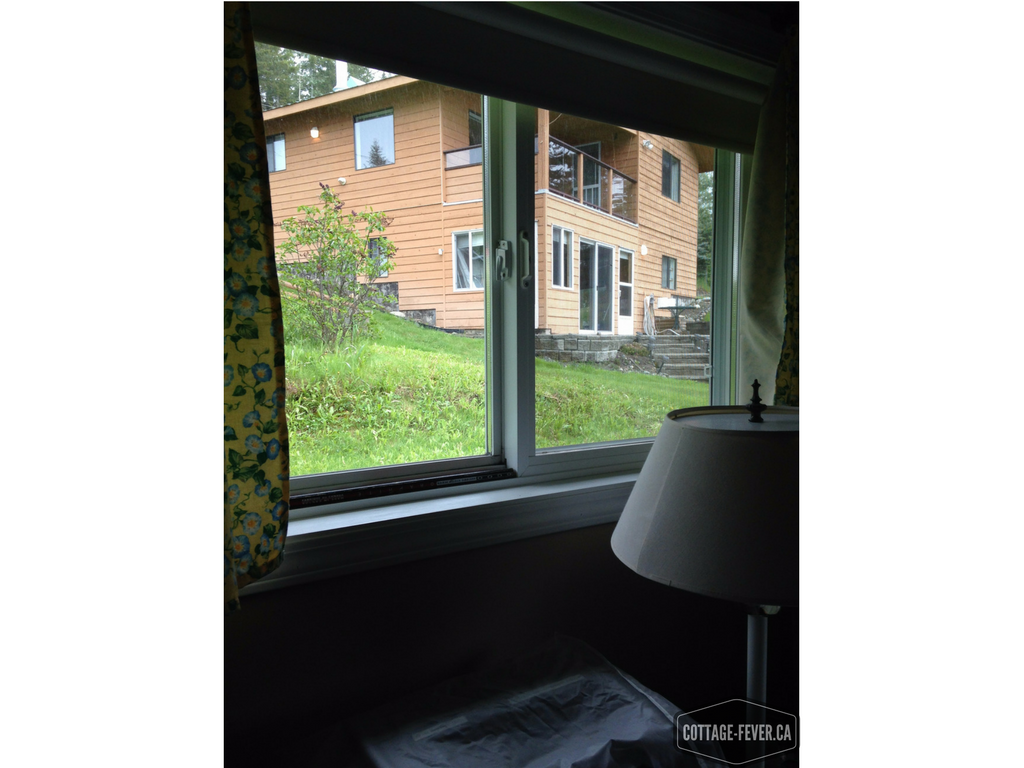 The next week, we decided that we would go for a viewing.  The owners were in their seventies and as no family used the cottage anymore they were selling.  They had owned it for thirty years.  And it showed.  Apparently they had already removed trailer loads of stuff but we could barely walk through this place for all the clutter.  It was very compartmentalized and dark.  We walked into the kitchen which had BOTH an electric stove and a wood stove.  You could barely turn around in the room.  It had a small pass-through window out to the living room.
In the living room was a large stone fireplace and another wood burning stove but not like one I'd ever seen before.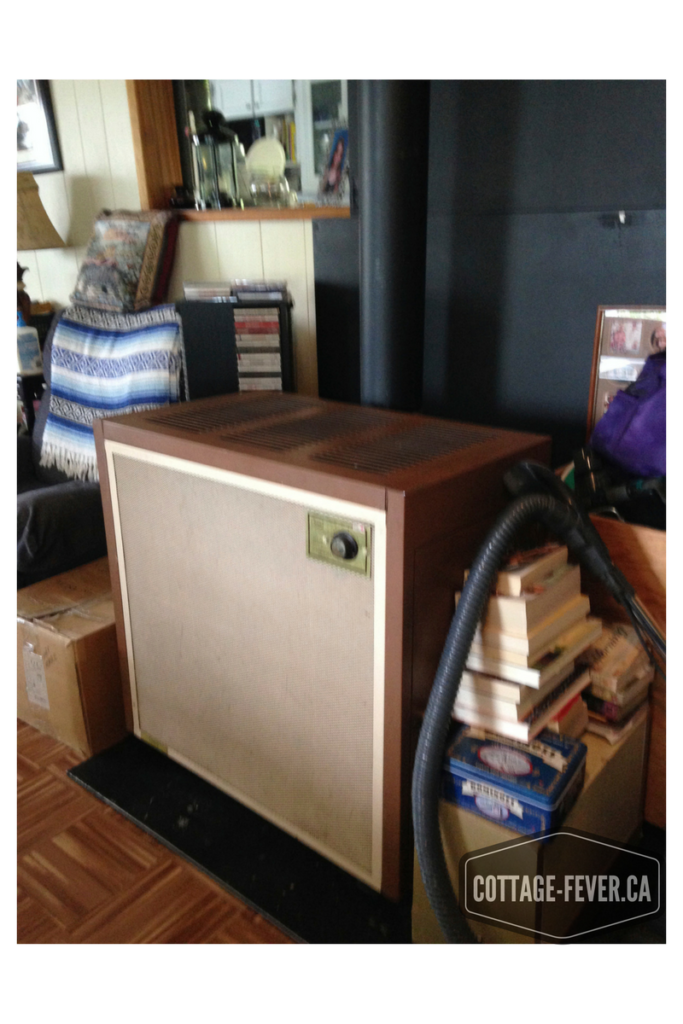 The room was crammed with furniture.  Looking through the living room windows, we actually looked into another room.  There had been a deck at one time which was then fully enclosed into what you could call a sunroom.  So to see the lake from the living room, we were actually looking through two sets of windows. The bathroom door opened up into the main living area.  Okay, we have three sons.  The last thing I want is to hear is them in the bathroom.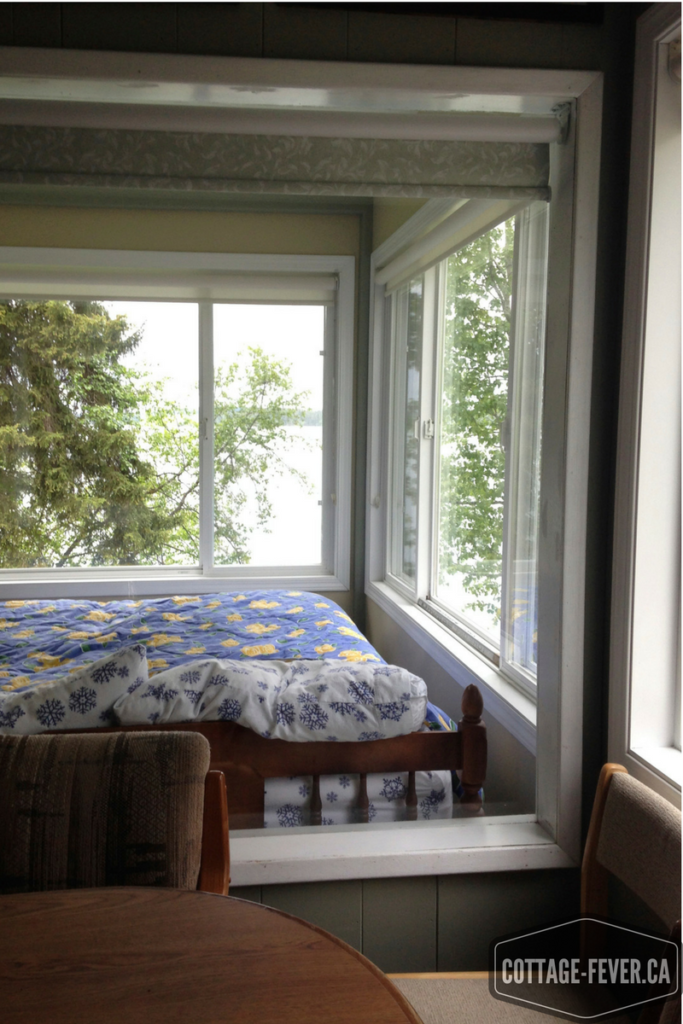 Privacy issue
The whole place just felt cramped yet we could see the possibilities.  If we could remove the interior walls, we would have an amazing open bright space.  The place had been on the market the year prior for $100,000 more than the current asking price.  The owners were getting anxious to sell it.  We went away to have a good think about the possibilities but also knowing that this year properties were moving quickly so we'd have to act fast.  The question of privacy was a big one.  But when we really analyzed it, we realized that the cottage next door, while close, was not that much closer than our current neighbours at the cottage we were selling.  It's just that there was a fence and trees in between.  That problem was solvable and here's how we are solving it.
The following weekend we had our buddy who is also our contractor come stay the weekend with us at the lake.  He came with us for another viewing.  We wanted to be sure that we could actually make the changes we wanted to make.  He was great at telling us what could be done to open up the cottage – which walls were load bearing, how the kitchen could be configured, where to move the hot water tank and how to squeeze in a washer/dryer.  That gave us the confidence to make an offer subject to a home inspection.
Home Inspection
The home inspector gave the place a green light.  It was on a solid cement foundation which is quite unusual for cottages.  The windows were all fairly new and excellent quality.  However, the one issue was suspected asbestos in the insulation in the ceiling.  We took samples and they came back positive for asbestos.  Then we started getting quotes for removal.  When you're fairly remote, you don't have too many options for quotes.  They were coming back in the $25,000 range.  So negotiations started and the sellers knocked the entire $25,000 off the purchase price and we had a deal!
But now we owned two cottages.  Ours immediately went on the market.  We used the same realtor for both deals and he generously gave us a break on the selling commission.  Ours sold within a matter of weeks and we managed to have a completion date that gave us a one week overlap.  The buyers of our place had wanted an earlier completion date but we needed the time to have a concrete floor poured in the garage of the new place as that's where we'd be storing all our furniture while renovations started on the new place.  We also had the asbestos removed that same week as no work could begin until we got the all clear.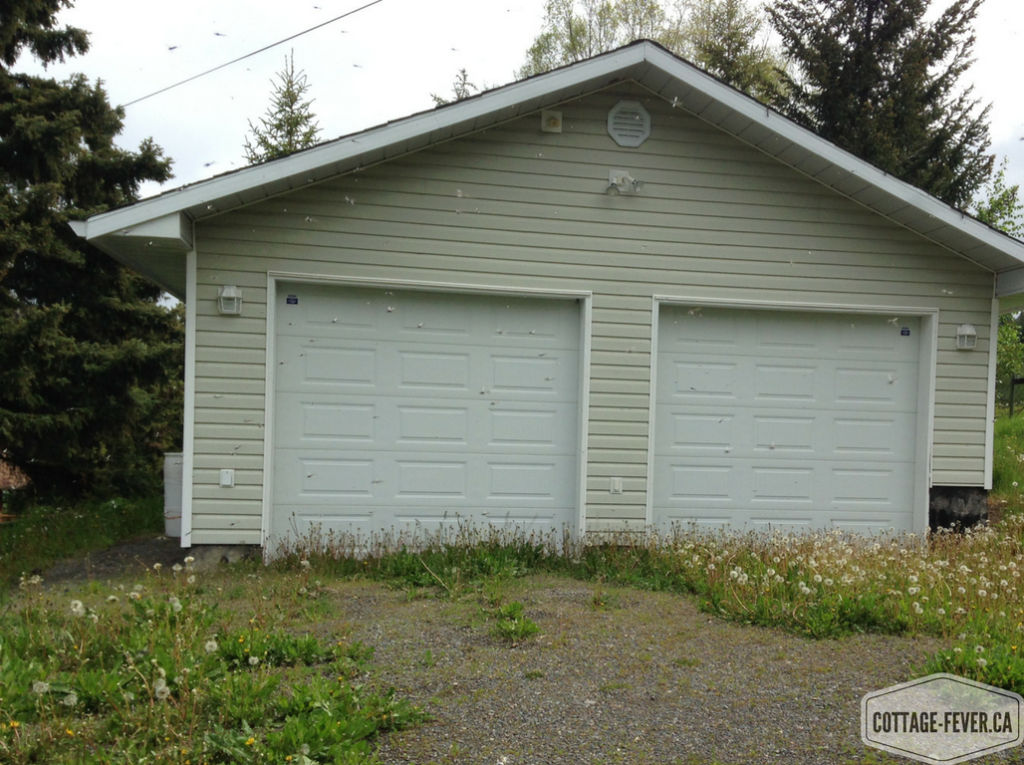 Demolition
I've mentioned in previous posts that I have six brothers.  When it comes time to move and demo a cottage, they sure come in handy!  One brother and his wife travelled nine hours with their trailer to help us move.  Three others helped the next weekend when demolition started.  That kitchen and walls were knocked out in no time!  New outdoor steps up from the cottage to the parking area were built by one brother and his girlfriend.  My oldest brother and his wife, who live six minutes away from the new cottage, housed and fed everyone.
Being that we were on waterfront, we needed a dock. We made the decision to buy a pre-made floating dock given all our time would be invested indoors with renovations. The lumber yard loaded it on to our boat trailer with their forklift and we launched it at the boat launch on our lake and towed it over behind the boat.  What a joy to jump off our own dock into the lake for the first time!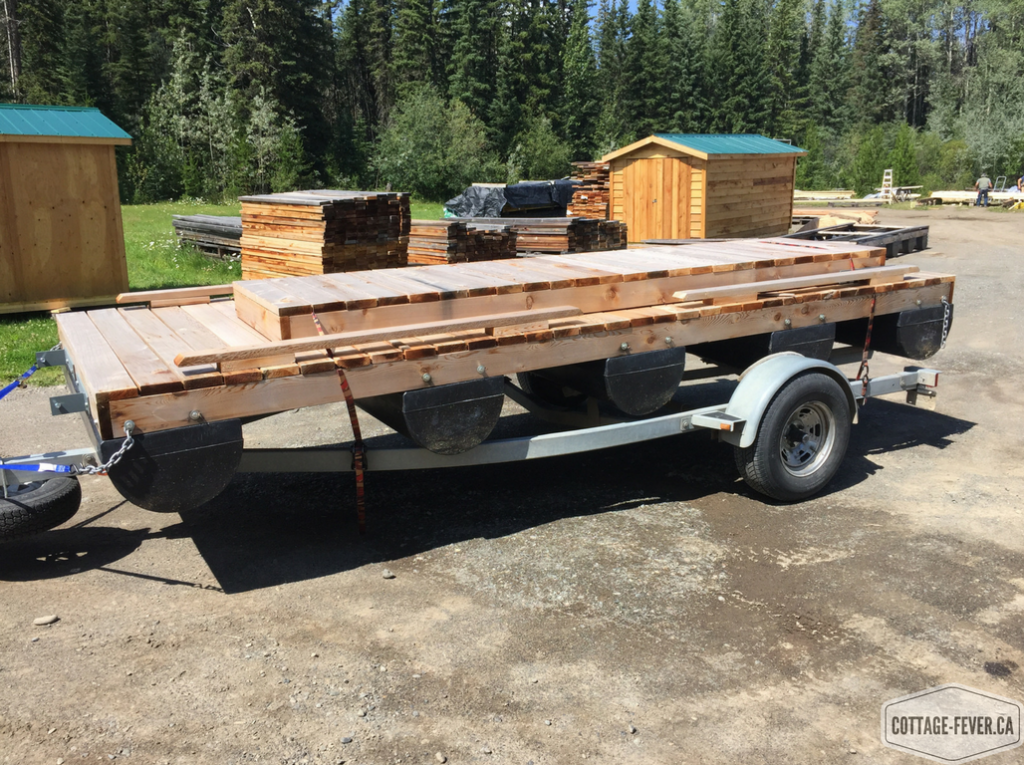 Installing a new kitchen
Our contractor buddy designed our new kitchen using Ikea cabinets.  He's a whiz at installing them as he's done a number.  In his opinion, they're very well built for the price that you pay – excellent value especially for a cottage.  The only downfall is that the closest IKEA to the cottage is five hours away.  So every package had to be checked twice to ensure we bought the correct pieces and they weren't damaged.  We had purchased a flat deck trailer second hand and my husband had built new sides for it so it looked very fancy.  He was really proud of himself as when he was loading up the kitchen components at the Ikea loading area, he received numerous compliments!  All from men of course.
Once it came time to install, as with most renos, we changed our mind on the fly.  I originally had the stove and dishwasher (I know, how extravagant) right next to each other but that looked bad.  So we took the 30″ cabinet on the other side of the stove and switched it up with two 15″ cabinets to put one in between.  The dishwasher was a Craigslist find.  It had been purchased by someone in a 10,000 square foot house and they decided that they didn't need two dishwashers in the games room after all.  It had never been used.  Another change was the addition of a peninsula.  It was too wide to use the same Ikea butcher block counter top so we splurged on a Caesar stone counter top.  The signature piece as our contractor friend called it.  We had to toboggan this down from the driveway to the cottage when it was delivered in the winter.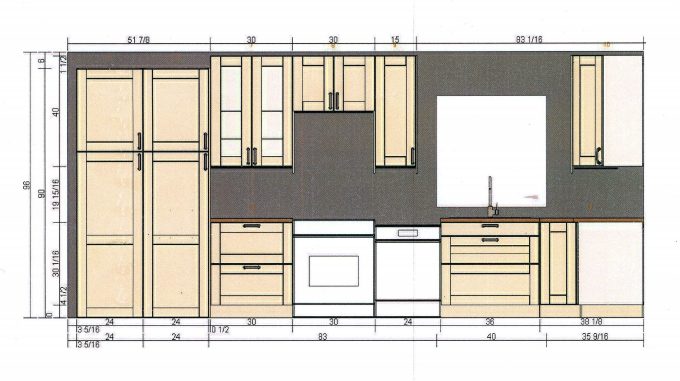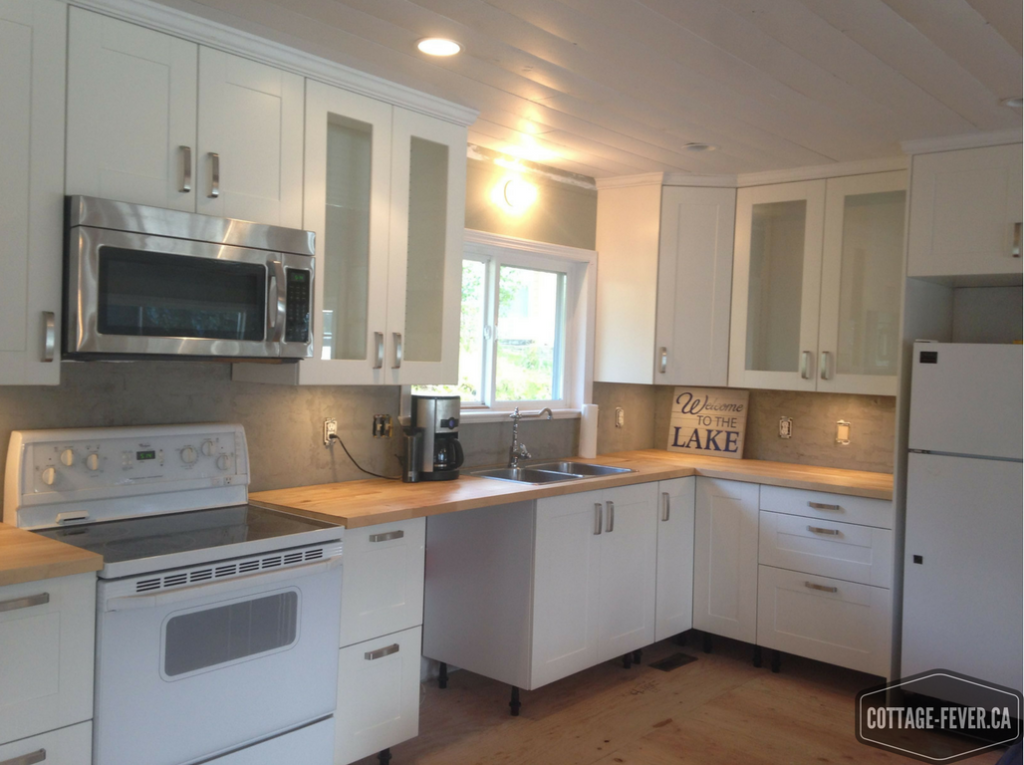 Is "shiplap" really shiplap?
That trailer sure came in handy with all the loads we had to bring up to the cottage.  Having watched too many home renovation shows, we liked the look of shiplap and didn't want any drywall in the cottage.  So we bought the real stuff.  Did you know that real shiplap is actually very difficult to come by?  In fact, most mills in BC don't produce it.  So the shiplap we were able to source was not the best quality of lumber.  There were a few mornings where we were at the lumber yard at 6am in the pouring rain sorting through 12′ lengths of shiplap, trying to pick the best pieces.  Five hours later, we were unloading it into the cottage.  And up and down ladders, trying to force it into place on every ceiling.  Then my job was to spend eight hours painting it and then dapping the seams.  Why does the shortest person (I'm vertically challenged) get the highest job?  Many hours were spent with either nail gun or paint brush in hand.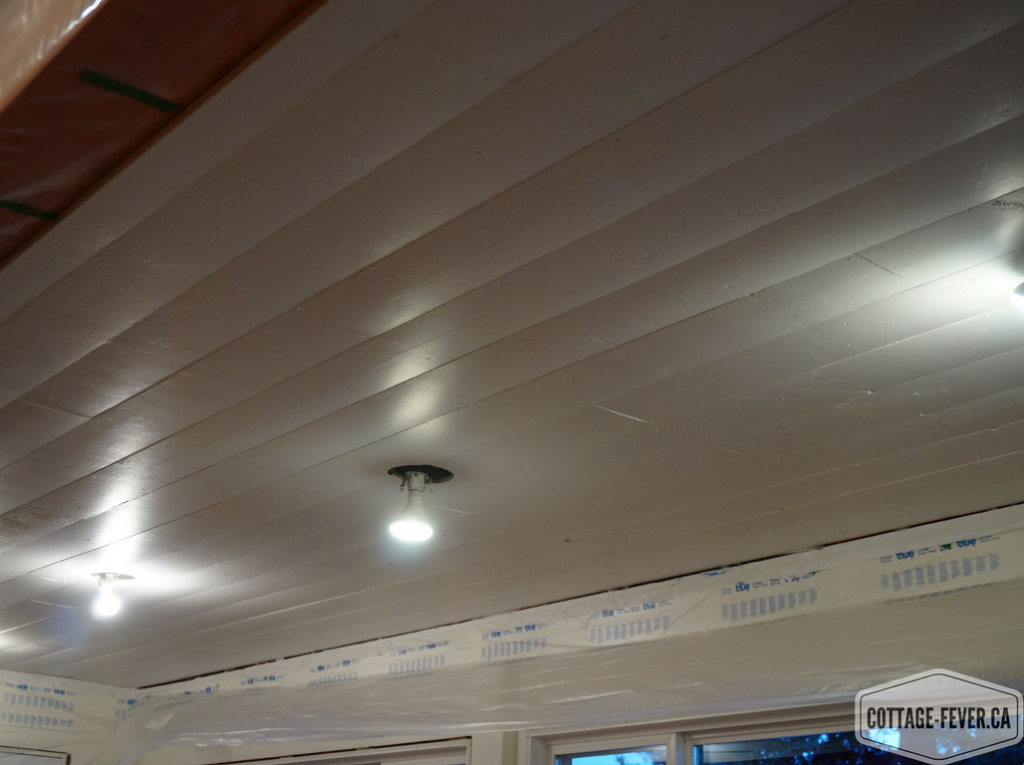 Our buddy was just amazing.  He was able to spend a week working for us.  In that time, he installed a new kitchen, repositioned the door to the bathroom, built an alcove for the washer/dryer and the hot water tank, installed and tiled a heated floor in the mudroom and levelled the floors throughout the entire cottage.  The man is a machine!  But alas time ran out and he had to leave.  That's when everything stalled.  The bathroom hasn't been touched except for the repositioned door.  The flooring has been purchased but not laid yet.  The walls haven't been completed with shiplap.  But we'll get there.  One day.  I hope not 11 years from now like the last cottage.  Sigh.
What renovations are you planning this summer.  Share them by commenting below.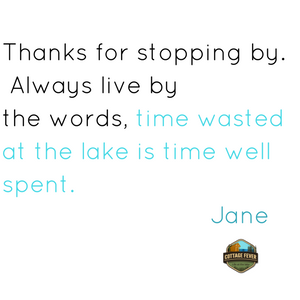 ---