Coastal Autumn Decor
Autumn is my very favourite time of year.  Warm days, cool nights, sweaters, pumpkins, pumpkin lattes, pumpkin patches…. do you sense a theme?  And then the coast is my very favourite place to be so combining them together into Coastal Autumn Decor results in setting my heart ablaze!  
incorporate natural elements in you coastal autumn decor
When it comes to autumnal decor, I am drawn to natural elements – real pumpkins but in unusual shapes and colours along with gourds, dried hydrangeas, leaves such as ivy or eucalyptus, driftwood and shells found on the beach, the warmth of a candle's glow and equally its scent. I used to love everything orange when it came to fall decorating but then the white "ghost" pumpkins were introduced and I was drawn to the calming palette. But then, last year I discovered blue pumpkins!  Be still my beating heart!  Nothing says coastal more than blue.  
 A bit of research and I found out that these blue pumpkins are very popular in Australia and are called Jarrahdale Pumpkins.  The colours range from slate to blue/green.  They're not huge at six to ten pounds but that's perfect for decor.  And they can last up to a year!  Apparently they're also quite tasty.   
I sure hope I can find more locally this year, otherwise I will be resorting to painting my pumpkins with my favourite Fusion Mineral Paint colour, Little Whale.  
Simple ways to decorate for fall throughout the house
Every area of your home can benefit from simple autumn touches.  The trick is to remove other decor, say your summer touches, so that the look is curated not cluttered.  Box up your summer decor and store away and then you'll have a fresh look again next year.  This is precisely why rubbermaid bins were invented!  You should see the stacks of them in my storage area with labels such as Easter, Thanksgiving, Christmas, Winter and on and on.  Christmas alone must be at least six boxes.  I am a holiday junkie.  I used to decorate for my kids but now I just do it for me because it makes me feel good.  
For this project, I raided my craft supplies and my garden.  I had burlap ribbon left over from when I made a cord cover for the TV.  That became the runner.  English ivy is growing up one of my trees so I cut some of those vines to lay as a base.  With the cooler weather, the hydrangeas are turning amazing colours.  I donned a raincoat and headed into the downpour to cut some.  The white pumpkins are placed strategically to hold down the vines.  I interspersed all this with some sand dollars that I'd collected on the beach this summer, some birch bark and faux antlers.  
Dollar store pumpkins take paint really well.  I even painted a few real ones to see if they would work out and they did! For this, I used Fusion Mineral Paint's Little Whale.  Two coats were perfect with each coat drying rapidly so this is a quick and easy project.  Combined with hydrangeas from the garden and a dried starfish, instantly gives a coastal autumn vibe.  
Even if you don't get many guests, make sure that this area is decorated if only to make you smile when you arrive home.  It's pretty simple – just hang a wreath, buy a cheap pot of mums from Costco and add a pumpkin or two, or three, or… Easy peasy and it's like a warm hug every time you step through your door.  This wreath is faux but one of the better ones that I've seen.  It's something that I've used year after year after year so well worth the one time investment.  It stands up well to the weather too.  
So I quickly learned that I couldn't keep pumpkins on my front porch – a certain pumpkin thief kept rolling them into the yard to play with.  He needs to learn – don't mess with the decor!  
Somewhat traditional fall decor colours
If you love the traditional orange and yellow autumn colours, there is no reason why they can't also be beachy.  Just use the beach as your jumping off point as shown below.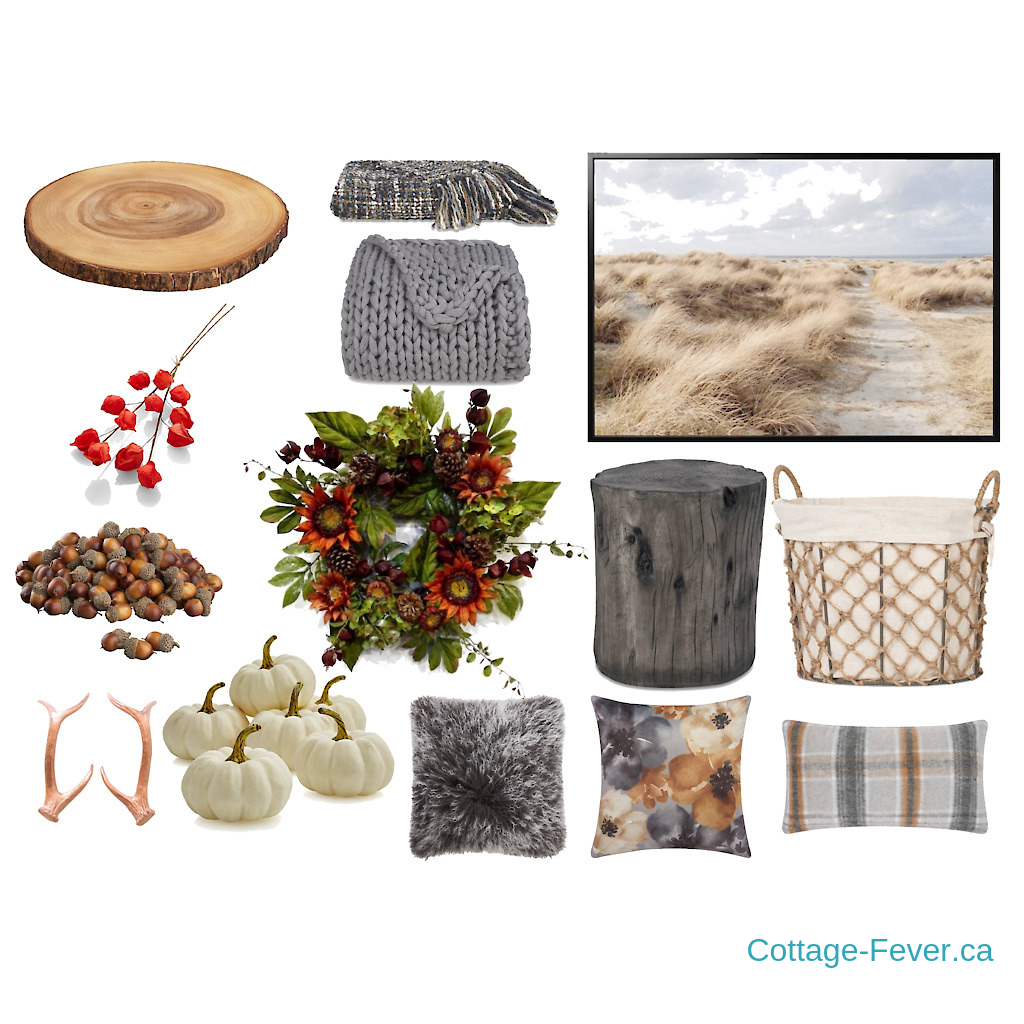 This design board takes its cues from the beach scene.  It's autumnal in the dried out grasses and the greys of the sky and water – this could be any beach in late September or early October.  What it isn't is an in your face fall scene full of orange leaves and orange pumpkins.  The other items are subtle in their reference to the season.  The texture of the tartan pillow with just an inference of orange, juxtaposed with the warm and cosy wool of the fuzzy pillow and the floral design pulling it all together.  Nothing says sweater weather better than a throw and a jute basket to store them being just the right accent.  Add in natural elements such as the stump accent table, the cross cut serving platter and the antlers, pumpkins, acorns and Chinese lanterns which all can be added to a mantel or tablescape.  And this wreath for the front door is a welcome embrace.  If you'd like to shop any of this look, click here.  
A more coastal autumn Decor inspiration
Still using traditional fall references such as hydrangeas and pumpkins, this mood board pulls them all together in a beach inspired pallette.
This mood board takes its cues from a similar beachscape but pulls in those coastal colours in a non-traditional way.  Blue/green pumpkins are my new fave!  If you would like to shop this look, please click here.   Hope you found some ideas for incorporating coastal autumn decor into your home this fall.  I'd love to hear your comments below.
---