Designing a Coastal Powder Room
When it comes to designing a coastal powder room, you can have so much fun with this small space that packs a punch.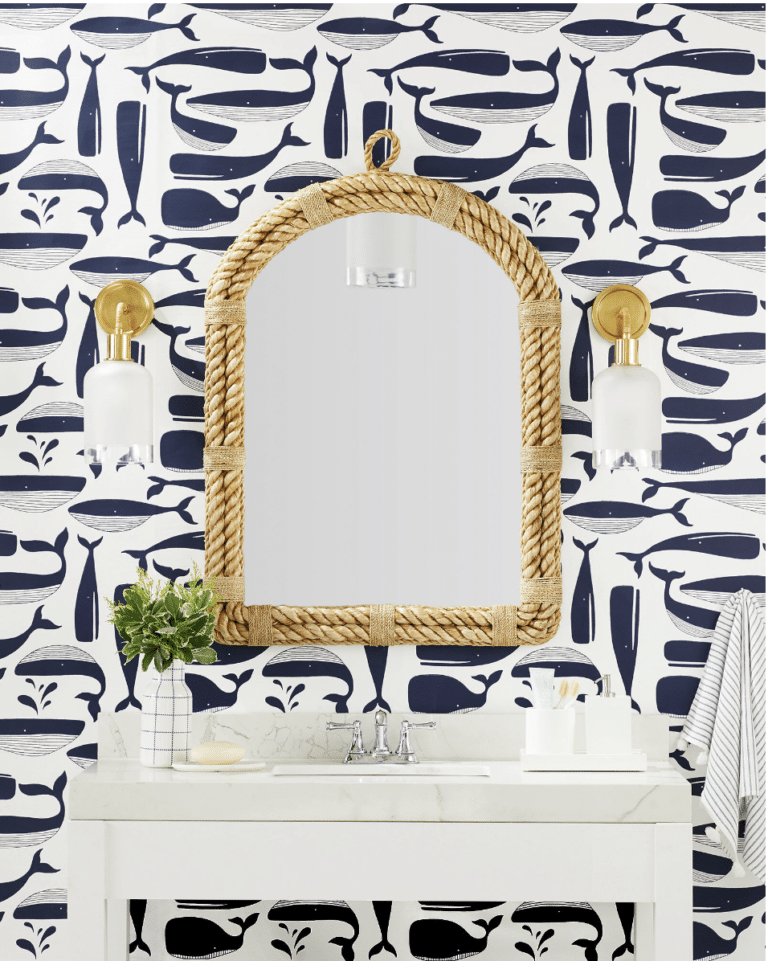 As there isn't the same moisture levels as you would get in a bathroom with a shower and/or bathtub, you're safe to use wallpaper in a powder room.  This coastal themed one, titled "Merville", is absolutely perfect with it's playful motif and mix of bright white and navy, bringing a smile to your face every time you walk by or into the room.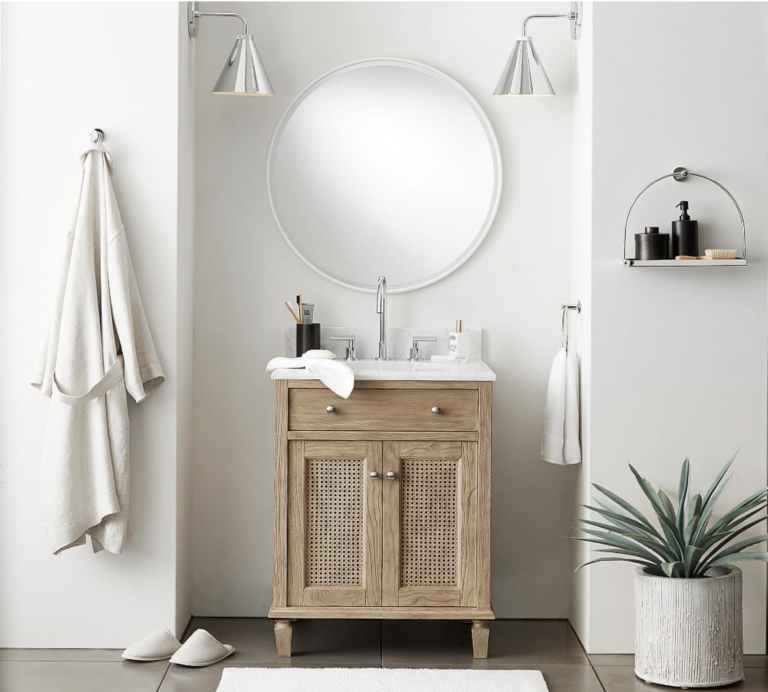 With its doors with a caning detail, the Sausalito vanity has something of the Bahamas about it, making it a wonderful choice then designing a Coastal Powder Room.  The added benefit is that it comes with an integrated sink and countertop which saves both money and time at installation.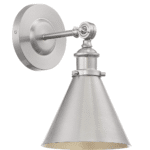 Normally, I recommend that in a bathroom the lights are on either side of a mirror at head height.  This way, the light is directly straight onto your face which is not only more flattering but better for applying makeup or shaving.  But as neither of these activities happen in a powder room and space is at a premium, a sconce over the mirror works.  And this vintage styled sconce has a nautical feel without being too literal.  Referencing and repeating materials always creates harmony in a design, so picking up the metal from the vanity knobs and the faucet with the sconce creates that flow.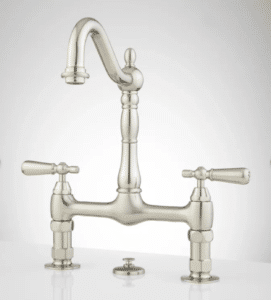 Known as a Bridge Faucet, this two handled style has an old world charm.  They can be a bit pricier but as this is such a small room, you can splurge a little to get a dramatic effect.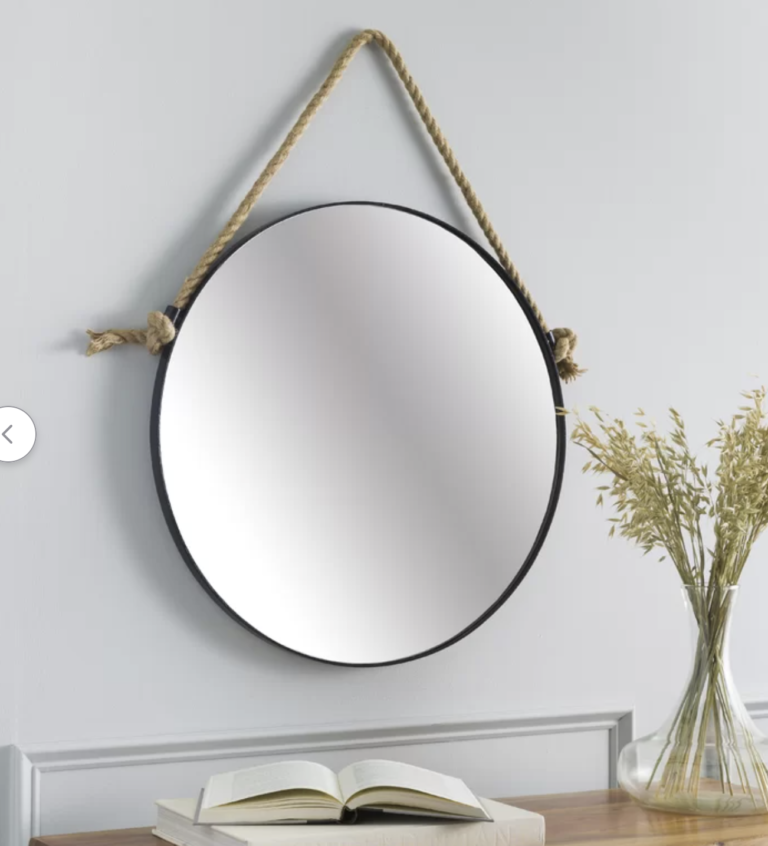 Rope is so evocative of the seaside, used from everything to tie boats to the dock to fish nets.  As a detail on this mirror, it adds in a textural natural element to the Coastal Powder Room which could be repeated in a basket for toilet tissue or waste paper.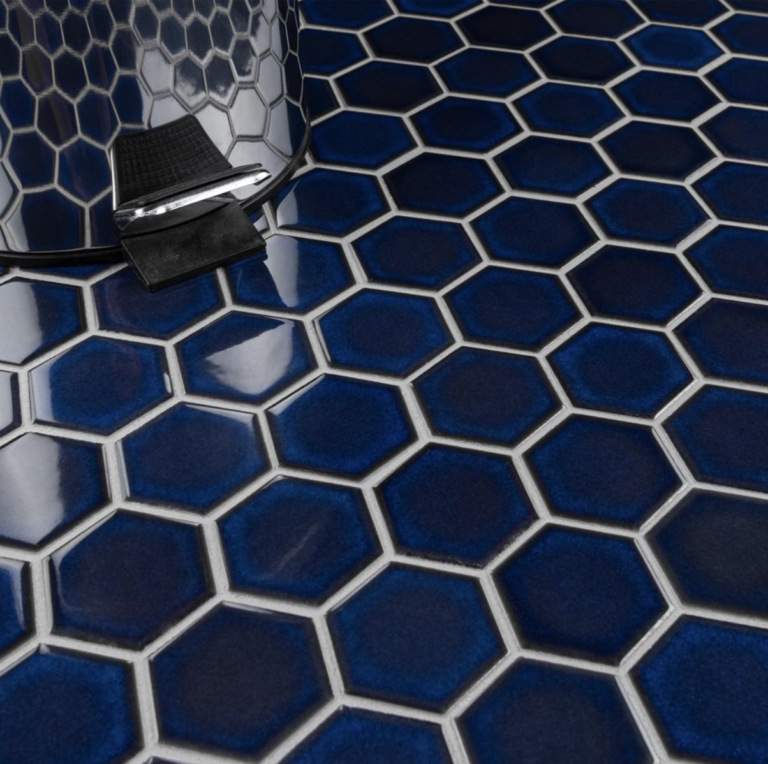 Hexagon is an absolute classic shape when it comes to tile and this navy choice ups the wow factor, making the white background on the wall paper pop even more.  Just ensure that your countertop and your flooring play nicely together, being the two largest horizontal surfaces in the room.  As well, your powder room flooring needs to work well with the adjacent flooring of the hallway.  They don't have to be matchy matchy but they should complement each other.  
Lessons for Designing a Coastal Inspired Powder Room:
Have fun – be playful with this small space
Reference other colours and motifs throughout the rest of your home
Ensure the flooring works with the adjacent hall flooring
Wallpaper works in a powder room as there aren't moisture concerns.
A vanity with an integrated sink and countertop will save both time and money when it comes to installation
Mount a sconce above the mirror to save space in tight quarters
A knockout faucet will have a dramatic impact
Splurge a bit as it's such a small room it won't break the bank
Enjoy the process!
This post contains affiliate links.
---