Designing an Airbnb Suite
With the incredible increase in the cost of living, many people are looking for ways to create a secondary source of income.  If you have the space, one solution can be an Airbnb suite, also known as a short term rental.  This option has the flexibility of having availability for friends and family to stay with you – just block off your calendar when you'll have visitors.  Read on to find out more about designing an airbnb suite.
Ideally, your suite should have a separate entrance so guests can come and go as they please.  So a basement, a bonus space over a garage with an external staircase, an ADU (accessory dwelling unit) or a carriage house all make ideal candidates. Check your local bylaws to see what is allowed. In my Regional District, one must live in the same building where one will be hosting guests which can be quite limiting and not for everyone. Additionally, there cannot be full cooking facilities for guests such as a range. And you may need a licence.  My recommendation is to apply and receive the licence before you invest a dime or spend any time designing an Airbnb suite.
Something else to check is your insurance policy.  You may need a rider on it for running an short term rental but the additional peace of mind is well worth the small investment.  Some insurance companies won't insure you if you have a wood burning fireplace unless it is completely sealed up.  And most won't cover items like hot tubs, kayaks, bikes, etc…. as they're considered too great a liability.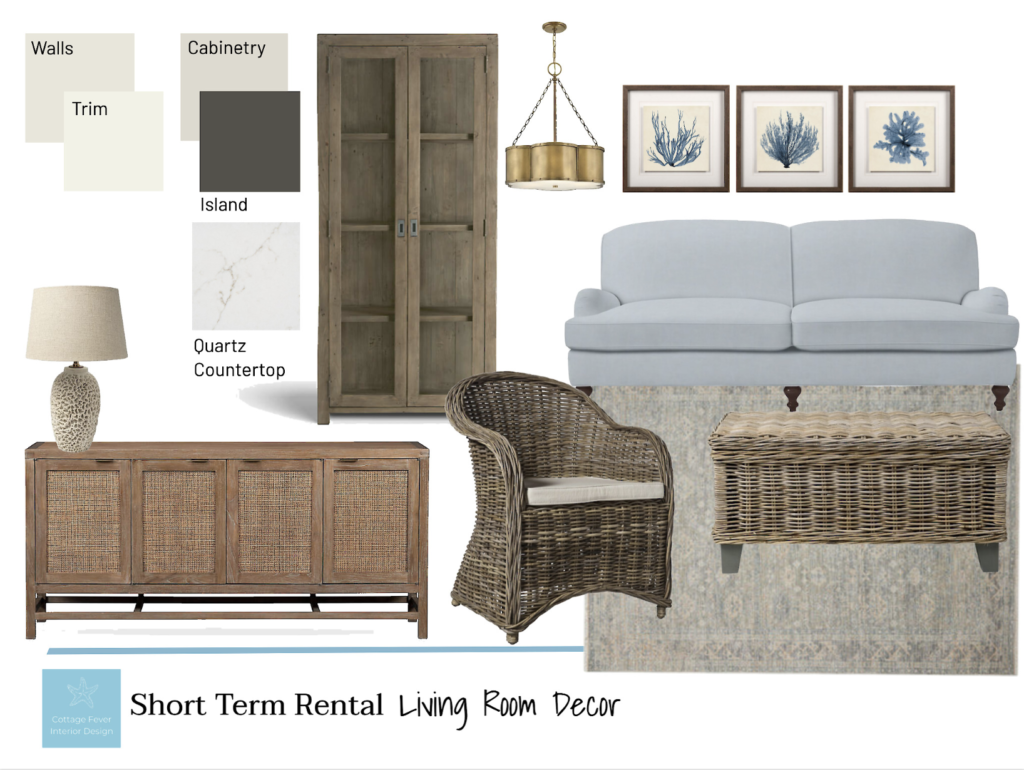 If you build it, will they come?
Think about what would attract a guest to your area in the first place.  Is it a popular tourist destination?  Do people often come there for work?  Do you have a unique location such as waterfront?  Is your home really quirky so that people would make a special trip just to experience it?  
Also consider how long guests are likely to stay.  If for work, is it a few nights?  Do you think yours would make an ideal weekend getaway? Are they coming to go skiing or are they likely to want to stay for a week to enjoy a lake.  Do your research and see what niche you can fill in your local market.  You do not want to over-invest in your suite if it will take you 10 years to get a return.  
And while you're doing that research, see what others are charging in your area.  It's important that you go into this with very realistic expectations on what revenue you'll be able to garner.  
Recently, I was approached by a couple who had bought a home in a popular tourist area.  They had a big open bonus room over their garage which had its own separate entrance so they contracted me to design a short term rental space for them.  As they also had many friends and family visiting, they wanted to still be able to use the space so a long term rental wasn't the way to go.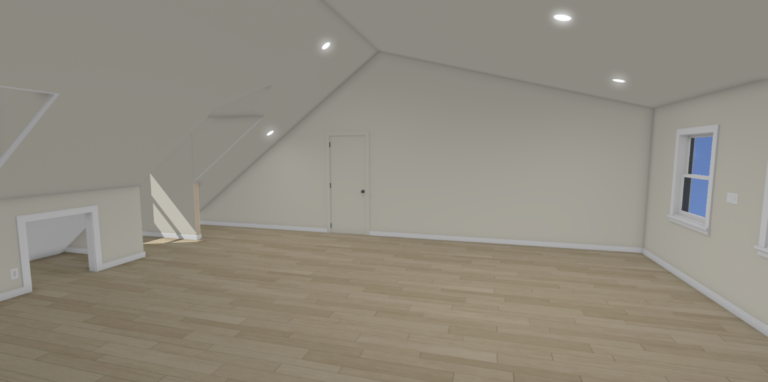 Some of the challenges of this space included the off-set vaulted ceiling, two dormers, the window placements and the odd recessed lighting placements as well as accessing plumbing.  However, it was a wonderfully large space, over 500 square feet, with which to work.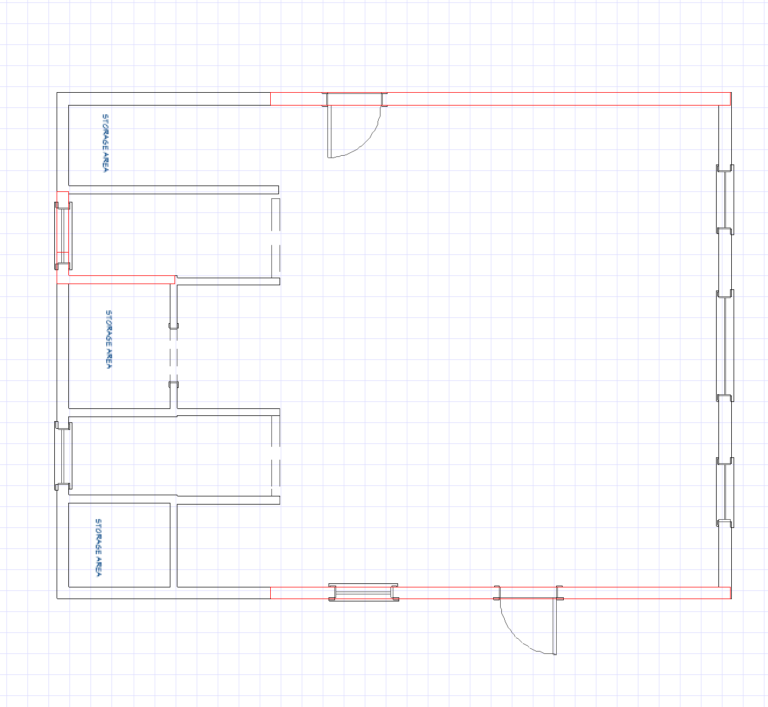 We would need to add a kitchenette, bathroom, sleeping area and lounging area to make this a desirable short term rental suite.  As it shares a wall with the main house, where two active children live, adequate soundproofing is critical so that guests aren't disturbed.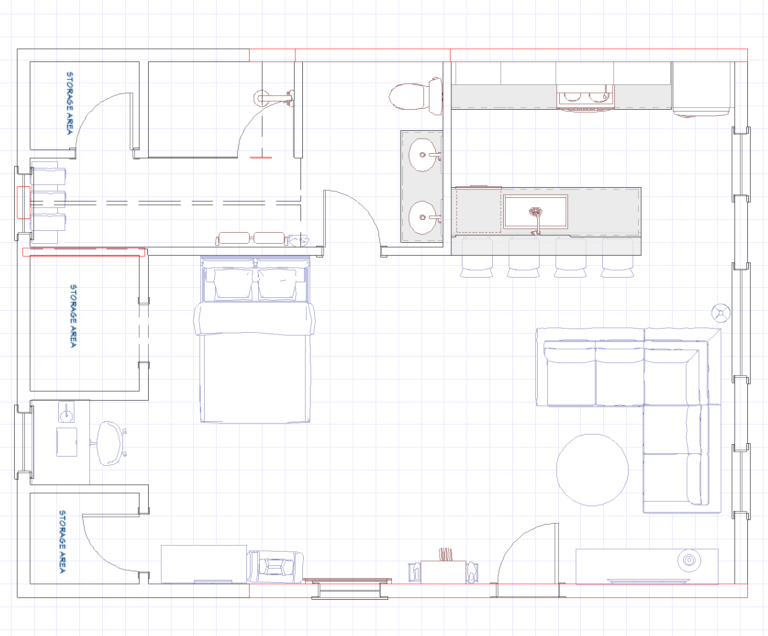 Taking advantage of the sloped ceiling, it was absolutely the perfect spot to place a shower in the bathroom.  Building out the bathroom to the edge of the dormer allowed enough space for a double vanity.  The door to the main house would have been right by the toilet, so the homeowners decided to remove it, even though it will make changeover a bit more challenging by having to carry everything up the external staircase.  An alternative could have been a Murphy Door that looks like a bookcase.  However they are very pricey.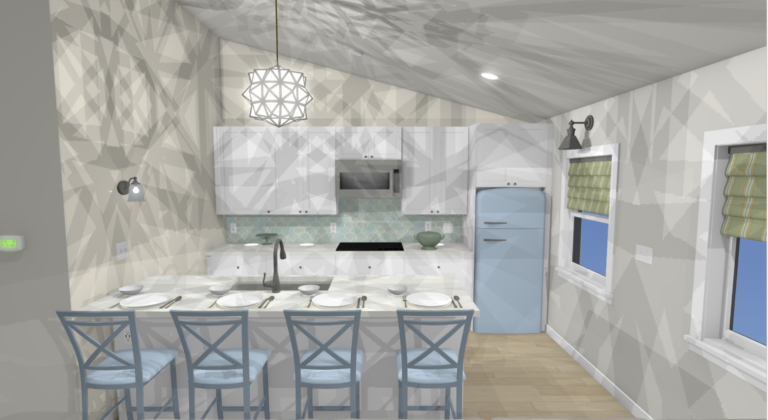 With a queen sized bed and a pullout sofa, it means that a family of four can stay here comfortably.  Consequently, there needed to be seating for four at the peninsula.  A general rule of thumb is to allow 24″ per person for seating which still allowed more than enough room to walk into the kitchenette without feeling cramped.  And look at all that counter space!  Most guests are happy with just an induction cook top, microwave, refrigerator and dishwasher so you can fit within the parameters of not having full cooking facilities.  The ability to have breakfast and lunch in the suite and then going out for dinner seems to suit most guests.  Just be clear in the listing that it isn't a full kitchen.
If you want to attract top dollar, your short term rental needs to be inviting with unique and whimsical touches, separating you from the competition.  So when designing an Airbnb suite, use lots of colour that is reflective of your location, interesting backsplash tiles, and unusual pieces such as this retro styled refrigerator.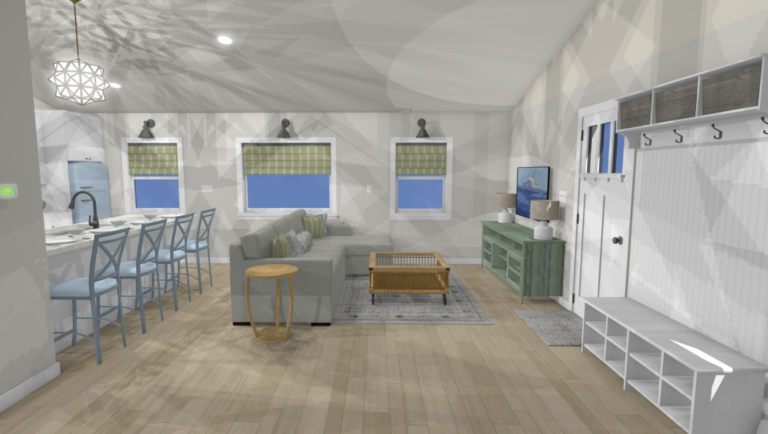 As this Airbnb is located walking distance to a beach, I've incorporated a coastal colour palette of blues and greens.  
Consider your guests needs in every aspect – they'll need a spot for shoes and coats, a place to put up their feet after a day on the beach or sightseeing, a television with Netflix and other apps, adequate lighting and so on.  They'll want the space to feel like home, even if its only theirs for less than 24 hours.  
Sleeping area and work station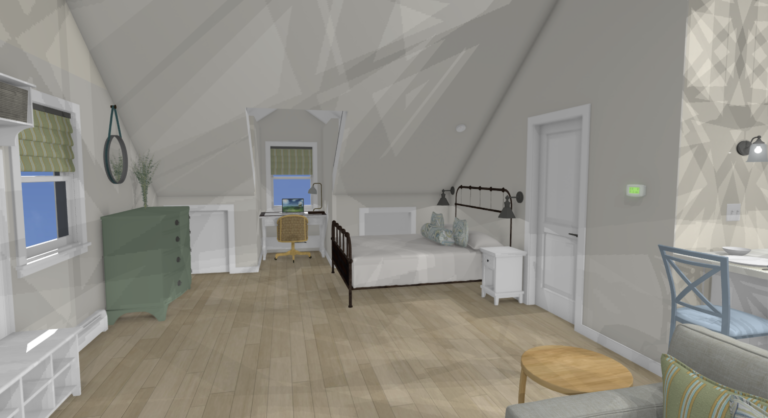 Recognising that some guests might need to get some work done, I took advantage of the dormer and used it for a desk.  For longer stays, it's always nice to pull clothes out of a suitcase and into a dresser.  Suitcases can be stored in the storage area in the attic under the eaves.  Another whimsical touch is converting the storage area by the bed into a little fort for kids.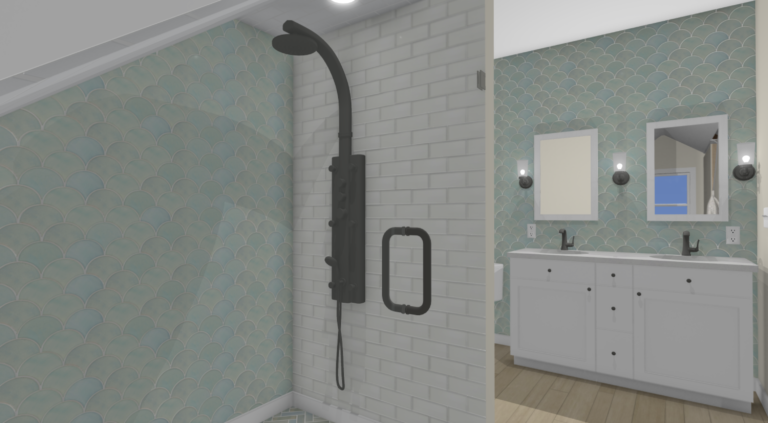 The dormer's sloping ceiling was the natural spot to place a large shower, which guests will appreciate.  Pulling through those aqua greens and blues from the living space, it's repeated here with a wonderful Moroccan Fish Scale – do you sense a coastal theme yet? Vanity lighting at head height is the most flattering as the light hits your face straight on.  Guests will look so good they can't wait to come back!  😉
After designing this Airbnb suite, the owners got to work renovating.  Their listing is now active and has garnered five star reviews.  Here's a sampling:
"We were delighted with the interior design of this new studio unit"
"The indoor fort totally brought me back to being a kid"
"Gorgeous custom shower was amazing"
I wish you the best of luck with designing an Airbnb suite.  If you're finding it overwhelming, just reach out and I would be delighted to assist.  You might also be interested in my post about my Lessons Learned as an Airbnb Superhost.  And if you would like to set up your own Airbnb listing, just click here to get started.  
Checklist for designing an airbnb suite
Consult your local municipality's bylaws
Apply for a licence or permit if required
Check with your insurance company for short term rental coverage
Do your research on the desirability and average rental rates in your area
Don't underestimate how important soundproofing is
Ensure there is enough dining space for the number of guests
Use a colour palette reflective of your location
Pull the colour palette throughout the entire Airbnb suite
would you like my help designing your airbnb suite?
Designing an Airbnb suite can by overwhelming.  If you'd like some help, please reach out by calling me at 778-874-4491 or emailing me at [email protected].
*Please note there are affiliate links in this post.  If you use the link to list your Airbnb and complete your first stay, you will earn $34.
Shop for Short Term rental living room decor
---