How to curate your own coastal style
It seems that every retailer and magazine is on the "coastal look" bandwagon.  From Serena and Lily, to Pottery Barn, to Crate and Barrel, they are all featuring a coastal vibe.  Of course, it is that time of year but it truly is a year round look. I've loved this aesthetic for so long that we actually bought a house on the ocean!  And you know what they say, "if you're lucky to live by the beach, then you are lucky enough".  To me, the beach look is just so fresh and relaxing, not stuffy nor precious. 
It's easy to create your own unique look but there are some guidelines on how to curate your own coastal style.  Follow along to learn more.  
Inspiration to set the direction
What's your favourite beach scene?  Take your cues from it!  Personally, I love the white and grey of the stones, the soft browns and natural texture of the driftwood and the cerulean blues of the ocean and skies.  Do you notice the snow on the mountains peaks in the distance?  This is definitely not a tropical beach scene.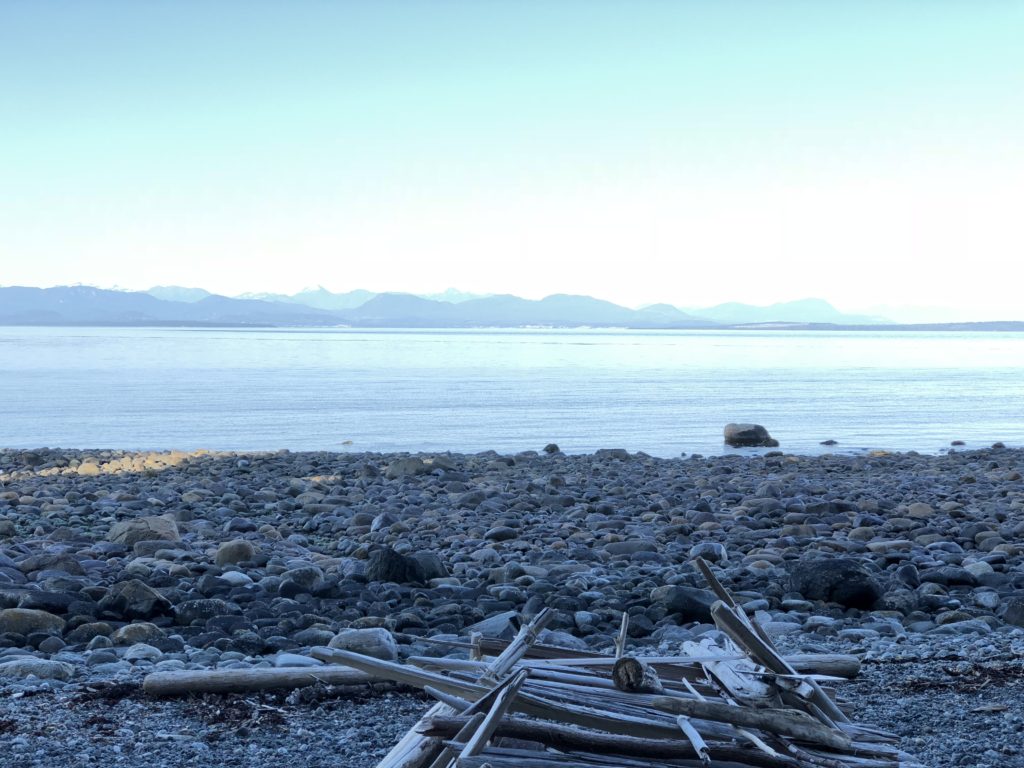 Translating the inspiration into a colour palette
We took this old log home and painted all the panelling white.  Facing northeast, it was extremely dark before.  Now it's only moderately dark.  So this is my backdrop for the decor.  Just try to think of the log walls as driftwood that's washed up on shore.  (Cue the eye roll).  
I'm a big fan of having your interior reflect your exterior which creates a soothing transition for the eye.  Outside my windows are green forest and blue ocean and sky (although I live on Vancouver Island so it can also be fairly grey during the winter).  This is all mirrored inside my home.  
The deck furniture cushions are green with a very thin pinstripe of blue which is really hard to see.  They just weren't going with the blue geometric of the outdoor rug.  By adding the colourful pillows with both the green and blue, it ties the whole area together beautifully.  The blue is repeated in the cushions, the rug and the pinstripe.  The green is on the cushions, the pillows and the whole deck is surrounded by greenery.  Now if only I could keep it all clean.  The sofa is a favourite hangout of our coonhound Trigger and it shows!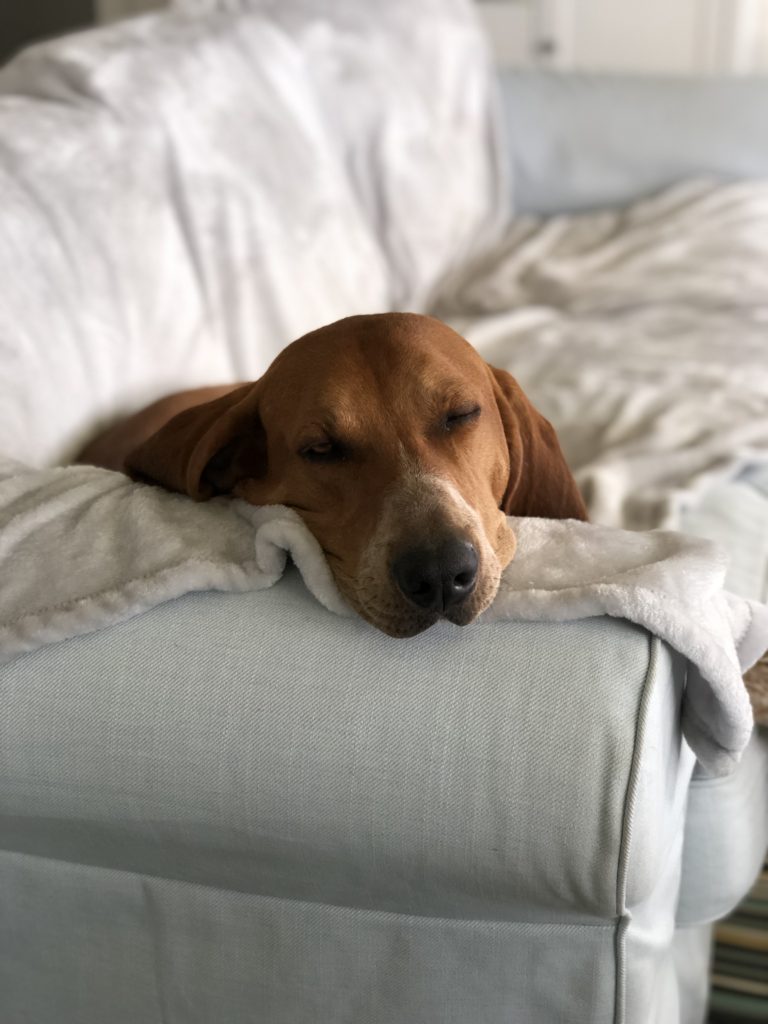 Here's the culprit – he thinks all the furniture is just for him.
I LOVE exploring the beach, and do so practically daily.  Looking to see what treasures have washed up which can include driftwood, beach glass, shells and today a full can of beer!  Plus anything that washes up is free and I'm pretty thrifty so that's a bonus.  
But even if you don't live close to a beach, just incorporating natural elements in your furniture and decor can add to the coastal vibe.
Shells – My beach is literally lousy with Oyster shells so I drilled holes in them and threaded rope through to make this decorative garland. If you'd like to know more, check it out here.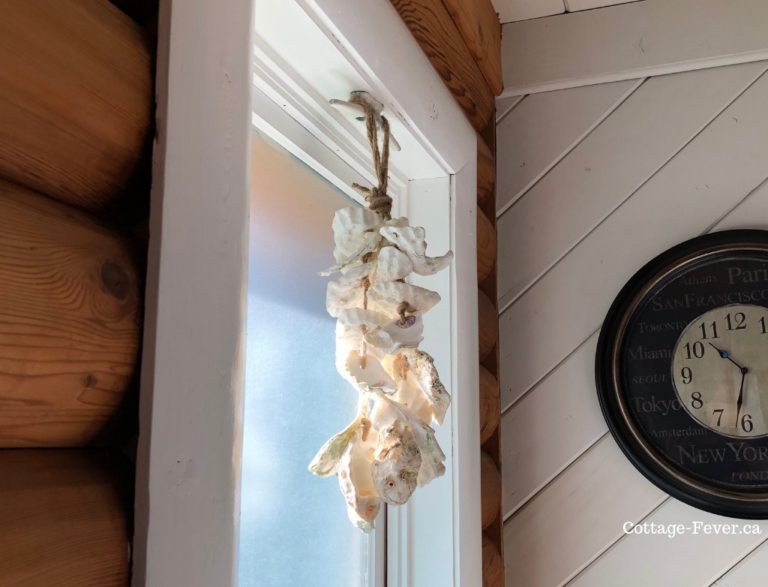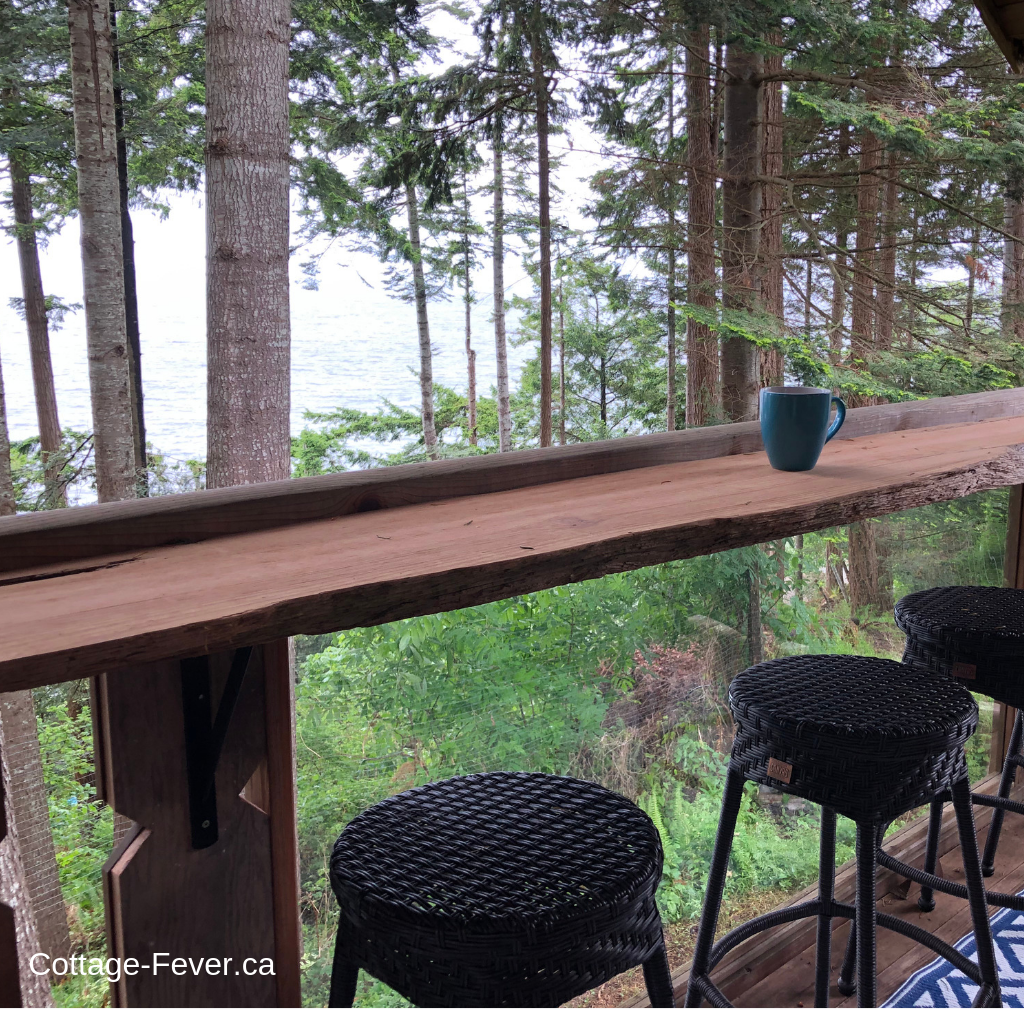 Driftwood – My wonderful husband crafted this live edge bar top out of a driftwood log.  "It was free!", he claimed.  But it gave him an excuse to buy the $200 mill attachment for his chain saw that he'd been itching to purchase. 
Since our deck is so narrow, there is no room for a table so now we can dine al fresco watching the cruise ships sail past.
Rattan – Usually found on outdoor furniture, I love using this indoors. These stools are from Wayfair.ca . I love the look of them in the house but warning you – they're not the most comfortable if wearing shorts or a skirt.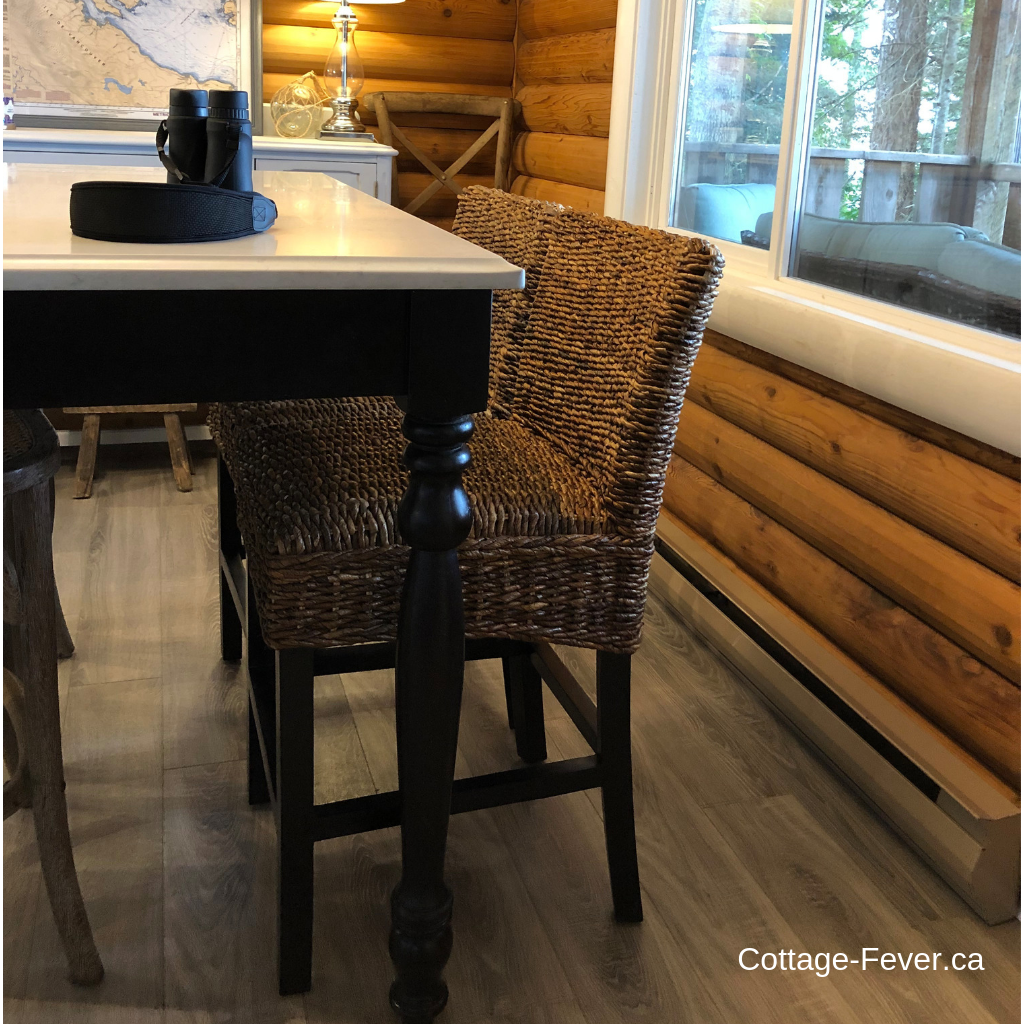 Hope you have fun creating your own beachy style.  You can't go wrong, just keep experimenting and enjoy the process! Let me know how it goes by commenting below.
Overwhelmed and need some help?
These simple to follow elements of how to curate your own coastal style should be easy to follow.  But if not, click the button below to set up a virtual consultation where I can pull together all the elements for you.
Click here
---