How to set up a home office
With the Covid-19 virus, many of us are now working from home in hastily set up home offices.  Often times, this is actually the dining room table.  Having a great set up will lead to better productivity, even when the fridge keeps calling your name.  Read on to learn how to set up a home office for maximum functionality.
Ideally, the desk should measure at least 30 inches high with a depth of 24″ – 30″.  The desk shown above is 30.5″ high and with the keyboard drawer at an ergonomic height.  Having a width of over 44″ allows you to spread out your paperwork, much roomier than the recommend width of 30″.  The knee room is roomy at 28″ high.  
Grommet holes on the desk top corral cords.  Determine your power requirements and connectivity of your desktop equipment.  Select the number and location of grommet holes.  The diametre of the hole will be determined by the number of wires it needs to accommodate.  Wires are then fed from the desktop to an outlet or into wire channels affixed to the underside of the desk, giving your desk a clean line without a bunch of unsightly wires hanging down.
Ensure that your computer monitor sits directly in front of you rather than off to one side.  In order to reduce eye strain, it should be an arms length away.  Angle the monitor down towards you to reduce glare and place it perpendicular to a window if at all possible.  If it must be placed right in front of a window, a bottom up shade allows natural light to flow above eye level.  
Functional doesn't have to mean ugly.  Stylish and cozy all at the same time, the Adara Desk Chair will seat you comfortably for those long hours tied to your desk.  Ideally, you want a chair that has adjustable arm rests and lumbar support, as well as a tilt forward and back mechanism and castors but this is a close second.   Allow 36″ for the chair behind the desk.  
Proper lighting goes a long way in avoiding eye strain.  Ambient and task lighting are both key.  Diffused lighting in the room is considered ambient such as a table lamp that might be behind you but not far enough that it reflects off your computer screen.  Whereas a desk lamp is task lighting.  You should not be able to see the bulb when seated at the desk.  Dimmers on overhead lights come in handy.  
Why do filing cabinets have to be so ugly?  Well, turns out they don't!  Crafted as a piece of furniture, the Rosecliff Heights filing cabinet is actually quite stylish.  Other ideas include using a bench and inserting a file tote or rack which you can find at Staples.  In my future dream home, the home office will include a window seat with built in file storage.  
where to set up your home office
Sometimes, the dining room just doesn't cut it as a home office.  Oftentimes, it's that rarely used guest room that makes the best location, especially if you need to work undisturbed. 
Rather than cram a desk and other office furniture in with a bed, a wall bed allows for that much needed floor space. 
Bet the room will get way more usage than it ever did as a guest room.  
Retrofiting a shelf or drawer with a slide out shelf means that your electronic equipment, such as a printer, can slide away out of sight at the end of the work day.  Leave a 2″ gap between the back of the shelf and the back of the cabinet. 
Ensure that you have adequate air ventilation if you leave it turned on when not in use (but turn it off to save electricity).  Drill a hole in the back for the electrical cord,  A surge protector connected to a retractable cord means no strain when the shelf is pulled out and pushed in.  
Give your eye a refreshing place to rest
Let's face it, we've all been on those boring conference calls.  Have some inspiring art around you to gaze upon while you're trapped on a call.  And take a deep cleansing breath.
Positioned perpendicular to the window, there is no glare on the computer screen or eye strain.  Being light, the desk can be easily moved against the wall when the bed needs to come down for guests.  With plenty of room behind this swivel chair, the occupant can turn and rest their eyes on the wall art during long phone conferences.  If two of you are working from home, back to back desks still allow for plenty of movement.  And there's always room for a furry co-worker in this home office.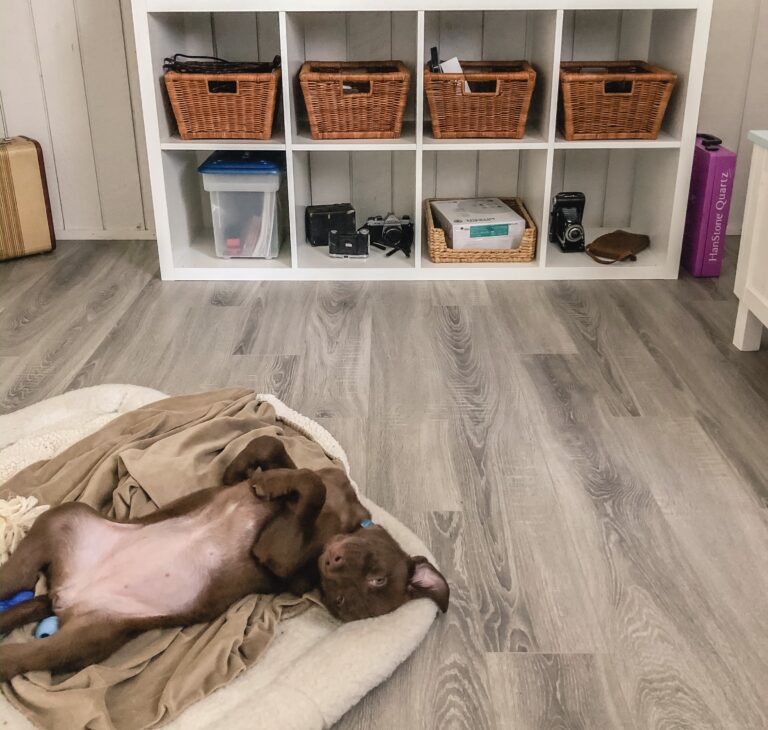 We're all in this together
Hang in there. We're all in this together. Now that you know how to set up your home office, hopefully you'll be a bit more comfortable while this virus burns out. This too shall pass. Thanks for stopping by.
Sources: Pownal Keyboard 2 drawer desk from Birchlane | Adara Desk Chair by Four Hands |Brass Ring Table Lamp from Serena and Lily | Rosecliff Heights Jace 2 Drawer Lateral File Cabinet in Pure White and Shiplap Grey from Birchlane | Bestar Evolution White Queen Wall Bed 3 piece set from Costco | Movento 760H Full Extension Concealed Slide for Sliding Shelf from Richelieu | Cayucos Soft Waves from Minted 
This post may contain affiliate links.
---