Organizing the Mudroom
While we're all physically distancing and socially isolating, I'm getting a little antzy.  Which means either something gets painted, rearranged or organized.  Here are my steps for organizing the mud room, or the "boot room" for those of you who are more posh.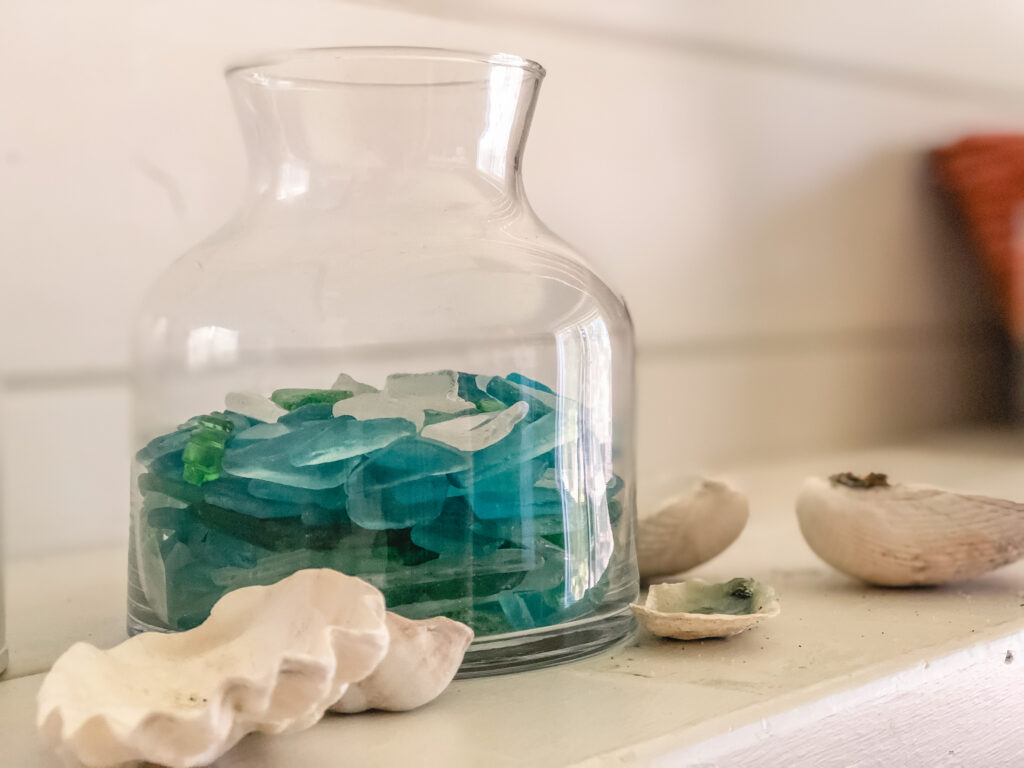 With the Beach Chalet, the only entrance for us and for guests is our mudroom room.  As you can imagine, it's quite the challenge to keep it tidy.  This is where I empty my pockets when I've returned from the beach so there's always a collection of beach glass and shells here.  And guests are continually adding to the collection so it can get out of hand.  And very sandy.
 I've broken it down organizing the mudroom into some easy steps:
Step one: declutter and edit
It's spring finally!  I washed all my winter jackets and put them away at the back of another closet.  Not seeing those jackets for another six months will be a welcome relief! Also put away are the gloves and toques.  I have a basket on the top shelf of my closet where all seasonal items get stored, freeing up space for summer hats and sunglasses in the mudroom.
No more snowshoeing up the mountain for another year so the winter boots went to the back of the closet.  Out came the spring jackets and the cute ked runners.  Being the "wet" coast however, the Hunter boots will stay as a staple.  Wading is always on the agenda so the boots come in handy when exploring rock pools.  
Now is also a good time to go sort through any jackets and boots that didn't get worn.  Create a donate pile for these items.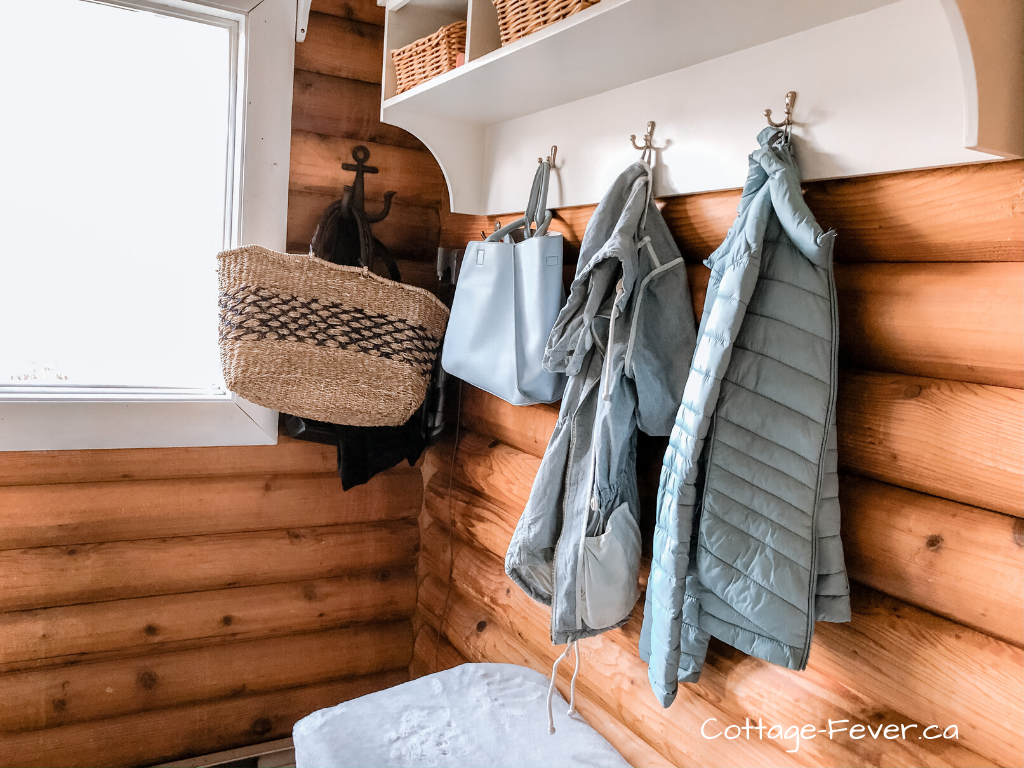 step two - Sort and store
I'm one of those people who feel stressed by clutter.  Everything needs a home in my world, prefereably a home tucked away out of sight.  To that end, baskets are a life saver.  One basket holds all the dog paraphenalia (leashes, poop bags, etc…), one holds hats and gloves and the other is there for various overflow items. 
The bench also has three large baskets where slippers and shoes are stored.  Our puppy is continually trying to steal shoes and slippers out of these baskets so a baby gate had to be put up.  A woven shopping basket is handy hanging here for any time we head out the door to go shopping.  
When it comes to organizing the mudroom, I've found hooks to be indispensable. With hooks it's so much more likely that a jacket will get hung up.  And hooks are handy for hanging up leashes and keys (which seem to always get misplaced in our house).  A place for everything and everything in its place is soooo true – saves so much time than having to hunt for stuff.  "Honey, have you seen my wallet (…keys…fill in the blank)".  This wire basket with hooks is very similar to the one we have which holds sunglasses, mail and wallets, and the keys get hung from the hooks.  
The larger hooks are ideal for hanging heavier items such as bags, purses and umbrellas.  
Step three - ensure you have the right tools and equipment
In order to catch the dirt and hide it and is easy to vacuum, a good rug is absolutely essential.  Something like this jute rug is perfect as the rough texture will trap the dirt but the low pile makes it easy to vacuum. 
Our property is fairly large with an abundance of fir trees.  Consequently we're always tracking in needles.  And of course, being on the beach, sand gets EVERYWHERE. 
So instead of fighting it, we bought a Dyson cordless battery powered vacuum and it has been a godsend.  Because it is so light and we keep it in the mudroom, the area gets a daily and sometimes twice daily vacuuming.  
With organizing the mudroom, a big part of the process is corralling the sand and dirt. So boot trays have become my best friends. In fact, we have three of them. My Hunter wellies, my Chelsea boots and my hikers get constant wear and are usually covered in mud and sand, so it's easy to kick them off and keep them on the boot tray, saving my floors from getting dirty and scratched.
Starting with the right flooring is important too.  This is the most high traffic area of your home.  Cement Tiles are a favourite of mine as they are virtually indestructible and they come in such pretty patterns that it will put a smile on your face every time you walk in the door.  You can even go an extra step and add in floor heating which will help melt snow and dry water quickly.  We installed this at in our mudroom at the cottage. 
Stop dirt before it even enters your home with this adorable boot scraper.  Adding a good door mat that catches the dirt is essential.
Having a shopping basket always waiting for you by the door means you are far less likely to use plastic bags at the store.  It's a very environmentally friendly habit to get into.  
 Why shouldn't a mudroom be just as comfortable as any of the other rooms in your home?  Any space can benefit from pillows.  
Add a wreath to the front door as a lovely welcome home.
Organizing the Mudroom takes only an hour or two and yet you'll feel a huge weight lifted off your shoulders as the visual clutter decreases in this busy space.  And not only that, but you'll have everything at your finger tips for the day that you'll once again be racing out the door to work.  It's coming soon!  I promise.
Still need help getting organized?
Hey, I'd love to help you organize and update your mudroom.  Solving problems is what I do!  Just click on the button below to see the interior design packages that I offer.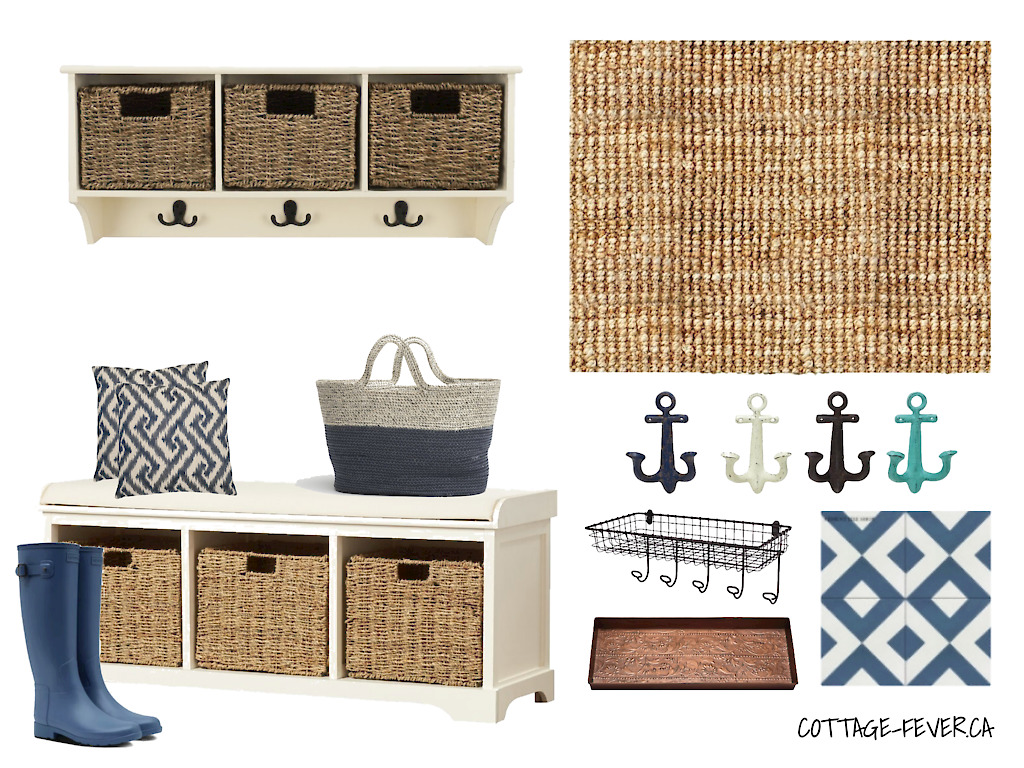 sources for organizing the mudroom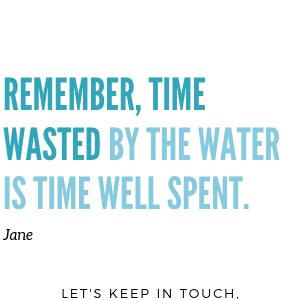 This post may contain affiliate links.
---