Biophilic Design and its impact on your mental health
Biophilia - it's better than it sounds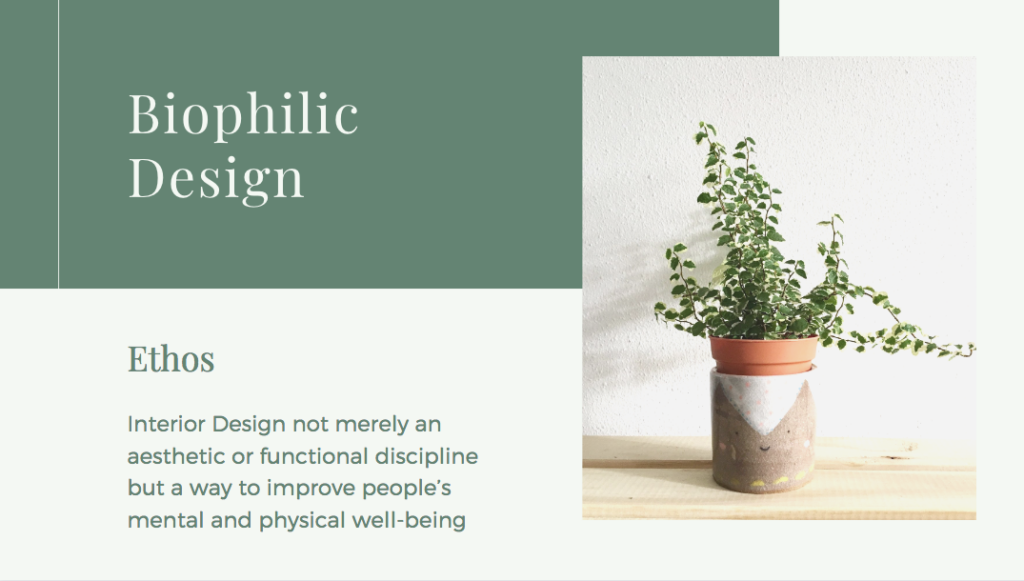 So many people relate interior design to just making an interior look pretty.  But interior design is so much more.  It's "the art and science of enhancing the interior of a building to achieve a healthier and more aesthetically pleasing environment for people using the space" according to wikipedia.  Biophilia, (which sounds like a horrible disease), goes one step further with expanding the definition to be even more holistic. Biophilic Design and positive mental health go hand in hand.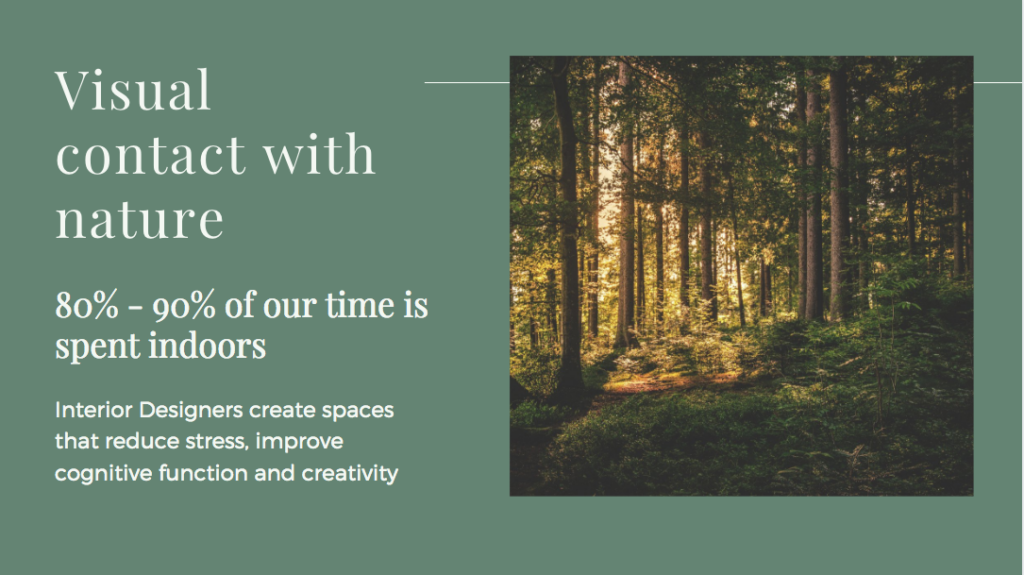 With 80% to 90% of our time spent indoors, we're loosing that crucial connection with nature that we as human beings crave.  Biophilic Design brings that visual connection into our interiors.  The resulting benefit being a reduction in stress, improved cognitive function and vastly improved creativity.  When I have a problem that needs to be worked out, I go for a walk in nature and suddenly the strategy for solving that problem will pop into my head.  
Creating an indirect connection with nature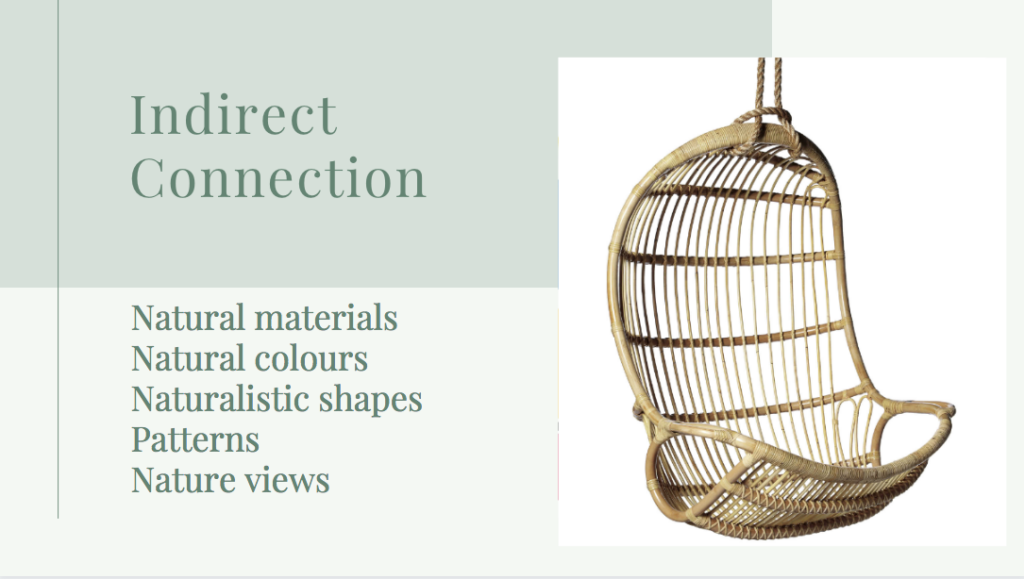 Interior Designers employ many techniques for creating an indirect contact with nature that you consciously might not even realise are there. By using natural materials such as wicker or wood, colours, shapes and patterns found in nature, a subconscious connection is formed.  Incorporating nature views is more obvious but just as important.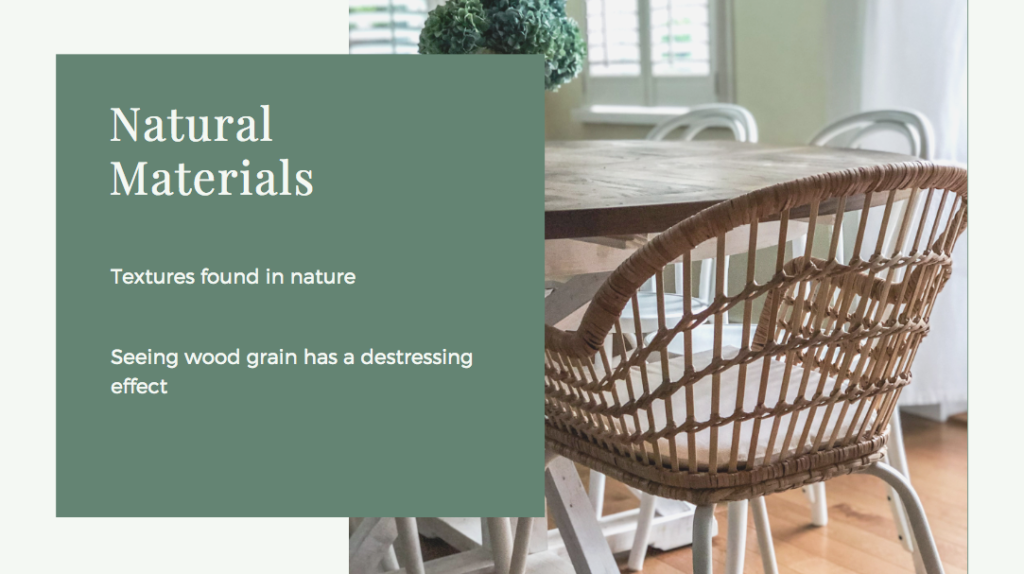 Wood grain has an incredible lowering of stress effect on our brains.  The wood grain table top, combined with the wood grain of the hard wood flooring and the grain showing through the stain on the table legs all work together to create a sense of calm.  They can all be from different species just as there are multiple species of trees in the forest.  The rattan chair brings another natural element and texture into the space.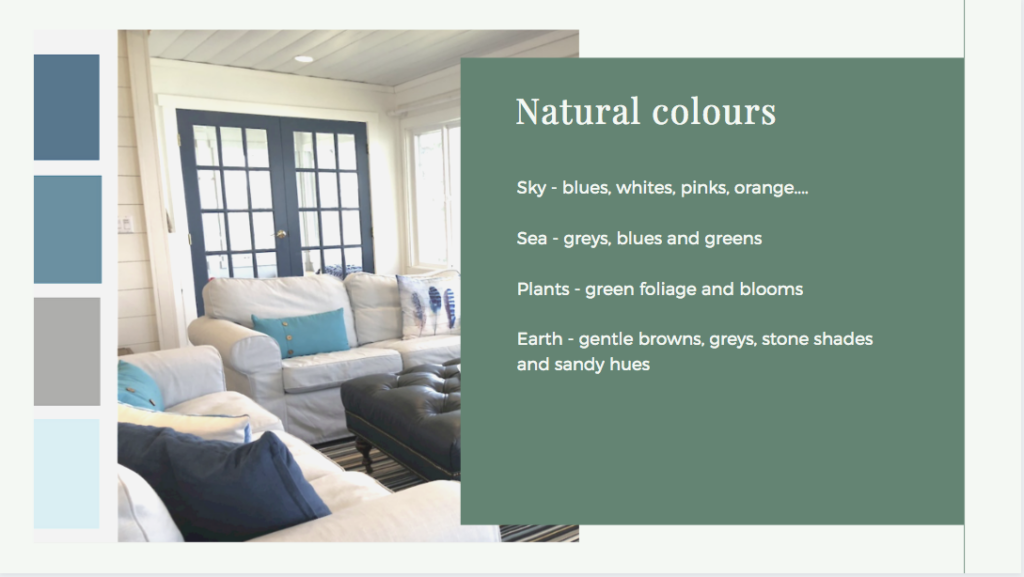 Colour surrounds us in nature and our interiors should reflect what we see out the window.  When we think of the sky, blue pops into our minds.  But what about the pinks of a sunrise, the orange of the sunset, the greys of a cloudy day or white fluffy clouds?  The sky encompasses such a variety of colours.  
The sea isn't just blue, but changes continually throughout the day.  A calm blue reflecting a sunny day, the dark grey of a storm, white caps or green.  The currents and the bottom of the ocean also adds to the colour.
In their 2021 Colour Forecast, Sherwin Williams is recognizing the importance and impact of Biophilia and have introduced some new colours specific to it.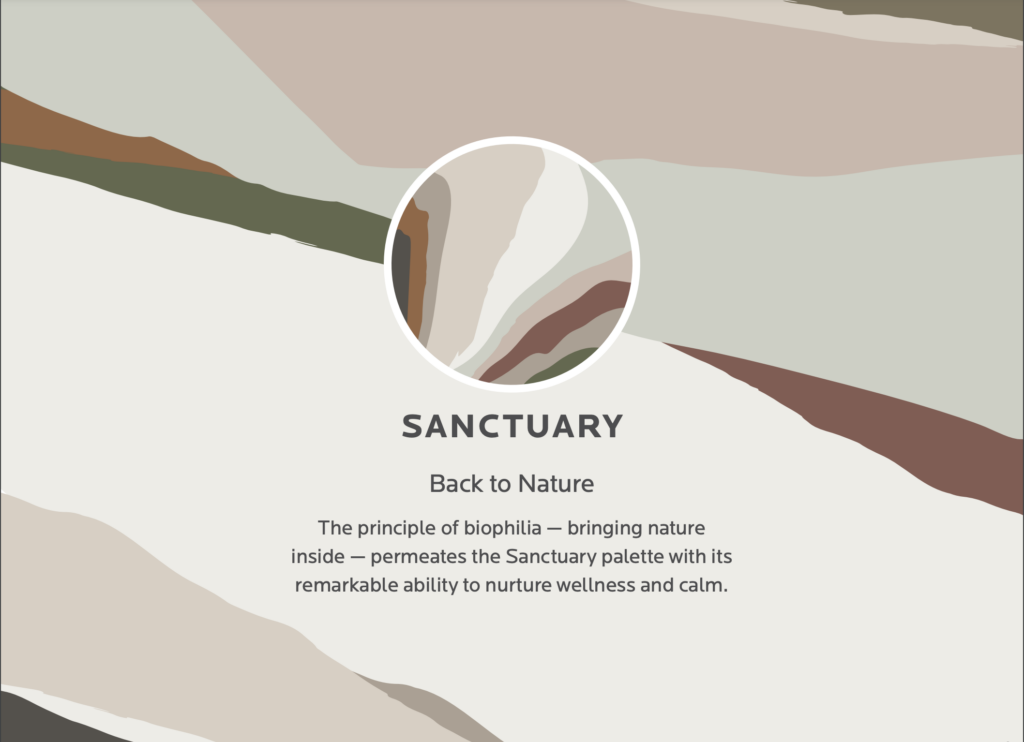 Plants generally have green foliage but the blooms are just about every colour imaginable.  Earth tones are grounding and tend to be our neutrals, the grey of the sand, the brown of the forest floor, or light grey of stones.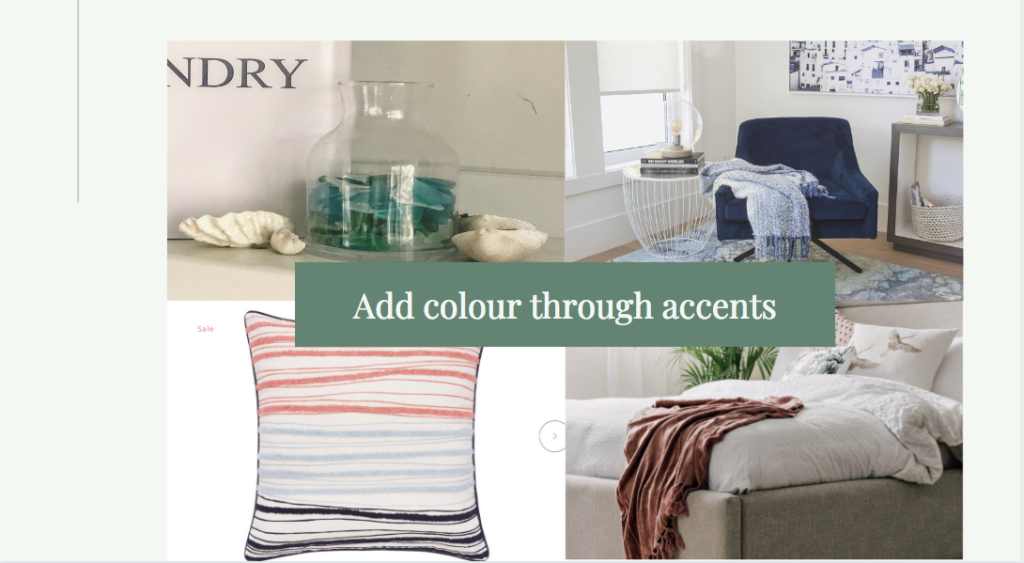 One of the easiest and least expensive ways to add colour to a space is through accent pieces.  This can be a chair, pillow, throw or decorative items.  It's not a huge commitment if you're a bit hesitant but man can it make a difference.  Be sure to repeat the colour at least three times throughout the room.  No more than five different colours in a room is a good rule of thumb.  To read more about adding in accent pieces, hop over to my blog post on "How to curate your own Coastal Style".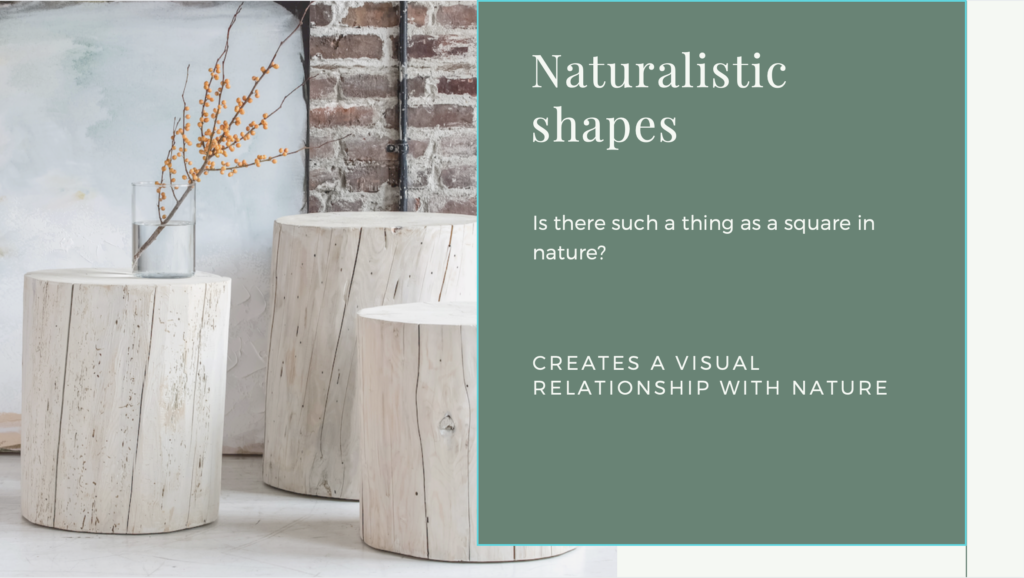 I don't know about you, but I've never seen a square in nature.  So then, why is so much of our furniture and interiors square?  Square tables, square edges on our walls, squared off sofas fill our homes.  I know I have bruised my legs many times on square edged coffee tables.  Shapes replicated from nature are so much better for our mental well being (not to mention shins).  And they don't have to be as literal as these super cute stump side tables but a round side table or a leather ottoman can add a relaxed vibe to any room.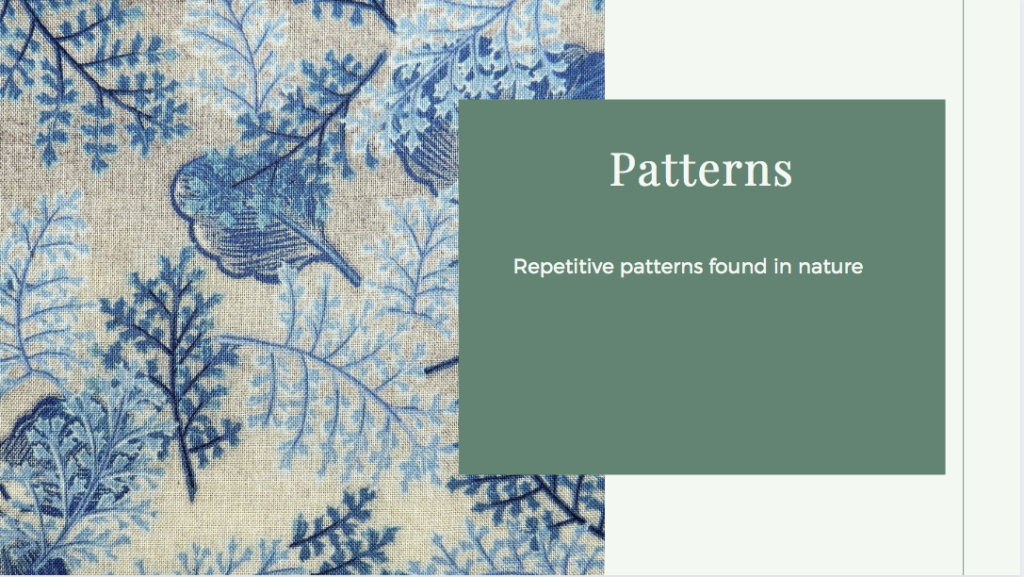 As humans, we find repetition very soothing.  In an interior design, shapes and colours when repeated create harmony.  And that is just replicating what occurs in nature yet again.  Patterns in nature are repitious – think of the veins in a leaf, the petals of a flower and the waves on the ocean.  Combining patterns creates interest but always include some naturally occurring ones such as botanicals in addition to geometrics or stripes.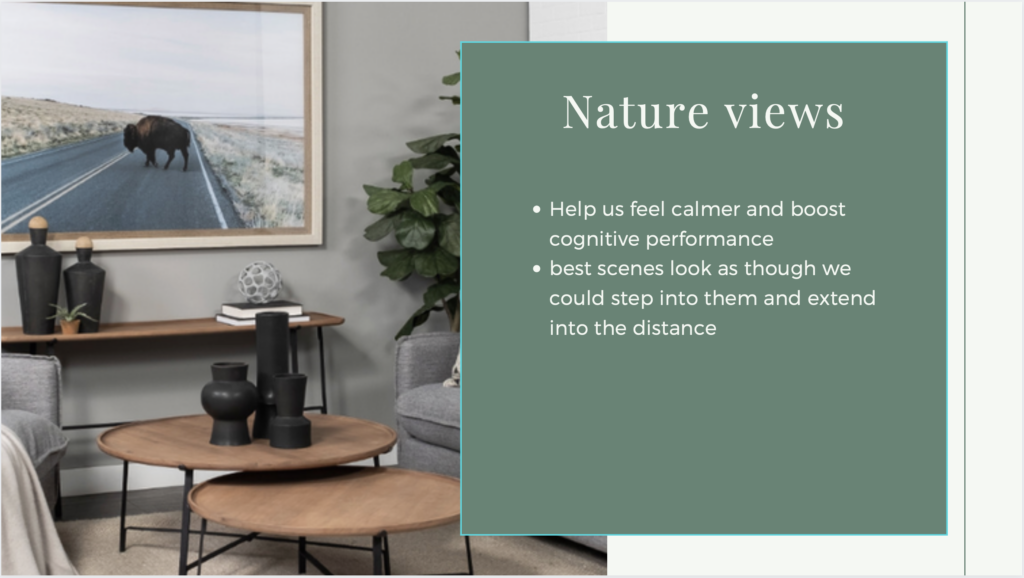 Some of us are blessed with amazing views right out our windows.  I know I am.  But that hasn't stopped me from still adding nature views in my art and decor.  It's been proven that gazing out into nature helps us feel calmer and can even boost our cognitive performance.  When choosing art, look for scenes that feel as though you could walk right into them and that they extend off into the distance.  Art doesn't have to be expensive.  Not all of us can afford an original painting but something from Homesense that speaks to you can have the same effect.  
creating a connection between the indoors and out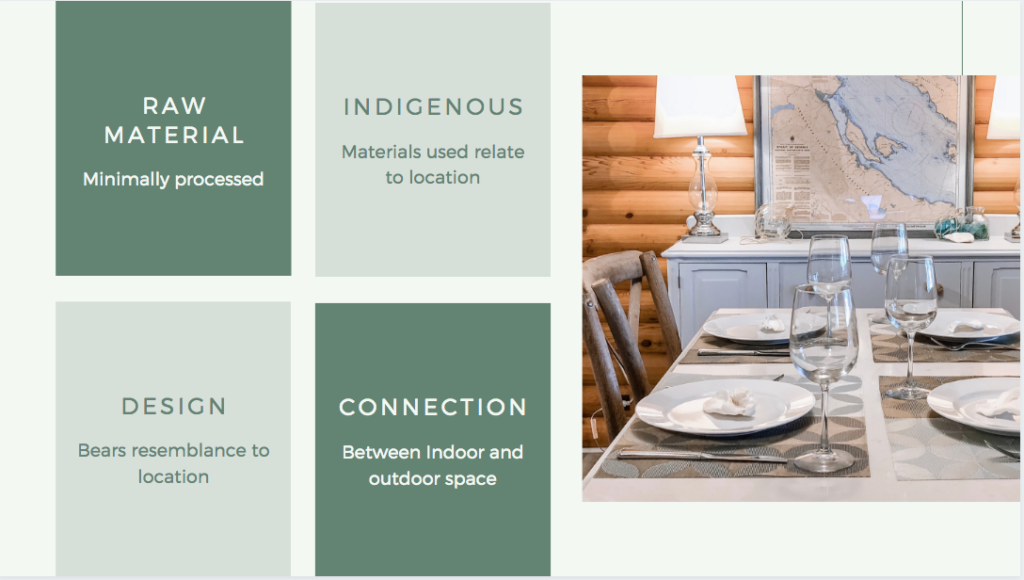 Intuitively, an adobe house sitting on the edge of the ocean would just look out of place.  A home should reflect its surroundings, being built of indigenous materials.  This log home is on the beach on Vancouver Island which is in a rain forest.  The cedar logs were grown nearby and are minimally processed.  The same can be said for the chairs from Restoration Hardware.  The sides of them look as though they're still in their natural branch form.  Oyster shells on the dinner plates were collected from the beach outside this home, creating a connection between the indoor and outdoor space.  Visitors can pick out the location of the home on the nautical map which has been accented with beach decor creating a resemblance to the physical location of the space.  
Don't forget the impact of our senses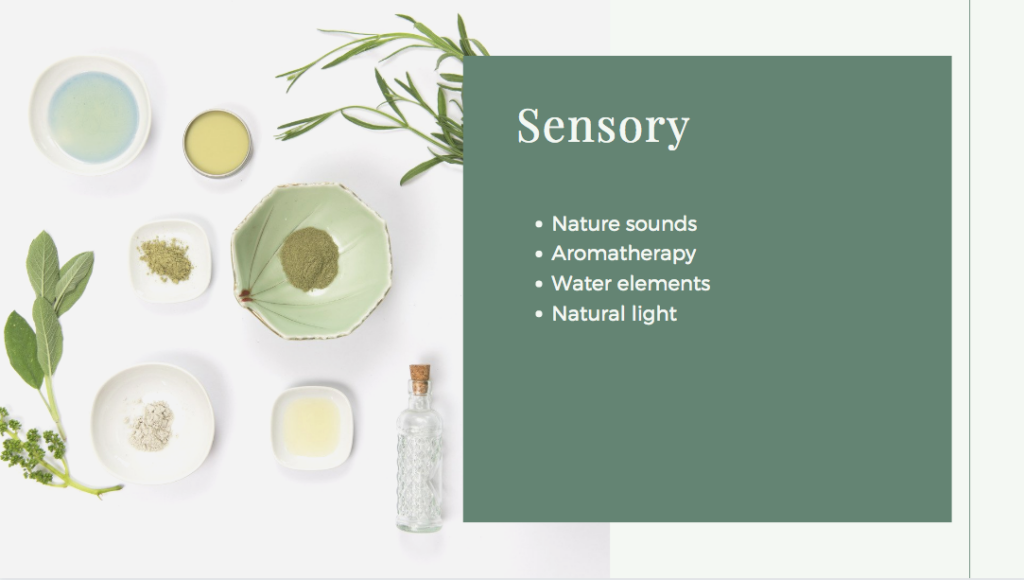 Sound, smell, water and light all have dramatic impacts on our mental wellbeing.  Biophilic Design includes the senses in promoting good mental health.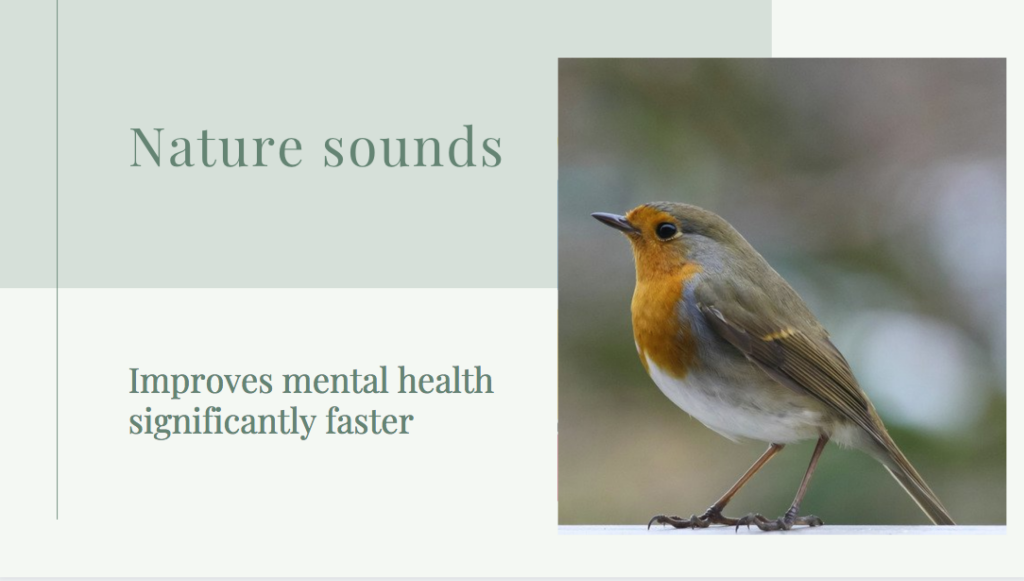 If you live in an urban environment, opening a window to let in birdsong might actually let in the sound of a new sewer line being installed, causing stress.  But luckily, most of us have access to free apps on our phones to nature sounds.  Falling asleep to the sound of the wind rustling leaves or a babbling brook is now a reality.  It has been proven that nature sounds can improve our mental health significantly faster than without them.  Now put on your headphones and chillax.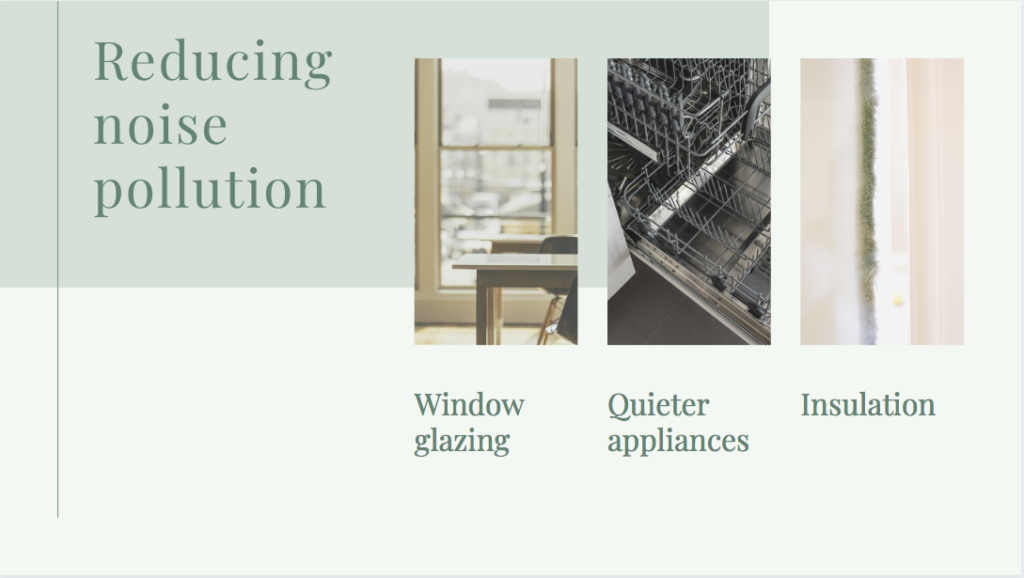 Keeping unwanted sound out is just as important as letting nature sounds in.  Double or even triple paned windows, quieter appliances and sound insulation can work wonders for your inner zen.  
With my very sensitive nose, aromatherapy is a key component of my home.  I'm unable to fall asleep if the scent of garlic from a delicious dinner is still wafting through the house.  Apparently aromatherapy can improve pain management after surgery and during labour.  I didn't try it during my three labours but it sure couldn't have hurt!  Excuse the pun.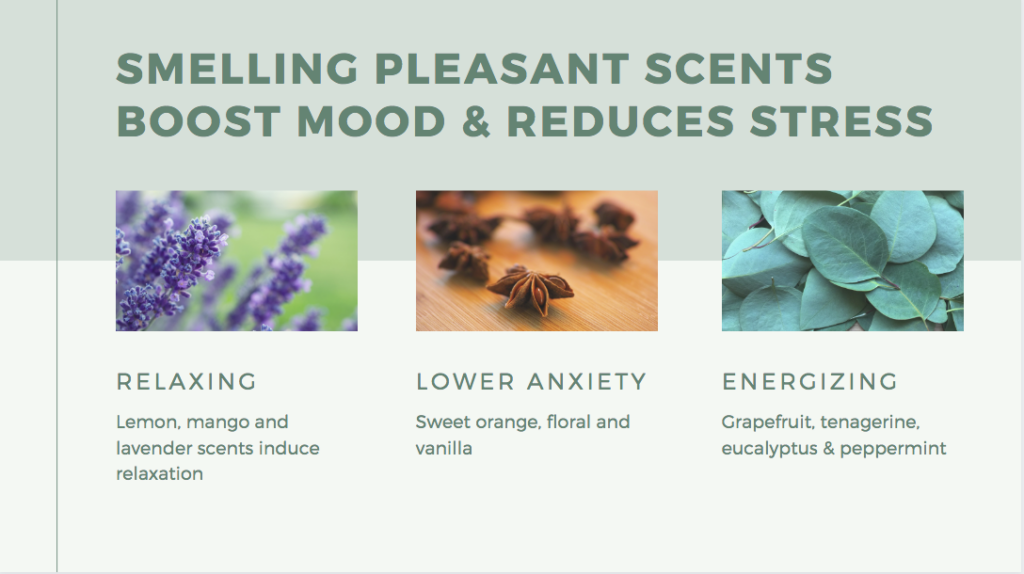 I swear by Lavender to help me fall asleep. Each night, I spritz my pillow with Lavender Floral Water from Shamrock Farm and then I'm off to dreamland.  My favourite candles, made from soy, are from Rainwater Soap & Candle Company in the Citrus Balsam scent which I find so soothing.  I haven't been brave enough yet to try their "monkey farts" scent.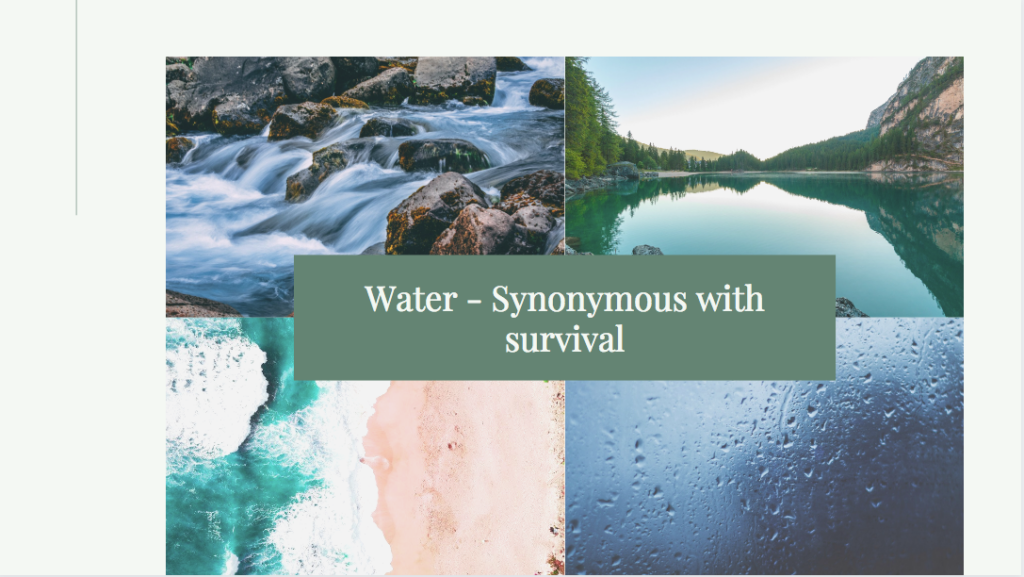 Obviously, water is crucial to our survival.  And because of that, it can have significant impacts on our mental health and building resiliency.  For those of us not blessed with an ocean, lake or river view, there are many ways to incorporate water into our interiors without breaking the bank.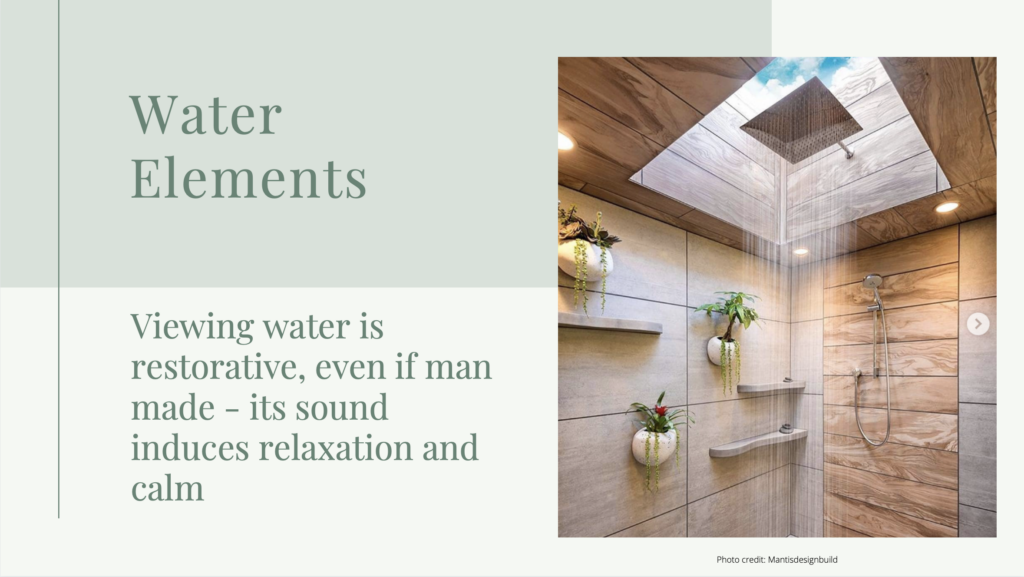 Raindrops falling on a skylight or a metal roof and rain flowing down a chain from the gutters rather than through a pipe both have a calming effect.  Inside the home, you can incorporate a rain head shower or a waterfall faucet in the sink of a bathroom.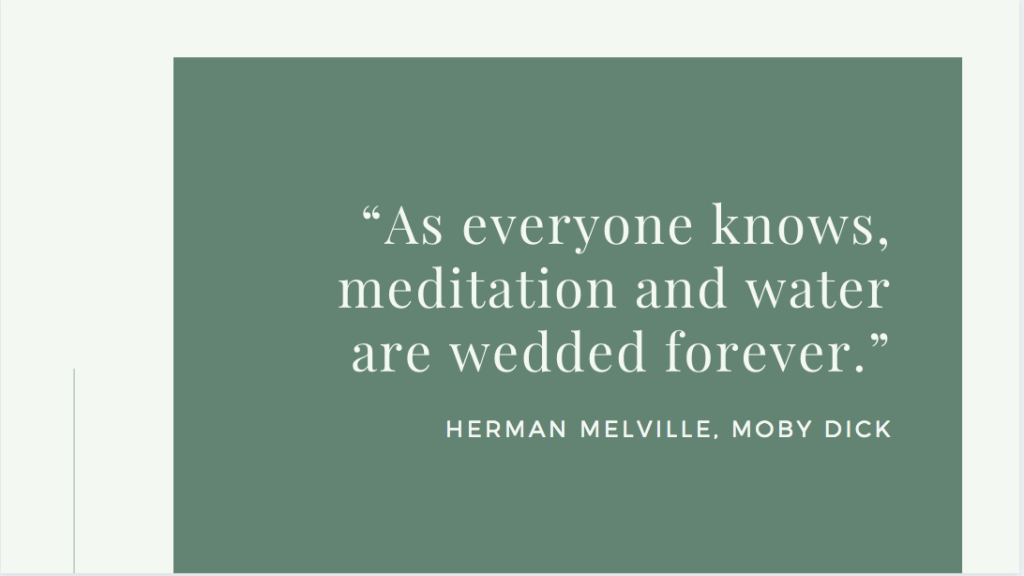 A few years ago, Corona beer (which has a new meaning now unfortunately) aired a commercial with nothing more than a beach scene with the waves rolling in and of course a beer on a table.  It was very clever marketing as we can all relate to that relaxed almost hypnotic feeling of chilling on the beach.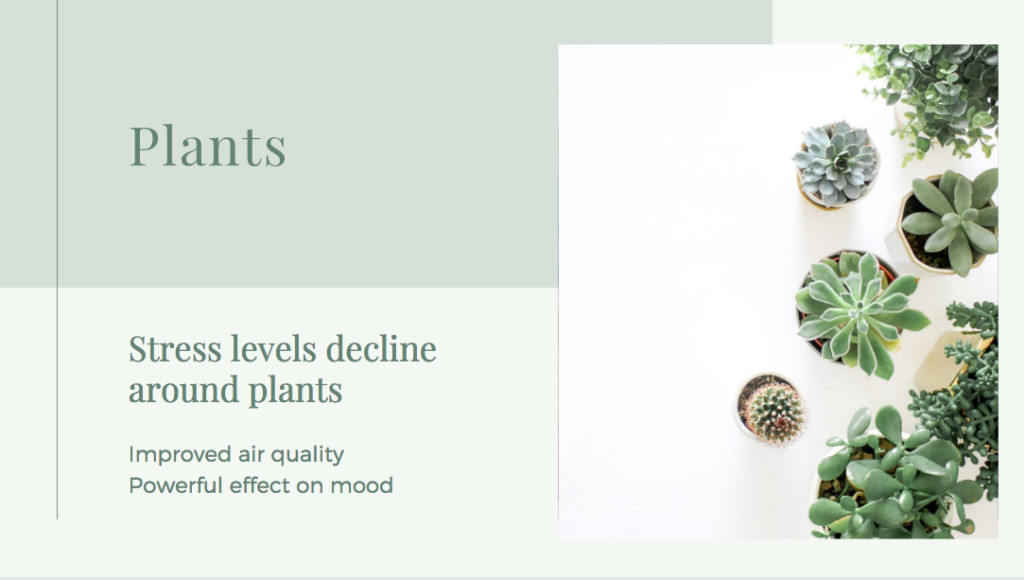 I am not blessed with a green thumb. Heck, I couldn't even keep an air plant alive. Don't know how I successfully raised three amazing sons to adulthood. But if you are able to keep them alive, plants have this wonderful effect of lowering stress levels. Their leaves help clean the air too so our physical health benefits in addition to our mental health. Just seeing the green has a powerful effect on our mood. No wonder indoor plants are seeing a massive resurgence in popularity. Along with macrame hangers. Now that I don't get.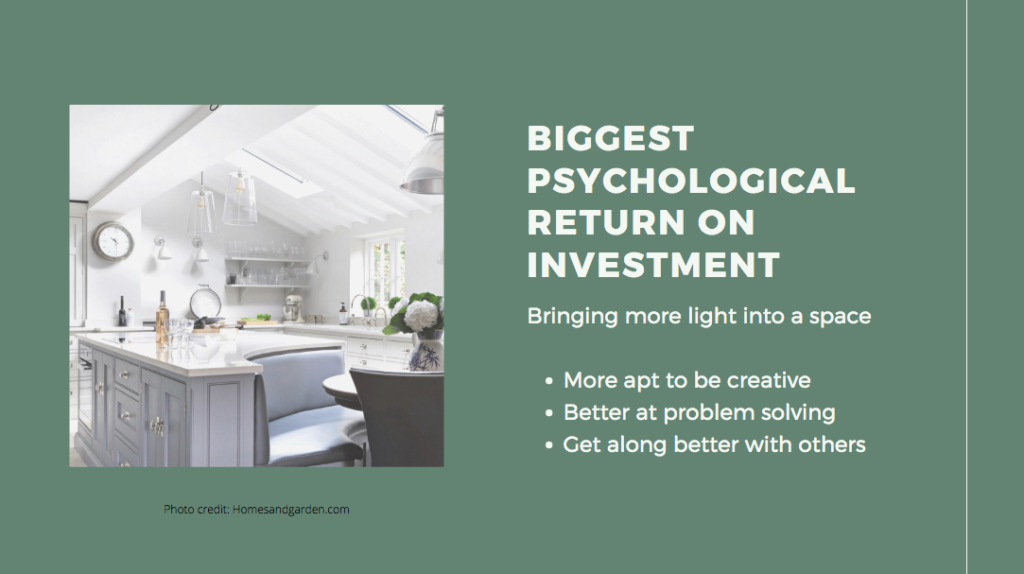 Bringing more light into a space has the biggest psychological return on investment.  I am living this up close and personal in a log home.  I have been planning how to add more light through not only bigger windows but adding windows and possibly a skylight.  The use of glass, mirrors and reflective glossy surfaces are also good tools for bouncing light around a space.  And lighter paint of course will also reflect light in a space.  Check out this blog post on how I added ample light to a dark north facing kitchen.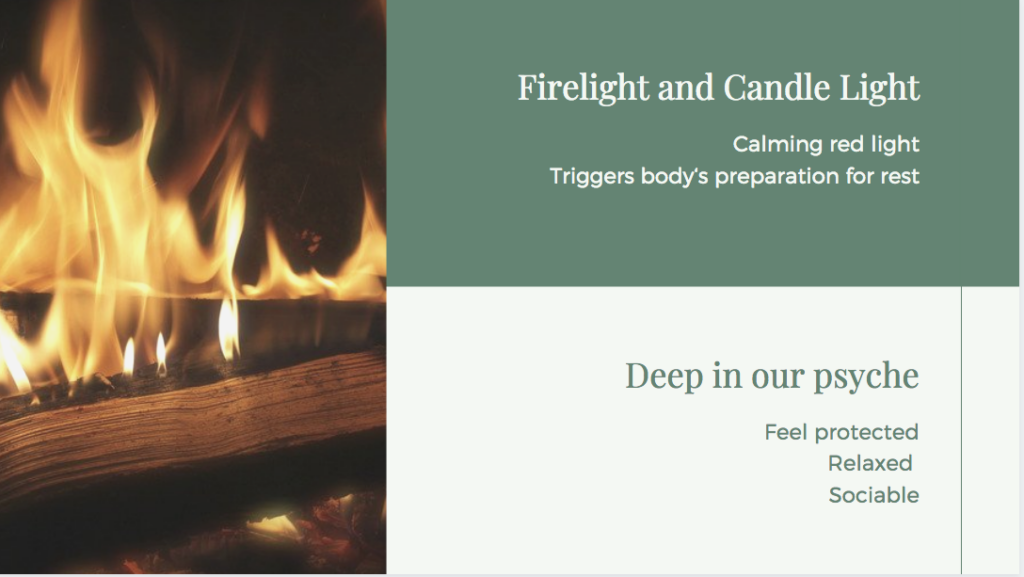 Going back to our caveman (or should I save cave people) days, fire was a crucial element in our survival and part of what set us apart from the other animals.  We felt protected from the night and the wild beasts sitting around the fire enjoying our freshly cooked mammoth.  Deep in our psyche, we feel protected which in turns makes us more relaxed and sociable. 
That's why we still see fireplaces in homes that are purely just decorative in that they don't generate much heat.  And they continue to be a major focal point in a room.  The calming red light of the flames and candles triggers our body's preparation for rest.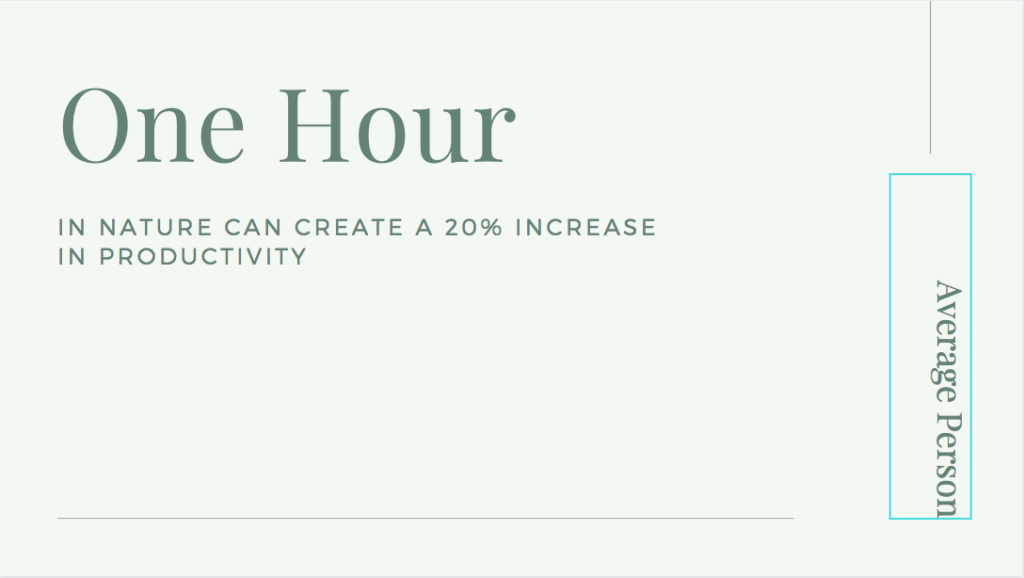 Imagine if one hour can create a 20% increase in productivity, what effect that will have if we incorporate more of it into our homes and offices.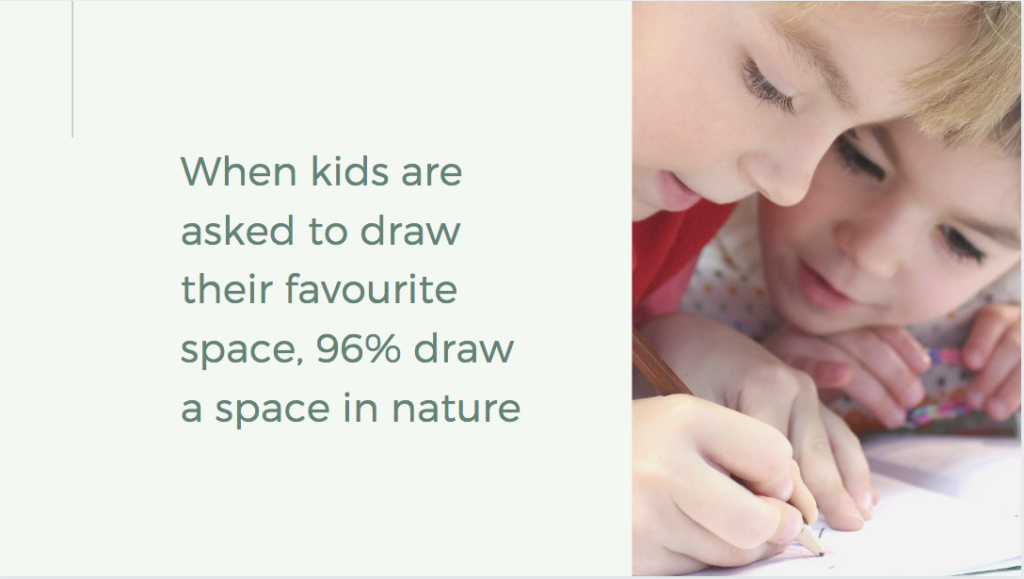 Nature's benefits are evident from a very young age.  It's time we revisited that by bringing more of it into our homes and reaping the benefits.  Biophilic Design not only achieves good mental health but it also builds resiliency to cope with stress and anxiety.  These are very important life skills to develop from a very early age.  Let's never lose that connection with the natural world.  
Leave me a comment about how you incorporate nature into your own home.  I'd love to hear about it!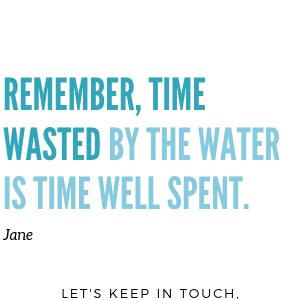 ---