Beach Style painted furniture makeovers
There's an expression in my house: you better not sit still too long in one spot or you'll get painted.  Moving into a temporary home, we didn't want to invest money in new furniture but our old furniture didn't suit the beach house. So I thought I would update what we had with beach style painted furniture.  I came across Fusion Mineral Paint which I'd never tried before so that I'd give it a go.
When my husband and I first got married, my Dad refinished an antique dining room set for us.  That set moved with us from home to home and hosted every family dinner.  The thing was, it was never comfortable nor good design.  So we sold the table and chairs but I still couldn't part with the sideboard so it moved with us to the "Beach Chalet".  But being a log house, with brown everywhere, the dark stain on the sideboard sucked the light out of the dining area.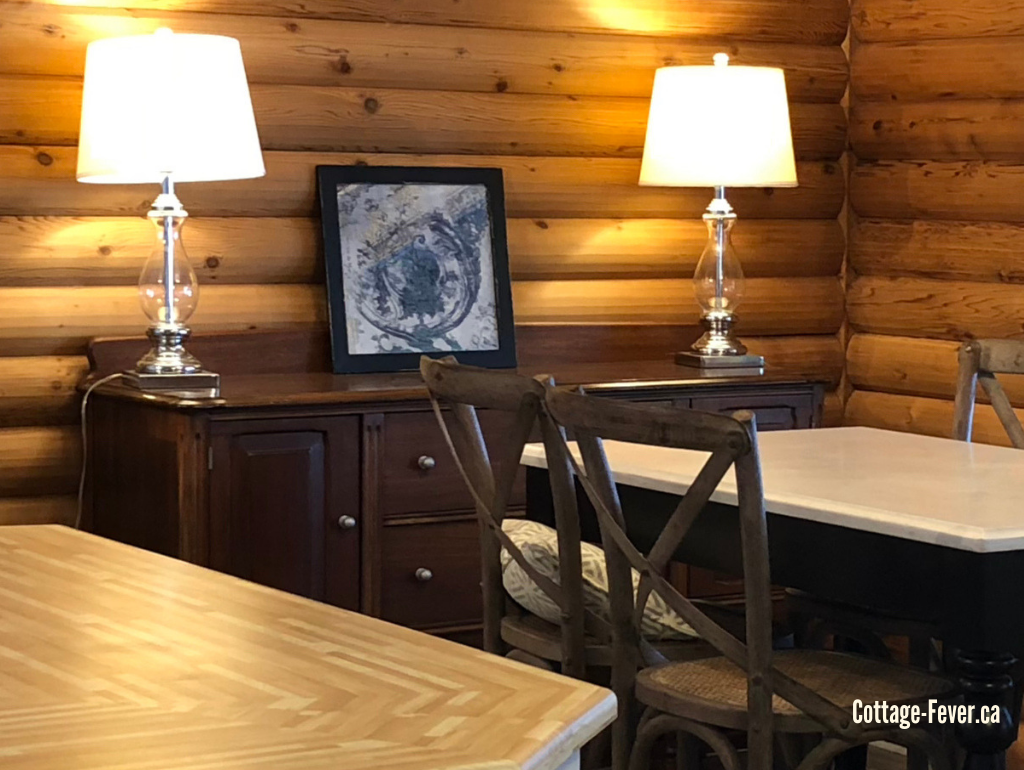 My Dad is probably rolling over in his grave (or rather spinning in his urn) that I painted a piece of wooden furniture.  And I did feel guilty as I was doing it knowing how much care and attention and love he put into staining it for us.  But I got over it.
I chose to work with Fusion Mineral Paint, as the preparation is pretty minimal.  I washed the piece and then lightly sanded once dried.  Carefully, I removed all dust from the sanding by vacuuming and dusting.
In hindsight, I should have used their ultra grip product, given how much this piece had been waxed over the years.  For more detailed instructions on prepping, click here.
I chose to go with the colour Lamp White.  On the Colour Sample card that I picked up at the retailer, the colour looked rather gray but it reads as white in my dark house.
The first coat went on easily. Having watched Fusion Paint's online tutorial, I knew not to put too much paint on the brush but rather added light coats of the paint.  It dried remarkably quickly in between coats.  The paint is "self levelling" so the brush strokes aren't very noticeable at all.
updating the drawer pulls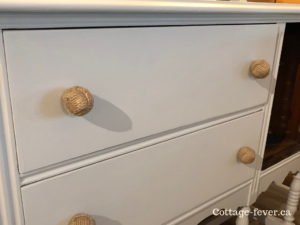 I found these fantastic drawer pulls in a little shop in Campbell River.
They go by various names like, "monkey fist", "sailor's knot", or "nautical knots". Take your pick. I really loved them when I saw them and lots of guests comment on them. Then I was watching Sarah Richardson's latest show and she used them so I knew I was onto something!
I think even Pops would have been proud of the finished product.  I'm right chuffed with it!  What a difference it has made at brightening up the space.
So now I was on a roll.  What other beach style painted furniture could I create?  We had a little side table which had seen better days.  The surface on the top of it was water damaged.  Liking the colour Little Teapot which seemed very coastal, out came my sand paper and brushes.  Even though this colour in the "Tones for Tots" collection, I wasn't deterred from using it.  
Breathing new life into a bed and night stand
This bed had belonged to one of my sons as a teenager so you can just imagine the abuse it took.  Dark, scratched, dented and decaled, it wasn't something I wanted in my beach house and yet we were trying our best to upcycle what we had.  The side table came from a friend whose mother had just moved into a care home and didn't have space for it any longer.  So for this project, I chose the colour Little Whale, the perfect coastal blue for this bedroom.
Leaning towards gray on the colour chart, Little Whale is actually a beautiful sky blue.
Spray painted beach stools
Sorely lacking seating in our kitchen, when Costco had some metallic bar stools for sale, I grabbed them.  But they looked rather drab so I bought a can of spray painted and got to work.  With a name like "seaside" who could I NOT have chosen this colour?? So happy with the way the stools turned out.  
I didn't limit myself to just furniture either
A decorative starfish (fake) and a cast iron urn all received the same treatment.  The Fusion Paint has lasted really well outside in the elements.  Even though the rust of the cast iron is coming through the paint, I actually like the patina.  
And I even painted both real and fake pumpkins for coastal autumnal decor, which you can read more about here.  
As the Fusion Paint does go a surprisingly long way, I have my eyes open for my next project.  Just not sure what it will be yet.  If this post has given you some ideas, feel free to share them in the comments below.
---