New Year Refresh
New Year's is such a time of rebirth – resolutions, goals and projects are all come to mind.  But equally important is a refresh for your home.  Here are my suggestions for a New Year Refresh to recharge your batteries, create peace and harmony in your home, instilling a sense of calm.  
Now is the time to pick up those half price Paperwhite bulbs at the nursery or pick up some hyacinth or daffodil bulbs that are just starting to sprout in a nursery pot and replant them indoors. 
The trick with these bulbs is to have water just touch the bottom of the bulb.  Glass beads or pebbles in the bottom of a pitcher do the trick of supporting the bulb while allow enough water to support their growth. The pitcher will support the stems as they grow.   Paperwhites need to be tricked into thinking they've gone through the winter.  Keep them in a cold dark place, such as an out of the way corner of your basement or garage, for two weeks.  Then bring them into the light and they will start growing vigourously.  Wait another two weeks for the flowers to appear.  Remember to keep checking the water levels as they're growing. Adding in the Pussy Willow branches creates a textural component.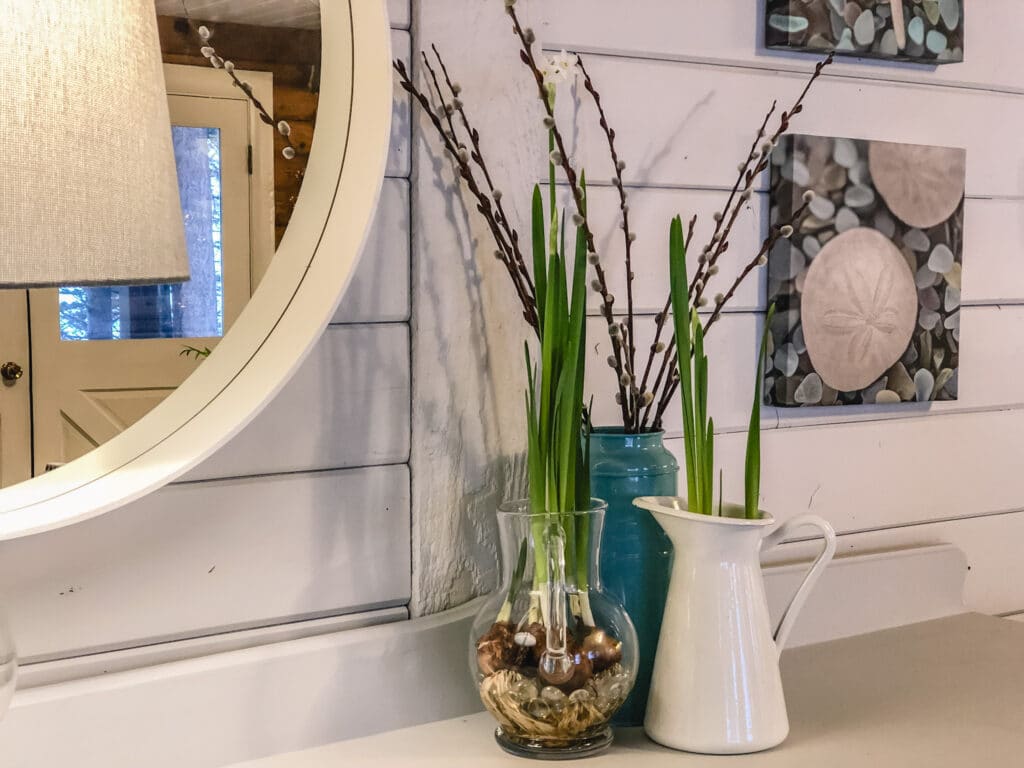 Planting bulbs in an unexpected vessel can be delightful.  I often will plant spring bulbs indoors in a serving dish, such as this pedestal or footed bowl.  White is my favourite floral colour for January as the colour implies a fresh start for the New Year.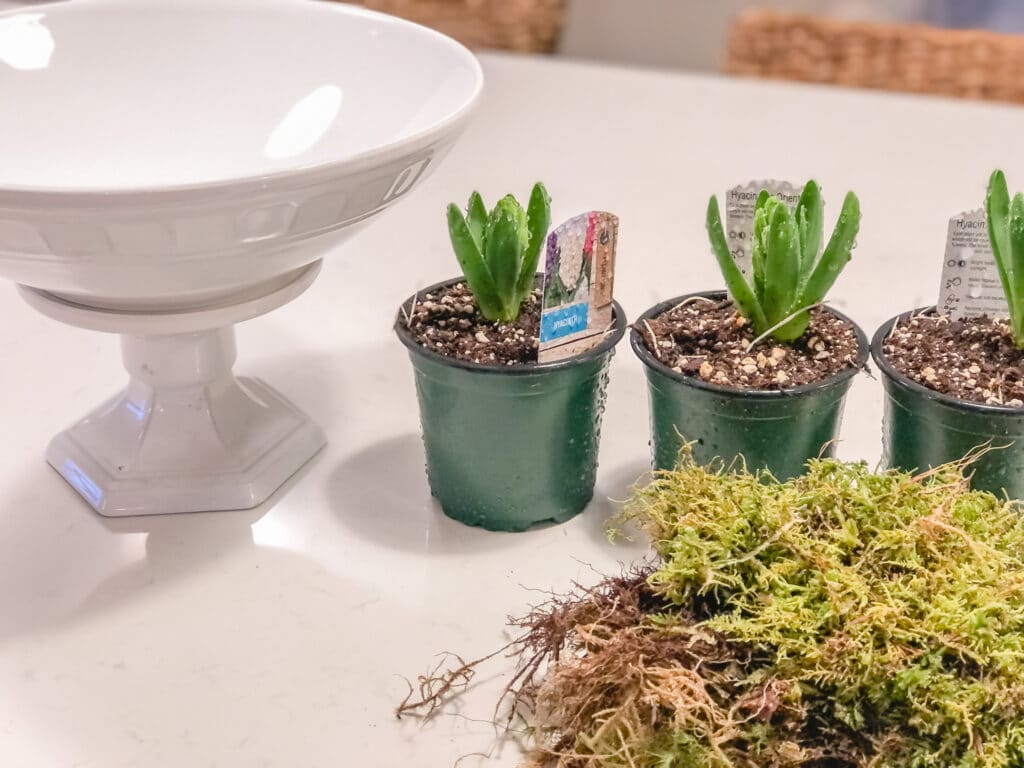 Using just the planting material that came with the bulb, I place three in this serving dish.  Remember to plant in odd numbers as it just looks better. This is a guideline that is used throughout interior styling.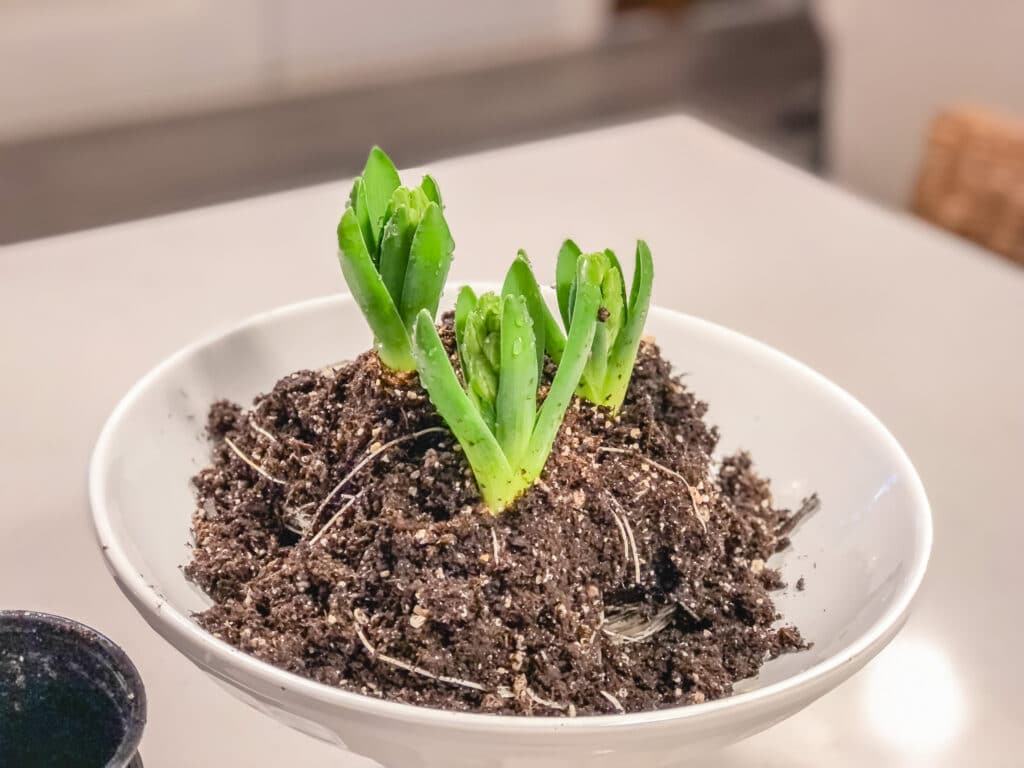 Cover up the exposed dirt with moss.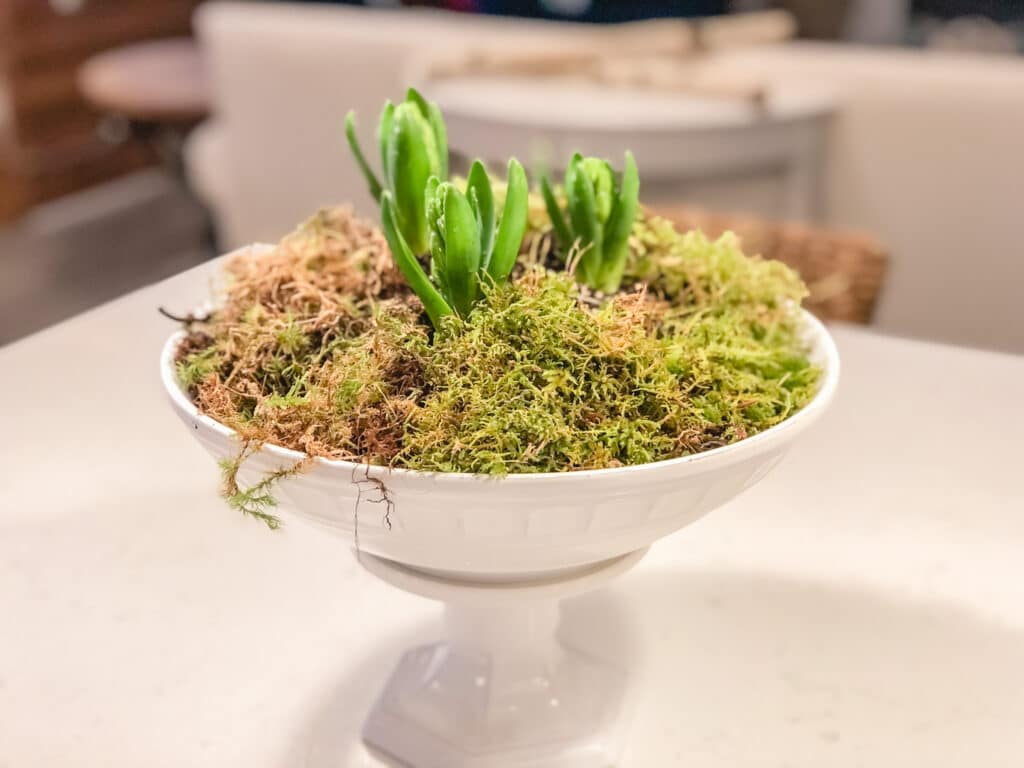 So easy!  And all for the price of a bouquet of tulips that wouldn't even last a week.  Please recycle the pots that the plants came in.  Once the bulbs have finished blooming, plant them in your garden where you can enjoy them next spring.  
It's incredible the effect that nature has on our mental health.  Bringing nature indoors during the dark days of winter is like a little boost of serotonin for the brain.   If you'd like to read more about that, check out my blog post on Biophilic Design.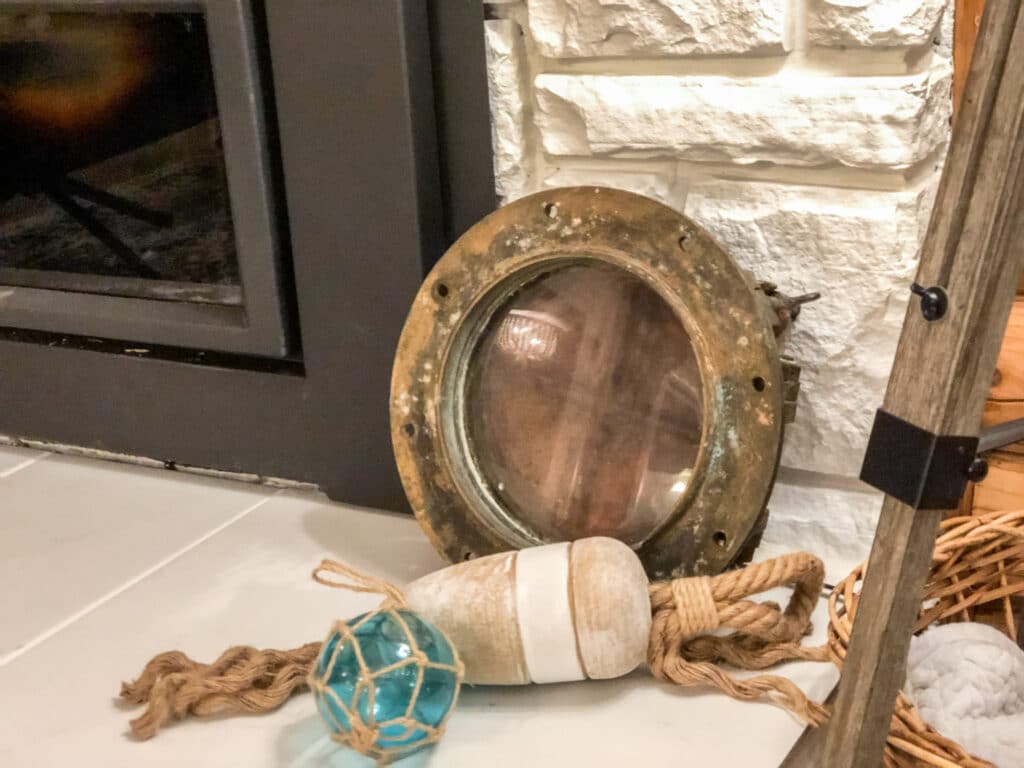 Move decor items around and try them in a different arrangement. Add pops of colour to brighten and lift your mood.  Try out a piece of furniture in a new spot.  I've had this authentic porthole ever since I was a kid. My Dad had picked it up at an auction.  Going to auctions was a passion of his and we never knew what he'd come home with – one time it was a huge painting of a cross-eyed Matador!  
The porthole has moved from place to place to place with me which is no easy feat.  Made of solid brass, it's HEAVY. One day, I hope to install it in my front door or in a gate. Normally it sits on its own yet combining it with a buoy and a glass float completes the beachy feel and helps to fill the void left by the now absent Christmas tree.
As the old saying goes, "a change is as good as a rest."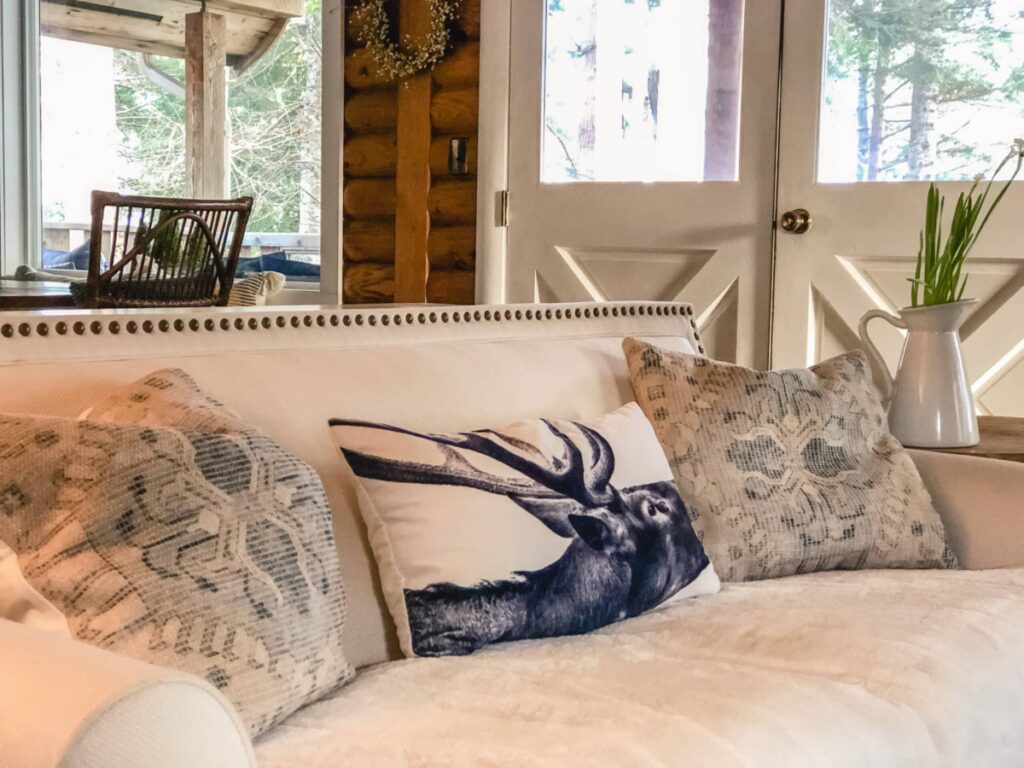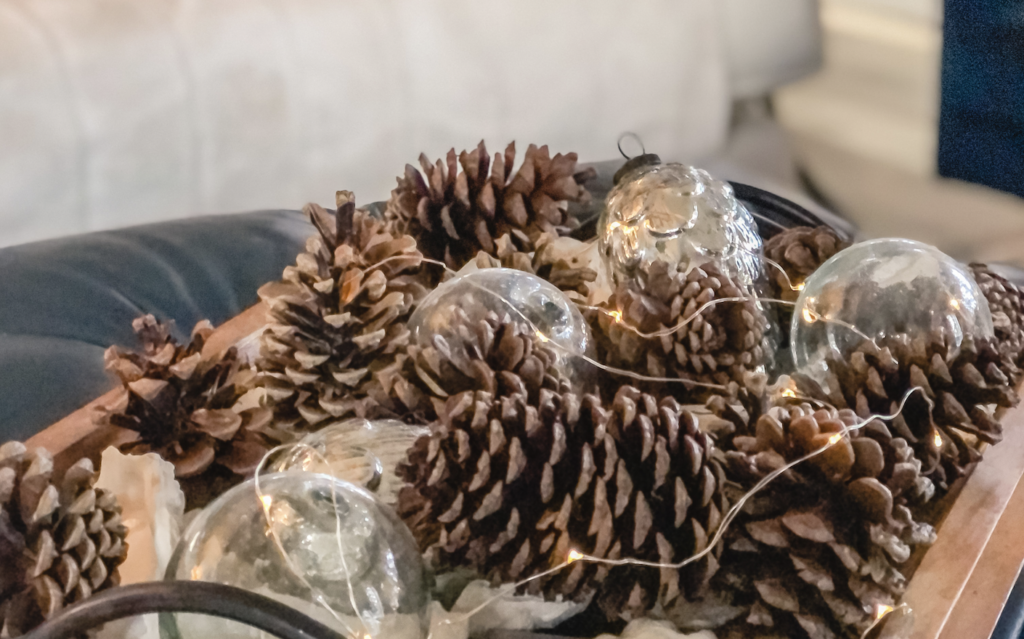 While still wintery, this collection of pinecones and oyster shells with some glass balls and fairy lights doesn't reek of Christmas.  The nights are still so long so the sparkle from the lights and glass lights the spirits.  The Scandinavians have really nailed it for keeping their mood elevated during the long winter months and adding light is a key element.  And bringing nature indoors is a fundamental aspect of Biophilic design which has been proven to improve our mental health.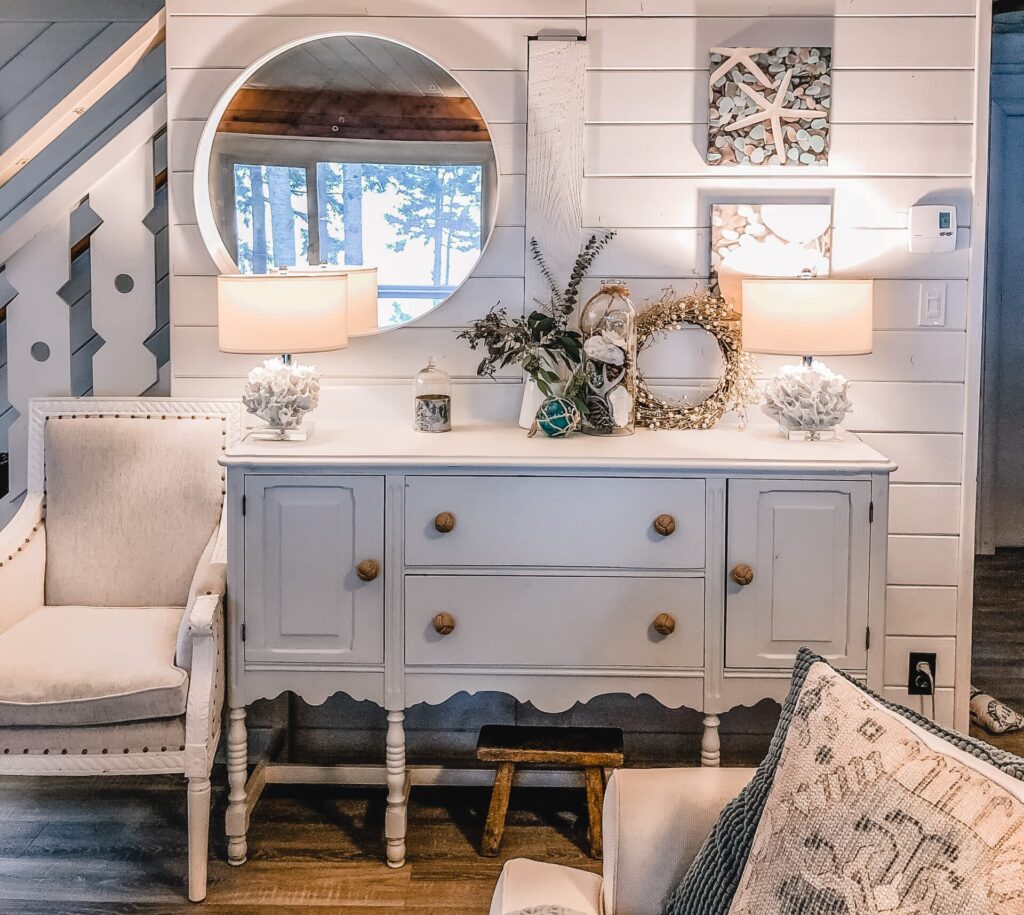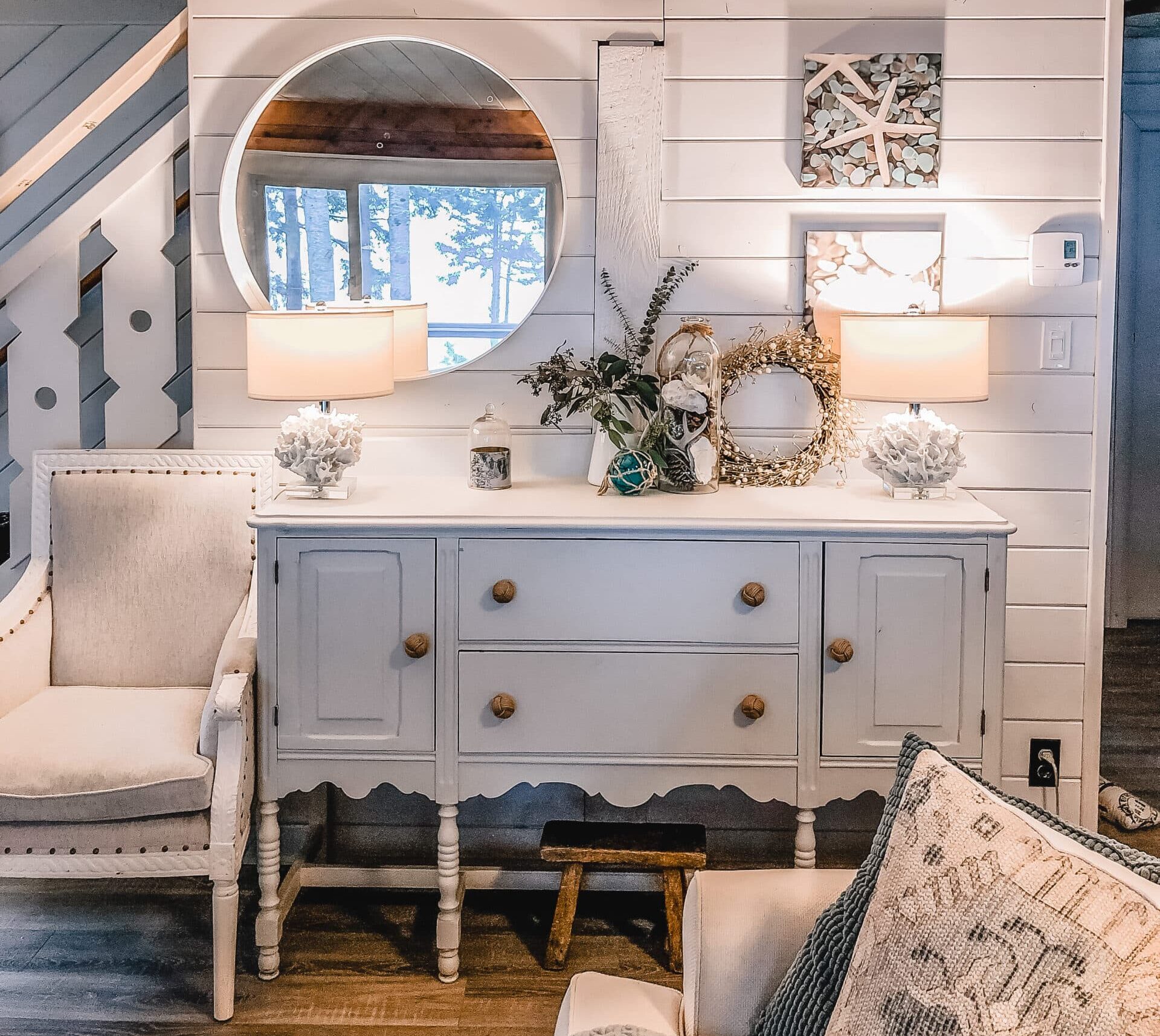 This buffet was another auction find of my Dad's.  He lovingly refinished it for me for my first dining room.  The table and chairs ended up being really uncomfortable so I eventually sold those.  But as Pops passed away in 2014, I just couldn't bare to part with this piece that reminds me so much of him.  By painting the buffet with Fusion Mineral Paint and changing out the handles, I've breathed new life into the piece so it now fits in with my decor.  Don't be intimidated.  Painting furniture is easy and doesn't take much time.  If you'd like to learn how, just read this post.  
I absolutely adore the "monkey's fist" or "sailors knot" handles.  They inject a bit of light hearted fun and an element of the unexpected – just what's needed in a cheerful beach house.  I love them so much, that I've recently ordered more as I'm going to change out all my closet door pulls as well.
Adding white accessories like these coral lamps, glass fishing float, white wreath and a collection of shells and antlers in the glass cloche really elevate the buffet.  Eucalyptus provides such a fresh scent for this time of year and dries quite nicely too.  Scents are an important element of your home and this Winter White Candle has a lovely scent, especially if you're missing that Christmas Tree smell.  
A New Year Refresh doesn't have to be complicated or extensive.  Sometimes it's the small changes that can really make a difference.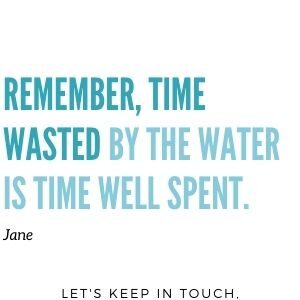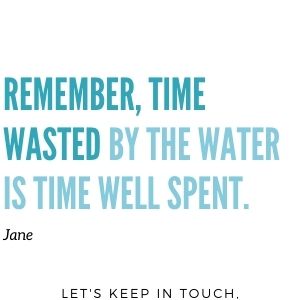 This blog contains affiliate links.

---